Last Updated on December 16, 2020 by Chef Mireille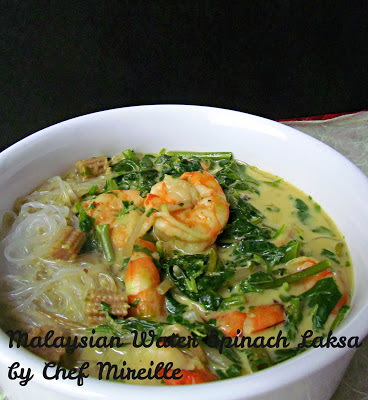 I am really happy the I Heart Cooking Club decided to focus this week on Donna Hay's Asian inspired recipes. I have had a package of laksa paste in my pantry for what seems like forever with the intention of making laksa, but never get around to it. Finally, with this theme, I decided to FINALLY use up that laksa paste.


Laksa is a very traditional Malaysian soup. There are many different laksa varieties. The Penang version is made with fish and tamarind and then there is the Nyonya Vegetarian version I made here. Although the original recipe used snow peas, when I went to Chinatown, I did not have laksa on my mind and instead had picked up one of my favorite veggies I always get on a Chinatown visit – water spinach. I also added canned baby corn because I always have leftovers after I use a partial can for a recipe and then it usually ends up being in my refrigerator so long it goes bad. This time I didn't want it to go to waste. With water spinach in this laksa version, it is an a-typical version of the classic soup, but just as delicious.
Malaysian Water Spinach Laksa
(adapted from Donna Hay)
Serves 6
Ingredients:
1 lb. tiger shrimp, shelled and deveined, reserving the shells
3 cups water
2 tablespoons laksa paste (if you don't have access to laksa paste, you can use the spice paste from my recipe here)
1 1/2 cups coconut milk
1 1/2 teaspoons fish sauce
6 ounces water spinach, chopped
2/3 cup canned baby corn, chopped
2 Kaffir lime leaves, thinly sliced
8 ounces rice noodles
1/2 cup bean sprouts
1/4 cup mint leaves, chopped
1/4 cup cilantro leaves, chopped
1 red chile, sliced (optional)
Heat a large pot and saute the shrimp shells for a few minutes, until they turn golden.
Add water and bring to a boil. Boil for 5 minutes. Strain.
In a pot,add laksa paste and stir fry for 1 minute. Add shrimp stock, coconut milk and fish sauce. Bring to a boil. Reduce to a simmer and cook for 5 minutes.
Add water spinach, baby corn and Kaffir lime leaves. Bring back up to a boil. Add shrimp and bean sprouts. Reduce to a simmer and cook for about 3 minutes, until shrimp are pink and cooked through.
Turn off heat and stir in cilantro and mint.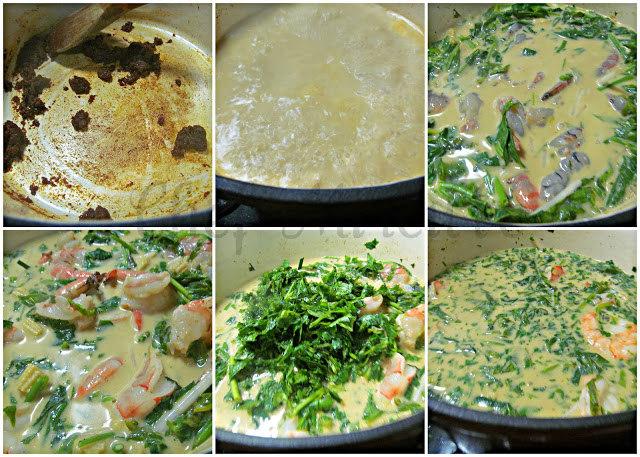 Place noodles in a large bowl of boiling water and let sit for 2 minutes, until noodles soften.
To serve, place some of the noodles in a bowl and spoon soup over the noodles. Garnish with the chile, if desired.
Although this has more greens than is typical of most laksa, I love the freshness of this version and anything with Kaffir lime leaves is intoxication to the senses. The flavor in this is amazing. I have not had laksa since the Malaysian Festival last year in Bryant Park and this reminded me I need to start making this more often.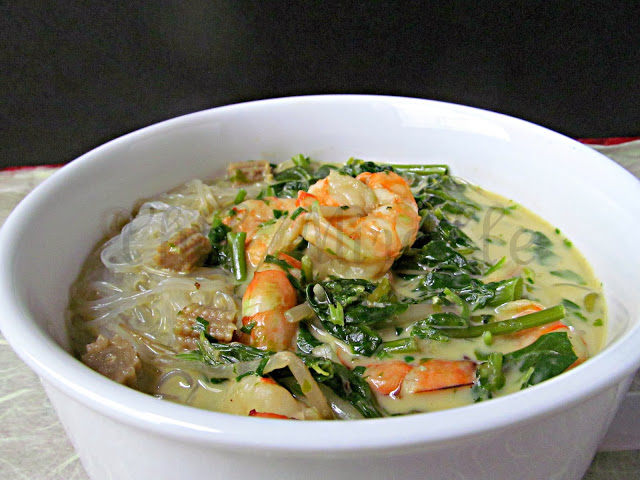 Did you also forget about the leftover laksa paste in the back of your cabinet? Don't let it go to waste and make this delicious soup!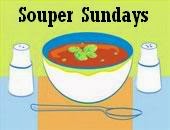 …linking to Souper Sunday
LIKE THIS RECIPE? LEAVE A COMMENT..I LIVE FOR THEM!
Chef Mireille