Last Updated on December 14, 2020 by Chef Mireille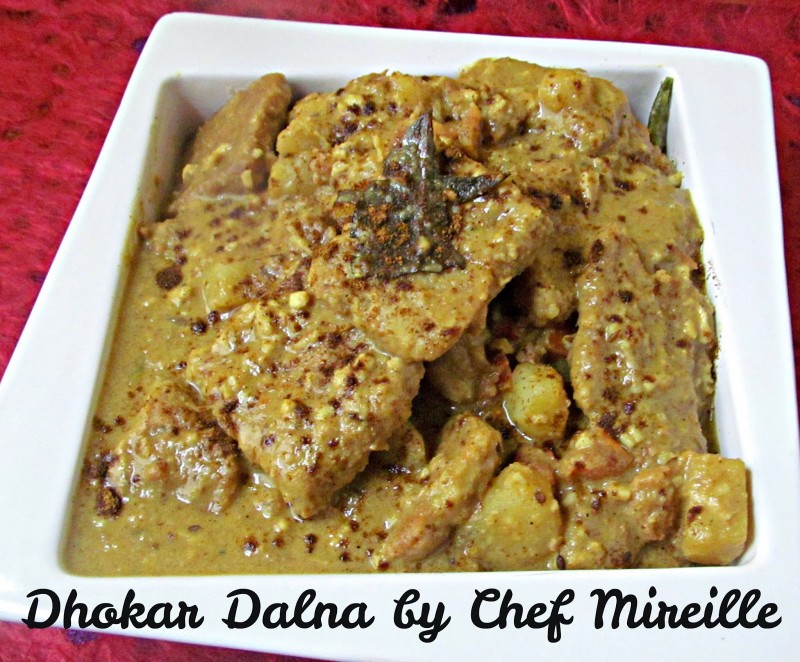 It's been many months since I participated in ICC. Either I was too busy or I was overwhelmed by the quantity of ingredients or it required grinding rice, which does not grind smooth in the food processor. I burned out the motor of 2 blenders this year and did not want to invest in yet another one. I know I probably need to make the investment of a Ninja or Vitamix, but until I do I am avoiding grinding that can't be done in the food processor.
Finally, this recipe wasn't too complicated and I made the time to complete it. Srivalli gave us many sources with much variation for this Bengali specialty. I took elements I liked from different versions and combined Sandeepa's and Nabanita's recipe for my version here.
Dhokar Dalna
Serves 6
Dhoka Ingredients:
1 1/2 cups yellow split peas/channa dal, soaked overnight (I soaked it for a day and a half – I wanted it to be very soft to allow for easy grinding)
a generous pinch of salt
3/4 teaspoon cumin seed
6 green chiles
a pinch of asoefetida
1/2 teaspoon sugar
1 1/2 teaspoons ginger paste
oil, as needed
Dalna Ingredients:
6 tablespoons oil
2 potatoes, chopped into large dice
1 tomato, chopped
2 cups coconut milk
1/2 cup grated coconut
1 tablespoon ginger paste
1/4 teaspoon asoefetida
2 teaspoons cumin seed
2 bay leaves
3 green chiles, split
1 tablespoons dhania-jeera powder (coriander-cumin powder)
2 tablespoons garam masala
1 teaspoon red chile powder (cayenne pepper)
1 teaspoon ground turmeric
1/2 teaspoon sugar
salt, to taste
In a food processor, grind the peas with the chiles and salt, adding as little water as necessary to make a smooth paste. (I added about 3 tablespoons)
Heat 1 tablespoon of oil. Add asoefetida. After it stops sizzling, add cumin and sugar. When the cumin starts to change color, add ginger paste and cook for another 1/2 minute. Add split peas paste and oil, as necessary to avoid sticking. (I added about 3 tablespoons of oil) Cook on medium low heat for a few minutes until most of the moisture has been removed and mixture starts to stick together in the middle of the pot.
Transfer to a greased flat plate and smooth out until about 1/2″ thick. Slice into squares or diamonds and let cool.
Heat a skillet with enough oil for shallow frying.
Using a spatula, carefully remove the cooled shapes and place in the hot oil. Pan fry for a few minutes on both sides, until golden brown. Remove to paper towels to drain excess oil.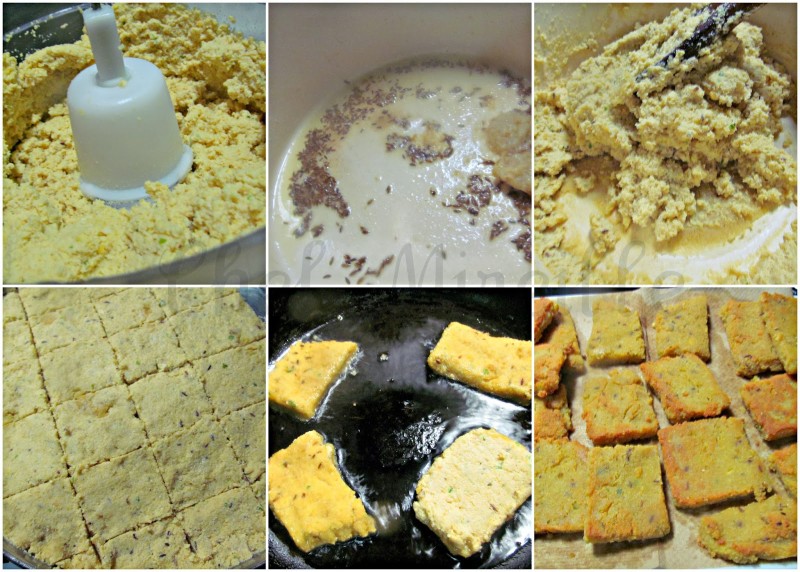 To make the dalna, heat 4 tablespoons of the oil in a wok or large pot. Toss potatoes with turmeric and a little salt. Add to oil and fry until golden brown, tossing frequently, about 5 minutes.
Remove from pot.
Add the remaining oil to the pot. Add asoefetida, cumin seed and bay leaves. After cumin seed starts to change color, add chile and ginger paste. Fry for 1 minutes.
Add tomatoes and cook until they turn mushy, about 5 minutes.
Add cayenne pepper, 1 tablespoon of the garam masala, sugar and dhania-jeera powder. Fry for another 2 minutes.
Add grated coconut, coconut milk, salt and fried potatoes. Stir to combine and add 1 cup water. Bring to a boil.
Add the fried dhoka and stir to combine. Reduce to a simmer and cook for 5 minutes.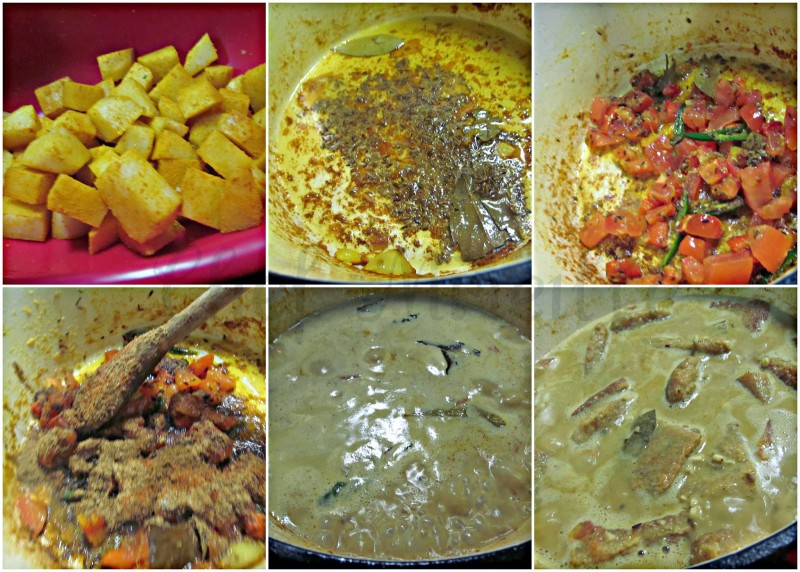 To serve, garnish with the rest of the garam masala.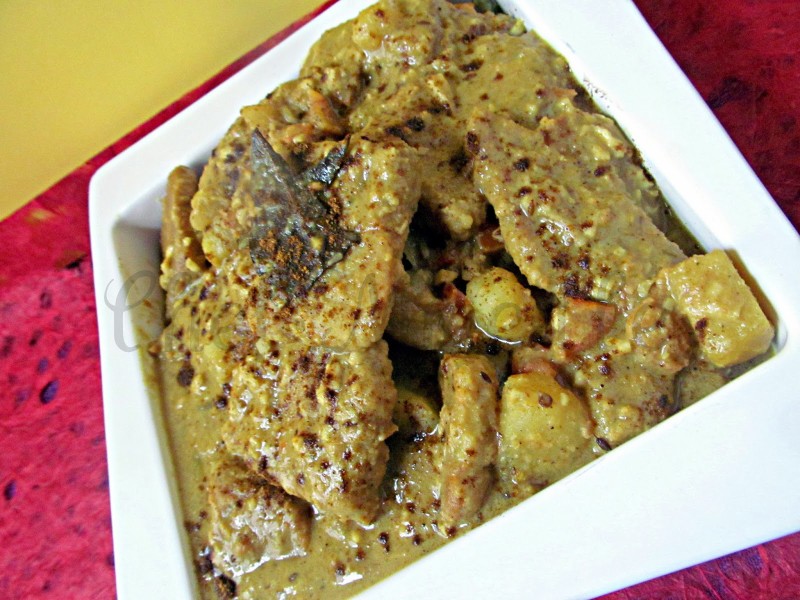 I had my sister and Mom over for lunch the day I served this. My sister really cannot tolerate spicy food, so I made a backup meal fro her. However, the flavor was so good in this, she still ate it albeit with about 4 glasses of water throughout the meal.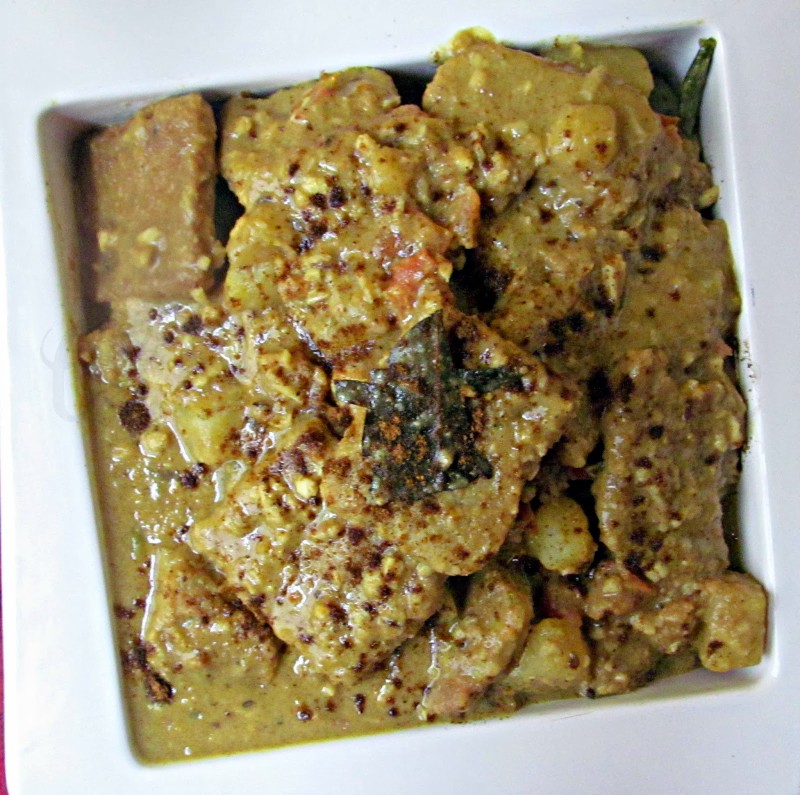 LIKE THIS RECIPE? LEAVE A COMMENT..I LIVE FOR THEM!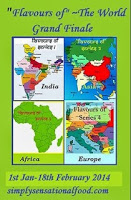 Chef Mireille



…being served at Flavors of the World Grand Finale