Last Updated on June 3, 2015 by Chef Mireille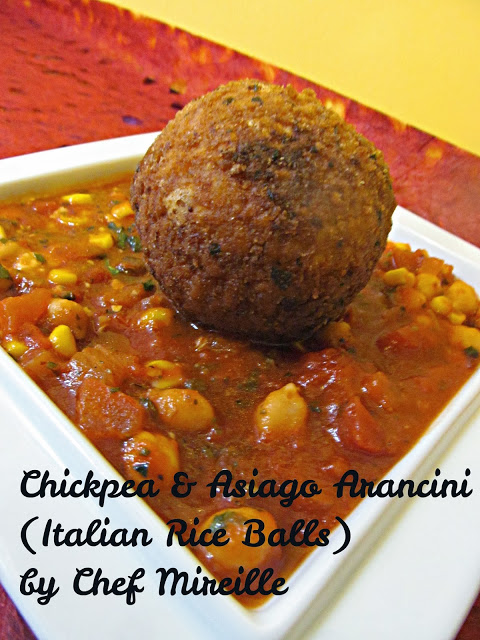 It's January…a new year with new goals. I have neglected some the blogging cooking groups that I belong to. However, this month I have completed the recipes on time for Daring Cooks, Indian Cooking Challenge, We Knead to Bake & I joined a new group, Avid Bakers.
I was so happy when I saw this month's Daring Cooks challenge. I had been planning to make Arancini anyway for the past two months. I already had a recipe drafted. However, every time I went out, I kept forgetting to stop at the liquor store to buy the white wine needed to make the risotto. Finally I became more focused to complete this month's challenge and remembered to pick up the wine.
January's Daring Cooks' challenge was a ball! The lovely Manu from Manu's
Menu brought our taste buds to the streets of Sicily and taught us her family tradition of making
arancine – filled and fried balls of risotto. Delizioso! Here's my version of Manu's recipe.
I made a Vegetarian filling I am sure you will love! Coupled with the nutty flavor of Asiago, this was a winner!
Chickpea & Asiago Arancini
Serves 8
Arancini Ingredients:
2 tablespoons olive oil
1 onion, chopped
2 cups arborio rice
1 2/3 cup white wine
3 cups chicken stock (or vegetable stock to keep it 100% Vegetarian)
1 teeaspoons saffron
1/3 cup Pecorino Romano, grated (Parmesan is traditional but Pecorino Romano is more budget friendly)
3 tablespoons butter
Filling Ingredients:
1 cup cooked chickpeas
1/3 cup canned corn
2 tablespoons fresh parsley, finely chopped
2 tablespoons herb infused olive oil
2 teaspoons fresh rosemary, finely chopped
lemon zest and juice from 1 lemon
1/2 tomato, chopped small
1/2 teaspoon crushed red pepper
1/4 teaspoon salt
2 tablespoons Asiago cheese, grated
1/2 cup Asiago cheese, diced
Breading Ingredients:
1/4 cup seasoned whole wheat breadcrumbs
1/4 cup seasoned Panco breadcrumbs
1/4 cup whole wheat flour
1/4 cup all purpose flour
2 egg whites
In a pot, heat olive oil. Add onion and saute until translucent. Add rice and saute until golden.
Add 1 cup of the wine and the saffron. Cook, stirring frequently, until the rice has absorbed all of the liquid. Add the rest of the wine and again cook, until the rice has absorbed the wine. Now start adding the stock, 3/4 cup at a time, cooking until all the liquid has been absorbed, until you add the rest of the stock. Stir frequently as you cook the rice.
Stir in butter and cheese until it has melted.
Transfer rice to a cookie sheet to cool.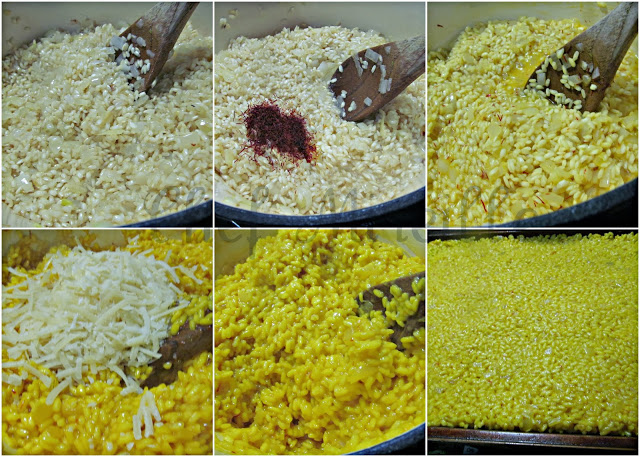 Meanwhile, make the filling. Combine chickpeas, corn, rosemary, parsley, tomato, lemon, red pepper and salt. Mix to combine. Add olive oil and grated Asiago. Stir to combine.
In one bowl, beat the egg whites.
In another shallow bowl, combine breadcrumbs and flours. Mix well.
The only reason I utilized Panko was because I had run out of the regular breadcrumbs but it really was a great addition to ensure a nice crispy crust.
Divide the cooled risotto into 8 equal sized balls. Open up the ball and form a well in the middle. Add 1 tablespoon of the filling and a cube of Asiago in the middle. Seal well.
Dip balls in the egg white and then the breadcrumb and flour. Coat well.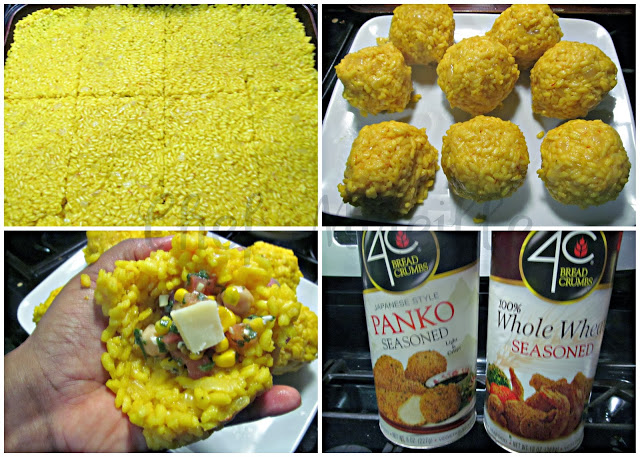 Heat enough oil for deep frying. Add the risotto balls and fry until golden brown on all sides. Drain on paper towels.

To serve, heat up some marinara with a few tablespoons of the leftover filling. Add 1 arancini on top. The spicy kick of the filling added extra oomph to the sauce.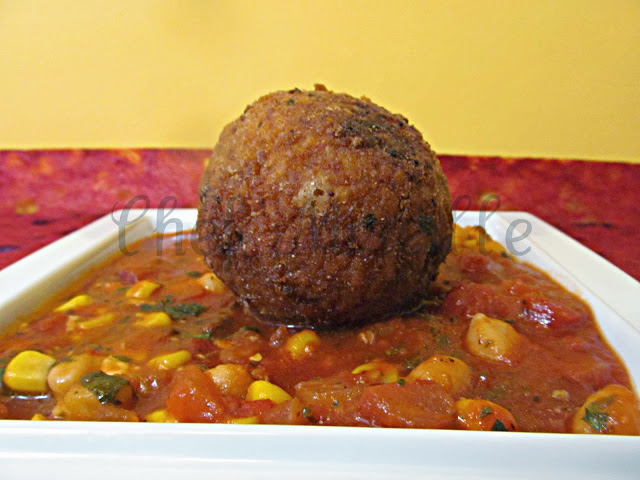 This makes a delicious dinner with a green salad.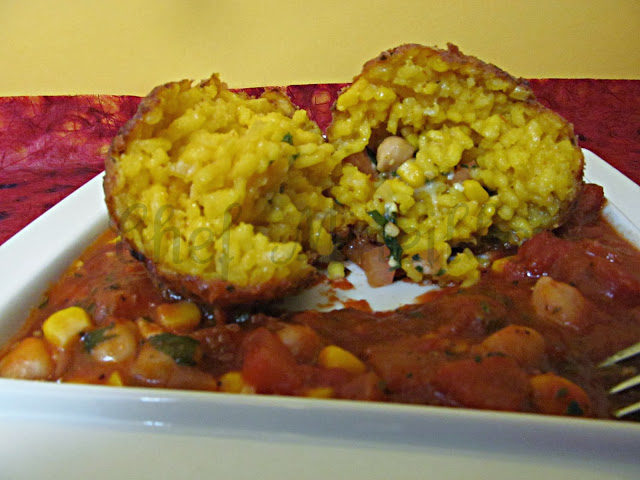 …being served at
Flavors of the World Grand Finale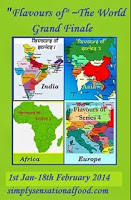 LIKE THIS RECIPE? LEAVE A COMMENT..I LIVE FOR THEM!
Chef Mireille