Last Updated on July 9, 2022 by Chef Mireille
Slow Cooked Pulled Pork with Coco-Cola is soft, juicy, tender. It is so full of flavor with fresh Piri Piri Spice Mix. Smoky, Spicy & herbaceous – this multi layered spice mix all you need for the most delicious pulled pork.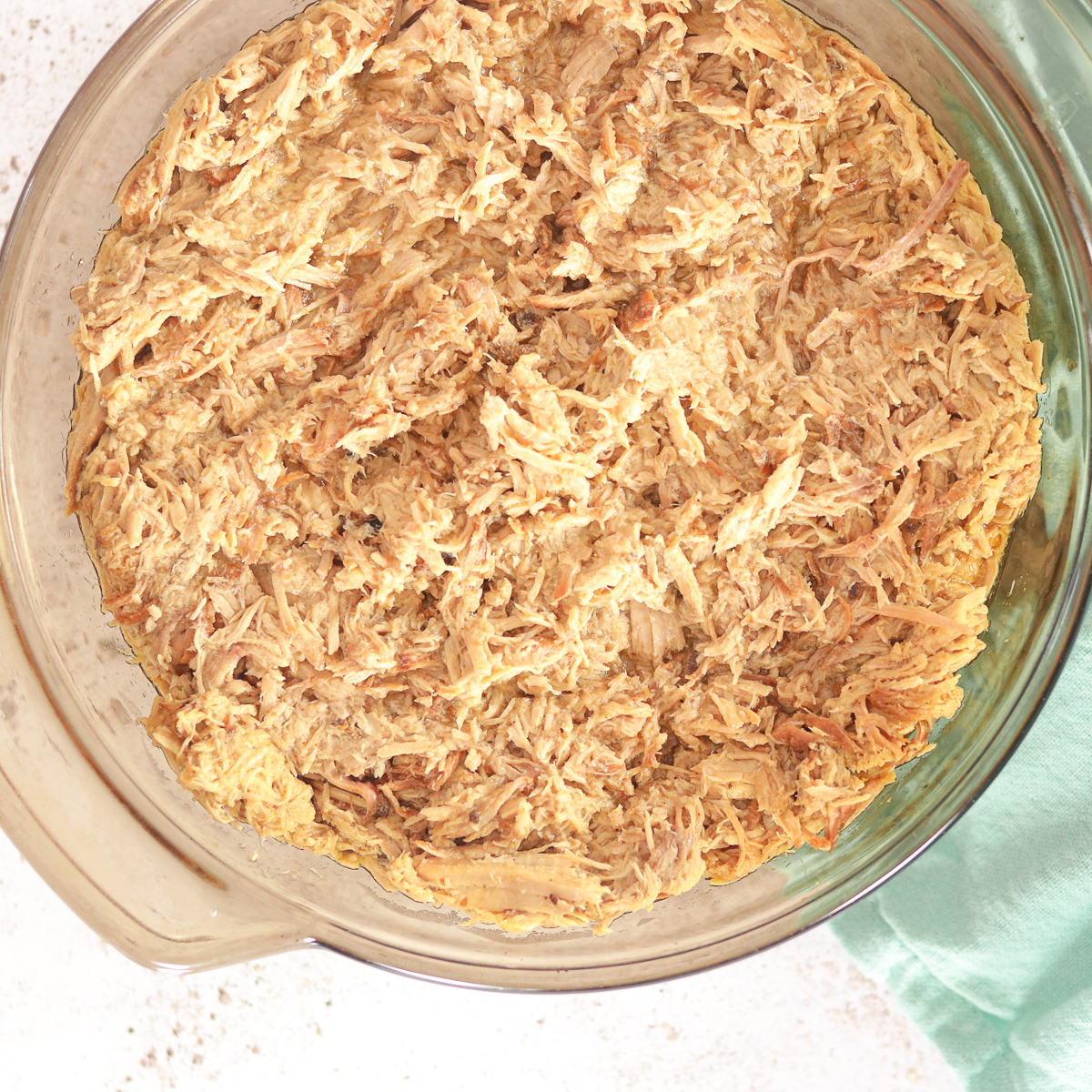 This post may include affiliate links.
A few months ago, I shared with you the amazing combination of spices that is Piri Piri. The African Portuguese spice blend used anywhere the Portuguese went from Brazil to Mozambique is a quick way to add flavor to any meal.
Once you have this spice blend in your pantry, the variety of recipes you can easily make with just one condiment is amazing and so full of flavor!
Now that so many parents have had to take on the responsibility of home schooling their kids or at least helping with their kids' at home studies, this easy recipe only requires you about 15 minutes in the kitchen.
The slow cooker does the rest of the work. Once you have the pulled pork done, you can transform it into a week of recipes!
Many people add barbecue sauce when they make Slow Cooker Pulled Pork, but I wanted to leave the flavor more neutral so you can transform this pulled pork to make a variety of dishes.
By adding coca cola mixed with the piri piri, the pork still came out super flavorful with a mixture of sweet, spicy, smoky and herbaceous flavors.
Pulled Pork Recipes
Italian Pulled Pork Sandwiches (add Pesto and Roasted Red Peppers)
Pulled Pork Tacos (add Salsa Verde)
Jambalaya
Stir Fry with vegetables and soy sauce or oyster sauce
Papas Rellenas (replace ground meat with pulled pork)
Pork Quesadillas (add Salsa Verde & cheese)
You can also just mix the pork with any of these delicious condiments and enjoy your pulled pork with rice, french fries of baked potatoes.
Condiment Recipes
Recipe FAQ
Does it really take 8 hours to cook?
No it will probably be cooked in about 4-5 hours. However, if you want that tender pulled pork result, you need to leave it for 8 hours.
Can I use a different spice blend?
Yes. You can use any of your favorite spice blends if you do not have the spices to make piri piri.
Do I drain the liquid after the 8 hours?
There will be a lot of liquid left after cooking. DO NOT DRAIN.
Once you shred the meat with your fork, the meat will absorb the liquid and this is what will keep the meat tender.
Can I freeze it?
Absolutely. You can take some of it to make sandwiches or a meal and freeze the rest for later use. Freeze in an air tight container.
Meat will just fall apart with a fork. So soft and tender!
Slow Cooker
Do you use your slow cooker on a regular basis or have it back in the pantry and only once in a while bring it out?
For recipes that are super easy requiring very little prep and yet, dinner can be ready on time, the slow cooker is a valuable tool. With so many people now owning Instant Pot's also, you can easily made slow cooker recipes in the Instant Pot.
If you are looking for more slow cooker recipes, check out this amazing collection of Slow Cooker Fall Soups to get you through the season.
There is just so many things you can use this pulled pork for. Put some in omelettes, pasta or rice for quick meals!
Now are you ready to make Slow Cooker Piri Piri Pulled Pork to make meal prep fast and easy!
Slow Cooker Piri Piri Pulled Pork
Slow Cooker Piri Piri Pulled Pork is so easy, cooked with broth and cola. This easy pork requires so little prep with a pre made spice blend. Sear and stick it in the slow cooker for 8 hours and done!
Ingredients
4

lbs

pork butt

(picnic ham)

3 1/2

tablespoons

piri piri spice mix

salt

to taste

3

tablespoons

oil

1

cup

chicken broth

1 1/2

cups

coca cola
Instructions
Season pork liberally with piri piri and a little salt.

In a large pot, heat oil.

Add pork and sear the meat on both sides.

Transfer to the slow cooker.

Add chicken broth and coca cola.

Once done, just shred the meat with a fork.

Store meat in the refrigerator or freezer with all its juices.
Notes
For optimal flavor, you can leave the pork in the fridge overnight after seasoning it.
Since the piri piri seasoning includes salt, go very easy on the salt.
Nutrition
Calories:
173
kcal
|
Carbohydrates:
1
g
|
Protein:
21
g
|
Fat:
9
g
|
Saturated Fat:
2
g
|
Cholesterol:
68
mg
|
Sodium:
74
mg
|
Potassium:
384
mg
|
Sugar:
1
g
|
Calcium:
16
mg
|
Iron:
1
mg
Did you try this recipe? Leave a comment below.
Please follow me on Instagram @chefmireille or tag me #chefmireille with your pics! I'd love to share them!
DO YOU YUM? SAVE IT BELOW!
Yum
This post may include affiliate links.
Don't forget to visit the RECIPE INDEX with over 1000 recipes from around the world including lots of Vegetarian Recipes and Gluten Free Recipes!