Last Updated on September 1, 2020 by
This Healthy Spinach Pesto is so delicious for use as pasta sauce, pizza base or as delicious dip for toasted bread. With a whole head of garlic, this is definitely for garlic lovers!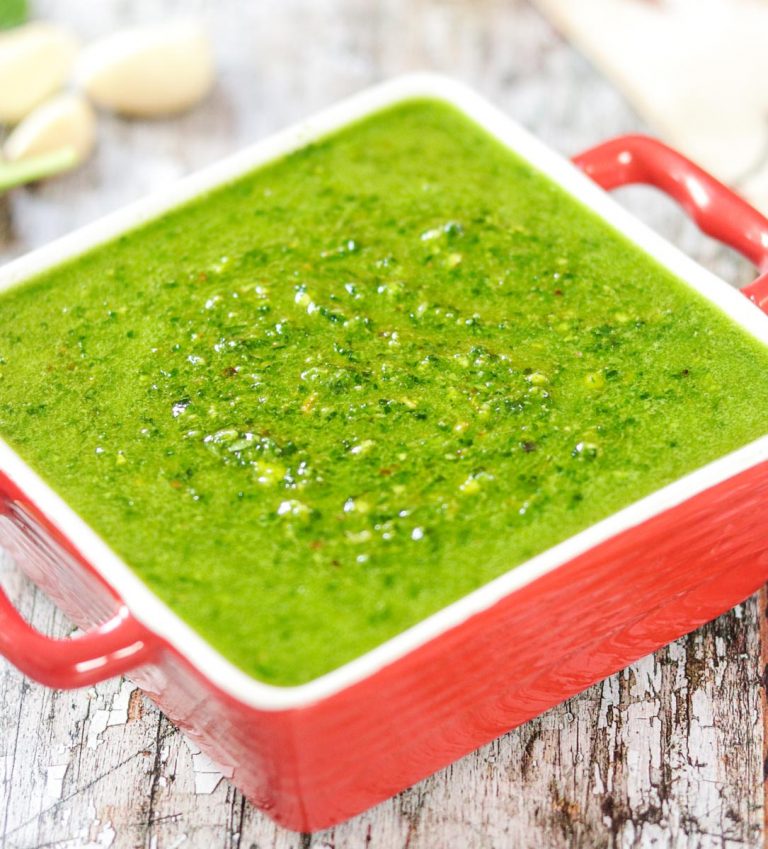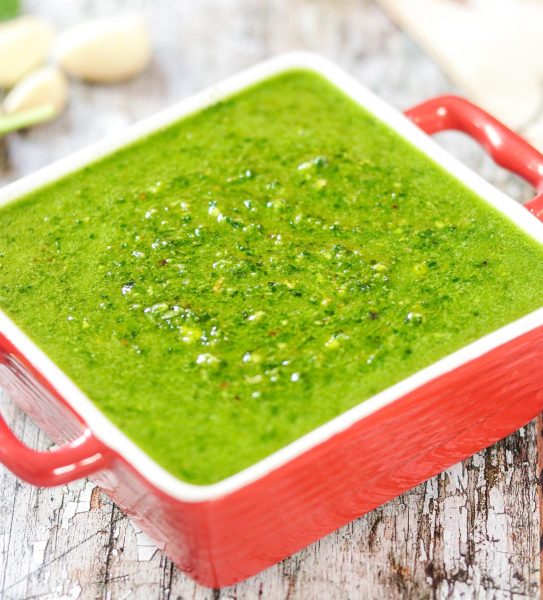 This post may include affiliate links.
Classic pesto is made with basil, garlic, pine nuts and Parmesan cheese.
Have you ever purchased basil to make pesto, but then something happens and you don't have time to make it? Basil leaves really can't last more than a day or two in the refrigerator before they start to turn black.
So let's go over the ingredients and why I switch up the ingredients from Classic Basil Pesto.
The Ingredients
Spinach
I have done that so many times that now I have turned to spinach for pesto. First of all, spinach has a nice sweet and mild flavor similar to basil, if not as aromatic. Secondly, spinach can last for several days in the refrigerator if you don't have time to make the pesto the same day you purchase it.
Nuts
Pignolia nuts, also known as pine nuts have a great buttery flavor, but are worth their weight in gold.
Pistachios have a lower price point, making this Roasted Garlic Spinach Pesto a pesto version that is much kinder to your wallet.
Garlic
It's up to you how mild or strong you want the garlic taste to be. I usually use 1 head of garlic, but if you find this too strong, you can use less.
Cheese
Classic pesto is made with Parmigiano Reggiano, what is generally called Parmesan here in America.
However, Romano cheese has a similar taste and texture and is usually a little less in cost so I often use Romano instead of Parmesan in recipes.
so let's check the pantry for what you will need
garlic
spinach leaves
pistachios
Parmesan or Romano cheese
1 teaspoon salt
1/2 teaspoon crushed red pepper
1 cup olive oil
Before you dive into making this delicious version of pesto, let's go over some of the health benefits of these ingredients first.
Health Benefits
Let's start with garlic. Did you know garlic offers immune support? Historically, garlic has been used to fight infections, fight off illnesses (and vampires, ha!), and even to treat wounds. Regular garlic consumption has been shown to ward off the common cold and those who regularly consumed garlic even tend to recover faster once they became sick. Garlic can also boost heart health by lowering cholesterol and blood pressure. It may even help reduce artery stiffness as well as blood markers for inflammation. Ok now I know you are ready to start increasing your garlic intake but how do you get rid of that garlic breath? The best way to combat garlic breath is to chew on lettuce or an apple, this will help neutralize the sulfur compounds that cause the stinky breath. See, problem solved!
Next let's discuss spinach. This is possibly one of my most favorite green leafy vegetables since it's so versatile. When it comes to green leafy vegetables, the darker the green color of the leaves, the more nutrients it contains. These dark green goodies offer lots of the antioxidant beta carotene, which helps to form Vitamin A in the body. This Vitamin A located in the body may help lower the risk for certain diseases. There are so many other great nutrients that come from spinach too, there's no going wrong with this choice.
Pistachios, you're up next! These tasty little nuts are easy to get out of the shell (means you can eat them faster so look out!) and they provide a great source of health fats for our diet. They are also loaded with fiber, Vitamin B6 and potassium. Healthy fats like this can help lower cholesterol, promote weight loss, improve gut health and help improve both blood vessel and eye health. Plus they are super creamy and tasty, double win!
Parmesan cheese. It's cheese, need I say more? Parmesan cheese is an Italian hard aged cheese with an average aging process that lasts about two years. Crazy, right?! It's actually high in protein in comparison to other cheeses, this is due to its density. The aging process helps remove some of the moisture in the cheese down to only 30%, making it more nutrient dense. Parmesan cheese is also easier to digest than other forms of various cheese; this is due to the aging process. There's some fermentation going on here, let's just say that. One crazy thing is… the MINIMUM required aging time for Parmesan is 12 months, with 2 years being the ideal limit.
Last we are going to discuss one of our favorite kitchen staples, olive oil. This monounsaturated fat source is packed with many heart healthy benefits, which is great since it's so easy to cook with and use in recipes. These healthy fats help increase the "good cholesterol" in our body (HDL), which is so important if you struggle with high HDL levels.
Have you tried instacart yet? It's how I get all of my fresh grocery items delivered within 2 hours!
So let's count the ways you can use this Roasted Garlic Spinach Pesto…
Spinach Pesto Recipes
A little of this pesto added to soup also adds a ton of flavor like in this Butternut Squash Pesto Soup or use it as a sandwich spread.
What other ways do you like to utilize pesto?
Roasted Garlic Spinach Pesto
Roasted Garlic Spinach Pesto is a more cost efficient alternative to classic basil pesto and just as delicious. Versatile for use on everything from pizza and pasta to bruschetta.
Ingredients
Roasted Garlic Ingredients
1

head

garlic

2

tablespoons

olive oil
Pesto Ingredients
4

cups

spinach leaves

firmly packed

1/2

cup

pistachios

1/4

cup

Parmesan or Romano cheese

freshly grated

1

teaspoon

salt

1/2

teaspoon

crushed red pepper

1

cup

olive oil
Instructions
Combine garlic and olive oil in an oven safe dish and transfer to oven.

Roast for 20-25 minutes, until golden brown.

In a blender or food processor, combine garlic, spinach, pistacchios, cheese, salt and pepper.

With the processor running, slowly add the oil a little at a time, until smooth and homogenous.
Nutrition
Calories:
167
kcal
|
Carbohydrates:
2
g
|
Protein:
2
g
|
Fat:
17
g
|
Saturated Fat:
3
g
|
Cholesterol:
1
mg
|
Sodium:
178
mg
|
Potassium:
88
mg
|
Fiber:
1
g
|
Sugar:
1
g
|
Vitamin A:
750
IU
|
Vitamin C:
3
mg
|
Calcium:
33
mg
|
Iron:
1
mg
Did you try this recipe? Leave a comment below.
Please follow me on Instagram @chefmireille or tag me #chefmireille with your pics! I'd love to share them!
DO YOU YUM? SAVE IT BELOW!
Yum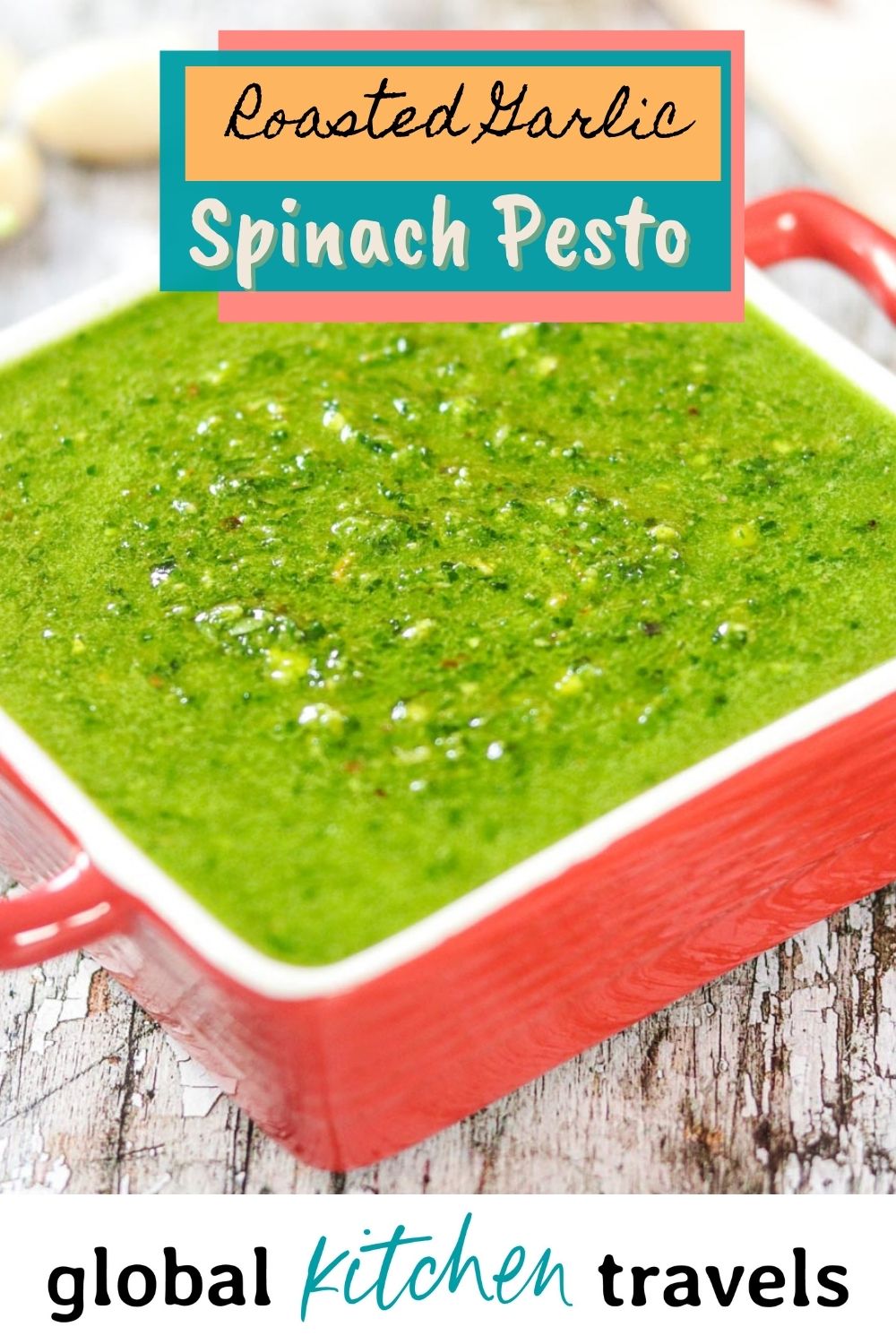 Need more culinary inspiration? Check out the Recipe Index with over 1500 Recipes from Around the World with lots of Vegetarian 🥕🍆🍅and Gluten Free Recipes!