Last Updated on September 1, 2020 by Chef Mireille
For the first time since I started participating in Blogging Marathon in December, I am participating in both weeks this month. This week is all about bread for me – sandwich bread, dinner rolls and more….but to start out the week, I am presenting a favorite the world over…PIZZA. Who doesn't like a great slice of pizza and nothing beats a homemade version! The foundation for a delicious slice of pizza is a great crust and delicious toppings.
There are two essential pieces of culinary equipment you will need for this week's recipes – an instant read thermometer. These are very inexpensive and very important to make any type of yeast bread. If the temperature of the liquid is either too hot or too cold, the bread will not rise enough, or even at all.
Secondly, a dough scraper. When the dough does stick to the board, this easily removes it, so you can simply add more flour and continue kneading.
A little about yeast…although you can find yeast flakes at some health food stores and gourmet supermarkets, the most common form of yeast is active dry yeast. There is original and also Rapid Rise (recommended for bread machines). Even though I don't own a bread machine, I buy the Rapid Rise whenever I can…it just makes the process faster, especially if the weather is not too warm where your bread is rising. Optimal temperature is 80 – 85 F and average temperature where I live now is fluctuating between 40 – 60 F. Even if you don't have Rapid Rise yeast, you will just have to wait a little longer for the bread to rise, but you can still do all of this week's recipes without the Rapid Rise!
Please don't let this equipment, etc. intimidate you. Once you have a good recipe, fresh bread is not difficult and nothing beats the smell and taste. The factory produced breads just don't compare.
The recipes for this week are all variations I have created from recipes in this book.
without further ado…here's my recipe for Spinach Pesto Pizza
My favorite type of pizza is pesto pizza. I love pesto and prefer it to Marinara for the base sauce of pizza. For a change, I made a Roasted Garlic Spinach Pesto for this veggie pizza.
The roasted garlic brings a nice, smoky flavor.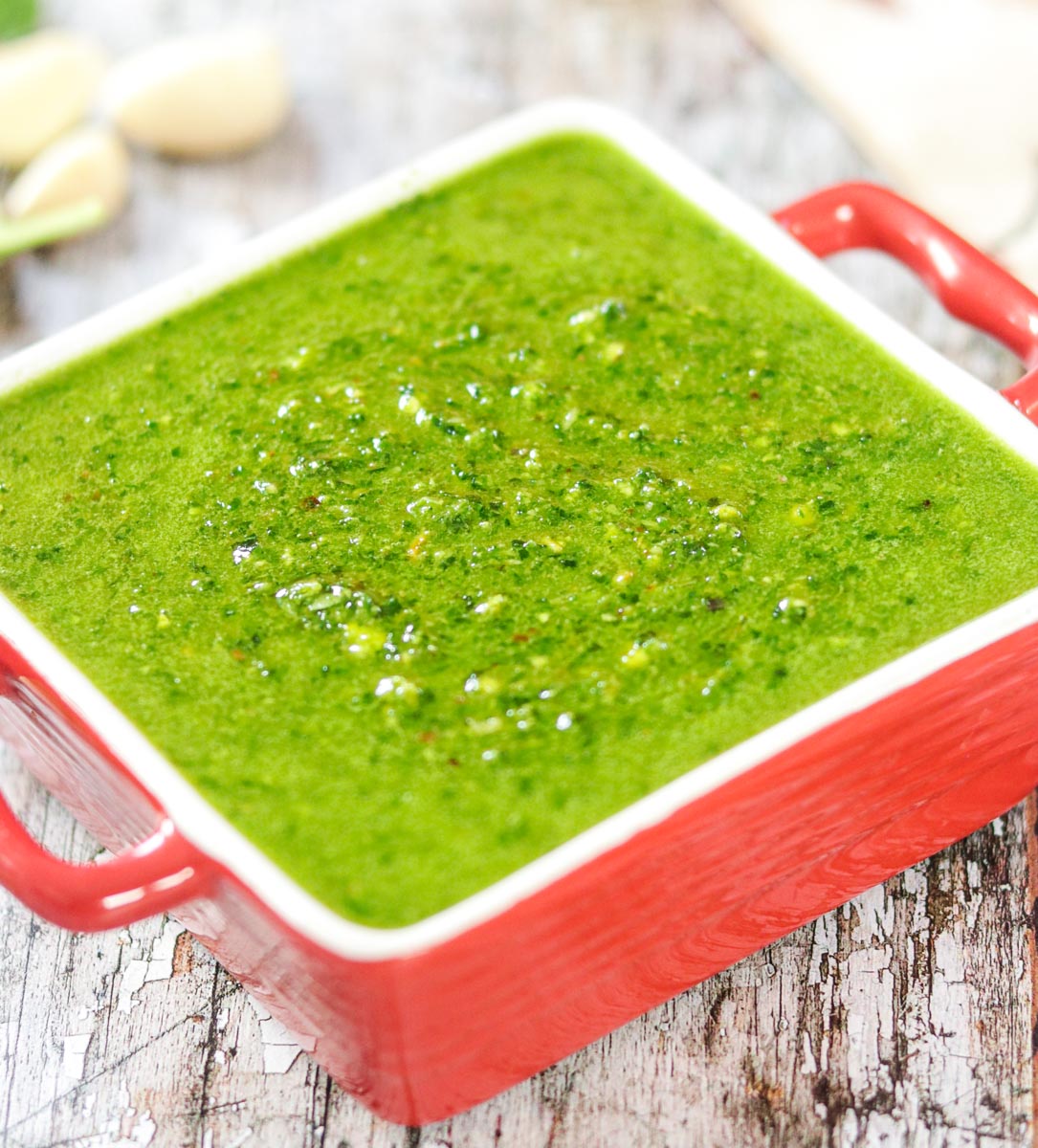 Next, make the pizza dough…
You can see my pizza dough recipe previously published here, along with the recipe for traditional basil pesto. I always make a double recipe and freeze half, so I already have it the next time the urge comes for pizza! This time, for a healthier version, I made the dough with some whole wheat flour:
Ingredients:
1 1/2 cups whole wheat flour
1 teaspoon sugar
1 teaspoon salt
1 package yeast (2 1/4 teaspoons)
2 tablespoons olive oil
1 cup water
1 cups all-purpose flour
1 – Heat the water to medium warm temperature, 120 – 130 degrees F.
2 – Meanwhile, mix the yeast, salt, sugar and whole wheat flour in a large bowl.
3 – Add the water and oil and mix until well moistened and thoroughly combined. You can use an electric mixer if you prefer, but about 3 minutes with a wooden spoon works just as well.
4 – Using your hands, knead in 1 cup of flour. At this time, most of the dough should pull away from the sides of the bowl. There will be some remaining shreds in the bowl.
Turn dough and the remaining shreds onto a wooden cutting board.
Start to knead the dough and eventually, the shreds will be incorporated.
At this point, flour the work surface a little, so that the dough does not start to stick to the board as you knead.
Total kneading time should be approximately 10 minutes, until dough is smooth and elastic.
5 – Coat a large bowl with olive oil. Place dough in bowl and cover lightly with plastic wrap and a kitchen towel. Leave to rest for 30 minutes. Meanwhile prepare your toppings.
While the dough is rising, prepare the toppings


Using fresh ingredients makes for a tasty pizza
1/2 zucchini, sliced
1 head of broccoli, florets seperated
1 vine tomato, sliced
3/4 cup mozzarella cheese, grated (you can vary the quantity, based on your preference)
1/4 cup Parmesan cheese, grated
Now make the pizza…
Punch dough to remove air bubbles.
Divide dough in two equal portions. Freeze one portion and make the pizza with the other portion.
Preheat oven to 425 F.Roll out one of the pizza dough balls to a circle and press into a pizza pan or place on a pizza stone. Alternatively, use large cookie sheet if you don't have either. Dock the dough, by piercing with a fork, so that air bubbles do not form.
Bake for 10 minutes, so you don't get a soggy crust pizza.
Remove from oven and now arrange the pizza.
Spread a few tablespoons of the spinach pesto on the baked crust, leaving about 1 inch around the edge, for the crust.
Next sprinkle the Mozzarella Cheese.
Next arrange the zucchini and tomato slices, as well as the broccoli florets.
Top with the Parmesan cheese.
Bake for about 20 minutes, for a crispy crust
This is a complete meal – Lots of fresh veggies, whole grain crust and protein from the cheese. Healthier than the take out version, this is a thin crust, whole grain, and nutritious Vegetable Pizza!!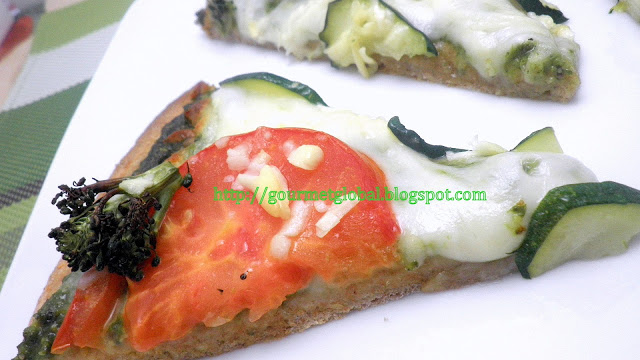 Thanks Srivalli – for the photo editing!
It tastes so fresh and perfect for springtime with all the fresh vegetables, however, the pesto is also very strong with the garlic, which is delicious, but make sure you have a toothbrush on hand, for after the meal!
Pizza is one of those things that is completely customizable. Change the base, change the cheese, change the toppings and pizza can be made with almost anything. Once you master making the crust, then it is all up to you.
I use to work at the pizza counter at Whole Foods and one of my favorite combos was the fig spread, arugula, spiced pecans and Parmesan cheese.
This is a great idea for kids. You can have them invite their friends over and have a Make Your Own Pizza Party.
First provide a variety of base sauces – spinach pesto, basil pesto, fig jam, marinara, alfredo sauce…possibilities are endless
Next provide a variety of cheeses and then a variety of veggies, meats, spiced nuts
Divide the dough into smaller portions and each child can make their own individual pizza…guaranteed kid pleaser!!!