Last Updated on April 7, 2021 by Chef Mireille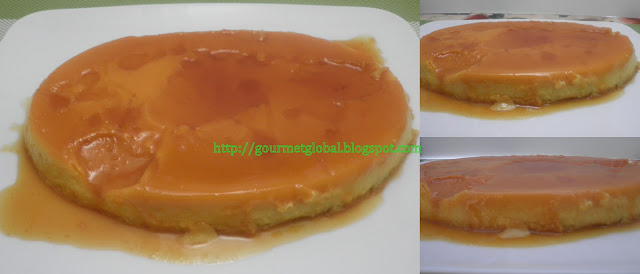 Today is the last day of Week 1 of the Blogging Marathon and I am ending with the letter F and one of my all time favorite desserts. For the first time, I will be participating in both weeks of Blogging Marathon, so stay tuned next week for a week's worth of bread recipes!
Yesterday was a guilt-free healthy soup and today we end the first week with a decadent, rich dessert – definitely reserved for once in a while special occasions!
Flan is the baked custard of the Spanish Caribbean and South/Central America. It is also commonly eaten in Southeast Asia, especially the Phillipines, which was once controlled by the Spanish colonizers.
While coconut flan has been fairly common for many years, recently I have also encountered mango and pumpkin flan as well. I created this version, combining the two tropical flavors I love – BOTH mango and coconut!
How to make Mango Flan
Ingredients:
1 cup sugar
6 eggs
14 oz. can sweetened condensed milk
12 oz. can evaporated milk
15 oz. can cream of coconut
1 1/2 cups mango pulp/puree
1 teaspoon almond extract
On low heat, cook sugar until it liquefies into a caramel, about 30 minutes. You can shake the pan once in a while, while the sugar is cooking, but DO NOT USE A SPOON!!! All that's going to happen is the caramel will stick to the spoon and you will have a big, sticky mess!!!
At first, a sugar paste will form. DO NOT BE TEMPTED TO STIR!!!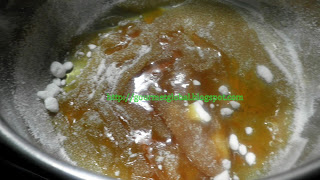 Eventually, it will liquefy.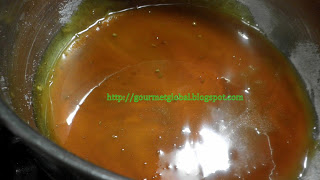 Pour in the bottom of an oven safe dish. (Make sure the dish is the right size so that it can fit into a larger dish, as this is baked in a water bath. I had to do it in two pans as I did not have a large enough dish to accompany my large baking pan in a water bath.) Do not be alarmed if it hardens as it hits the dish. It is ok if it does not coat the bottom of the dish. The caramel will melt as it bakes and it will eventually coat the entire bottom, during the cooking process.
Preheat oven to 350 F.
With an electric mixer, beat eggs on high until very light and fluffy, about 10 minutes.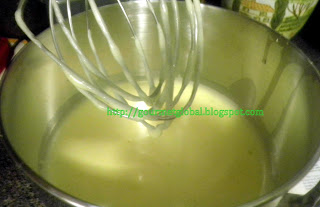 Open all your cans.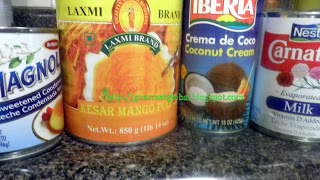 Add all other ingredients and beat for another 1-2 minutes. Pour on top of caramel. Bake for 1 hour and 30 minutes in a water bath, until custard sets.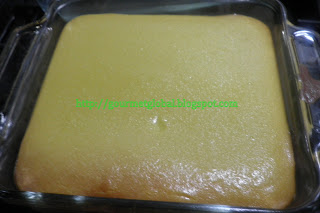 Cool.
Chill overnight in the refrigerator.
To unmold, take a small knife and run it along the perimeter of the baking dish.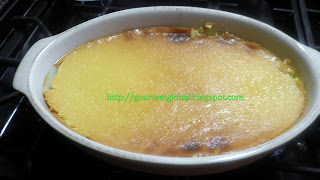 Shake the dish a few times, until you feel the custard sliding back and forth and no longer clinging to the sides. Put a large plate on top and flip over. Tap the bottom of the dish a few times, just to be sure and then remove the baking dish and pour any excess caramel on top.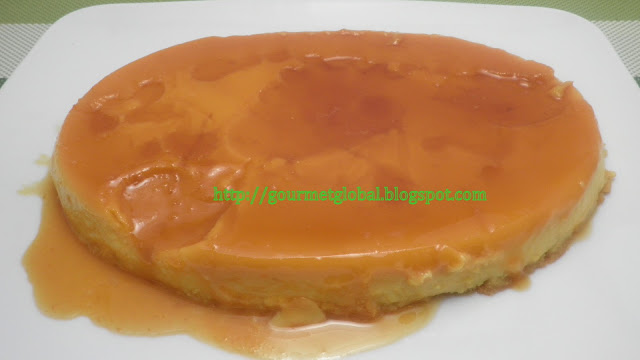 Slice and serve.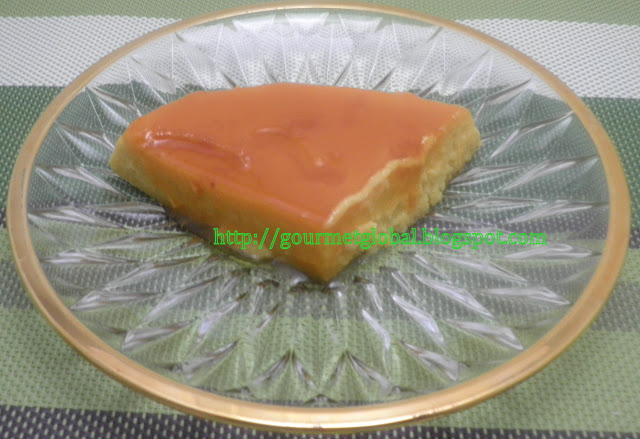 You can also bake it in individual ramekins for a more formal presentation.
Don't forget to visit the RECIPE INDEX with over 1000 recipes from around the world including lots of Vegetarian Recipes and Gluten Free Recipes!