Last Updated on June 4, 2015 by Chef Mireille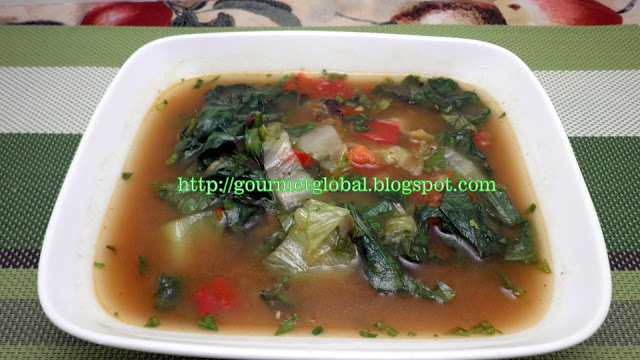 Well, today it's up to letter E for my Cooking by Alphabet theme. I struggled more with this letter than any other. I don't like eggplant, so that was out. Then there are eggs..but just not in the mood for a dish all about eggs. Then I was going to do Etouffe, the New Orleans shrimp dish in a cream roux-based sauce. While delicious, it's not kind to the heart or waistline and since I have a decadently rich dessert lined up for tomorrow, I wanted to balance it with something kind of healthy today.
Then I remembered I once worked in a restaurant and we sometimes served an Escarole White Bean Soup. Beans and lettuce..what can be healthier than that? I created a new version of the soup, using what I had in my pantry.
At first, I was going to make it a Moroccan style soup, using harissa (North African garlic-chile paste) for the spice. No harissa left, but I did have Peruvian Rocoto pepper paste, which works just as well. So many cultures have a version of a hot pepper paste and it is an easy way of adding that little bit of heat to simple foods, without having to chop all those chiles! If you don't have Rocoto pepper paste, use whatever hot sauce/pepper paste you happen to have to give this soup that extra kick of flavor!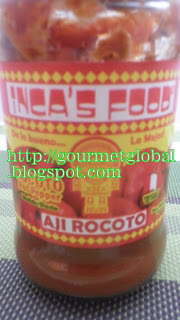 Escarole is a firm leaved lettuce -one of the few that can stand up to being eaten in soup, without the lettuce turning stringy in the liquid – if you cannot get escarole, cabbage would be a good substitute.
Escarole Bean Soup
Serves 4-6
Ingredients:
3/4 cup soup bean mix (I had a pre-mixed variety of beans, but you can use any variety of beans you choose)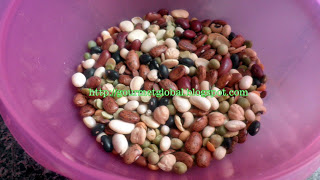 2 teaspoons oil
2 garlic cloves, finely chopped
1 onion, finely chopped
2 stalks celery, chopped
1 small red bell pepper, chopped
6 cups water
1 head escarole, chopped
1 tomato, chopped
1 tablespoon paprika
1 tablespoon ground cumin
1 tablespoon Rocoto pepper paste
1/4 cup cilantro, finely chopped
salt, to taste
Soak beans in water for at least 6 hours or overnight.
Heat oil. Add onions, garlic, bell pepper and celery. Saute for a few minutes, until translucent.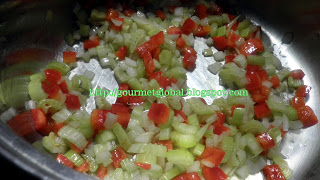 Add beans and water.
Bring to a boil. Reduce to a simmer and cook, until beans are tender. Cooking time will vary depending on amount of soaking time. As water evaporates, you may need to add more.
Add escarole, tomato, paprika, cumin and pepper paste. Cook for 5 minutes, until escarole has wilted.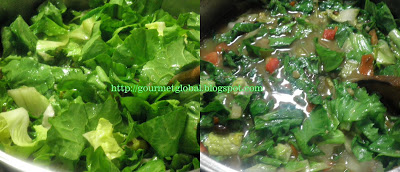 Add chopped cilantro. Stir to combine and add salt, as desired. Cover and let sit 10 minutes, before serving. This soup actually tasted better on Day 2, after flavors had time to develop.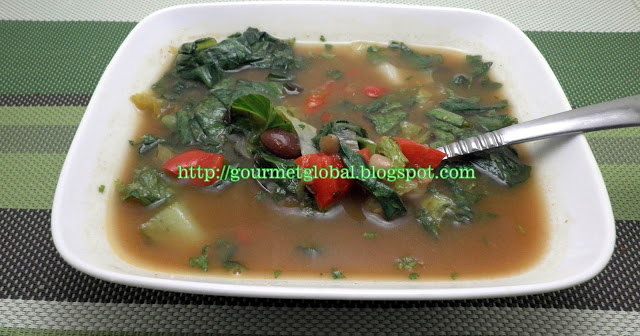 Here, soup was enjoyed with Herbed Oat Rolls (recipe to be posted next week)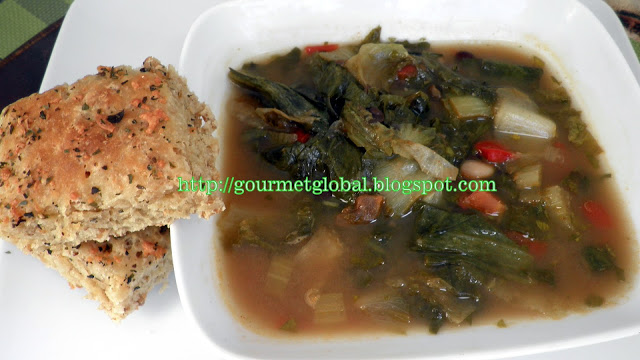 Please don't miss out and Check out the Blogging Marathon page for the other Blogging Marathoners doing BM#15
Chef Mireille