Last Updated on June 4, 2015 by Chef Mireille
Batter bread's is an easy way to introduce yourself to yeast bread baking. It only requires one rising and is done in the baking vessel itself. No kneading is required. It's kind of like making a cake. Mix and put in baking vessel. The only difference is you have to wait 30 minutes, before putting it in the oven.
I made this sweet, fruity version that is perfect for a tea time snack.
Ingredients:
5 cups bread flour or all-purpose flour
1/3 cup sugar
1 1/2 teaspoons salt
2 pkg. active dry yeast (4 1/2 teaspoons)
1 cup milk
1 cup water
1/2 cup butter
2 eggs
2 tablespoons golden raisins
1/4 cup dried cherries
1/4 cup dried citron (aka tutti frutti)
Grease a bundt cake pan really well.
In a large bowl, combine 2 1/2 cups of the flour, sugar, salt and yeast. Mix well.
In a small saucepan, heat milk, water and butter until warm, 120 to 130 F.
Add warm liquid and eggs to flour mixture and mix for a few minutes, until well moistened.
With a wooden spoon, add remaining 2 1/2 cups of flour and fruit until you have a stiff batter.
Batter will be very sticky.
Pour batter into prepared cake pan.
Cover loosely with plastic wrap and kitchen towel. Let rise for about 20-30 minutes, until doubled in size.
Preheat oven to 350 F. Bake bread for about 40 minutes, until golden brown and loaf sounds hollow when tapped.
Remove from pan and cool.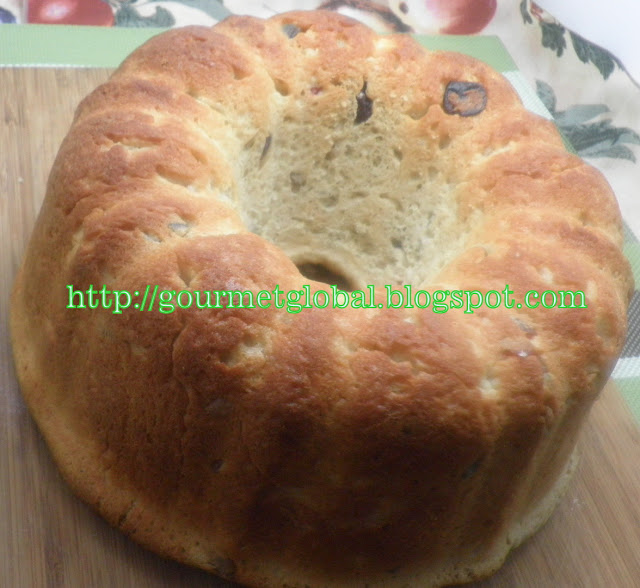 Delicious with butter, jam or a mild flavored cheese, like mozzarella.
Check out the Blogging Marathon page for the other Blogging Marathoners doing BM#15
This recipe is being sent to Vardhini's Bake Fest at Zesty Palette/Cooks' Joy, hosted this month by Sumee
Chef Mireille
https://www.globaltasteinc.com
Like me on FACEBOOK!
Follow me on TWITTER!
Contact me at [email protected] for personal chef and cooking class services!