Last Updated on June 4, 2015 by Chef Mireille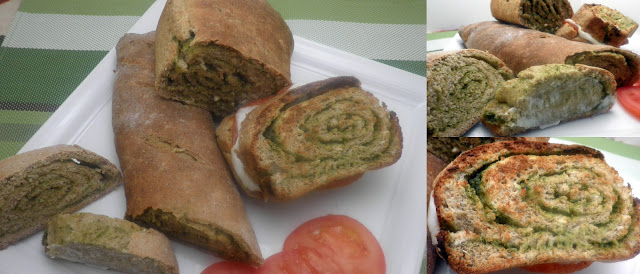 Pesto Loaf Bread, Pesto Baguette and Pepperoni Sandwich
With some of the leftover pesto from a few days ago, I made this delicious bread, which is wonderful served with soup or stew, as well as the sandwich detailed below. Stuffed with pepperoni and fresh mozzarella, it's like a slice of pepperoni pizza, in a sandwich!!!
For a vegetarian sandwich, stuff with fresh mozzarella and roasted red peppers or grilled eggplant.
Let's make the bread…another variation of a recipe from my Baking Bible
Pesto Bread
Ingredients:
2 1/2 to 3 cups all-purpose flour (I use bread flour, which is high gluten, to ensure a good rising)
3/4 cup rolled oats
1/2 cup wheat germ
2 teaspoons salt
3 pkg. active dry yeast (6 3/4 teaspoons)
2 1/4 cups water
1/4 cup oil
2 tablespoons honey
2 cups whole wheat flour
1 tablespoon cornmeal
2/3 cup Spinach Pesto
In a large bowl, mix 1 1/4 cups all-purpose or bread flour, oats, wheat germ, salt and yeast. Mix well.
In a small saucepan, heat water, oil and honey until warm (120 to 130 F). Add warm liquid to flour mixture. Mix for a few minutes until well moistened.
Stir in whole wheat flour and add additional 1 cup of flour, until dough leaves the sides of the bowl.
Turn onto a floured surface and knead in an additional 1/3 cup all purpose or bread flour, until dough is smooth and elastic, about 10 minutes. (depending on humidity and altitude, quantity of additional flour may vary at this point. You just want enough so that you can knead the dough, without it sticking to your hands, but use as little additional flour as possible. I used 1/3 cup but you may need more, but do not exceed 3/4 cup) Place dough in greased bowl.
Cover loosely with plastic wrap and a cloth towel. Let rise in warm place until light and doubled in size, about 45 minutes.
Grease a cookie sheet and sprinkle with the cornmeal, to prevent bread from sticking to cookie sheet.
Grease a loaf pan with olive oil.
Punch down dough several time to release air bubbles.
Divide dough into 2 equal parts.
I made both a baguette and a loaf bread.
For the baguette, roll out to a very large as close to a rectangle shape as you can get. Spread 1/3 of the pesto on top and then starting at the narrow end, roll and pinch the sides to seal.
Place diagonally on the prepared cookie sheet, seam side down.
For the sandwich bread, roll into a smaller rectangle, about 8×12. Spread 1/3 of the pesto on top.
Starting with the 8 inch side, tightly roll up, turning in the sides as you roll (like a burrito).
Pinch the ends to seal. Place seam side down into the loaf pan.
With a sharp knife, make two 1/8 inch deep diagonal cuts on top of each loaf. Cover and let rise in warm place until light and doubled in size, about 45 – 60 minutes.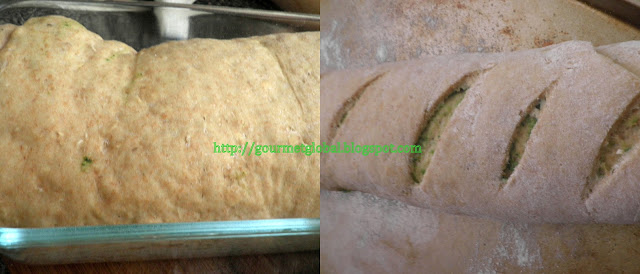 after breads have risen
Preheat oven to 375 F. Uncover dough. Bake 30 to 35 minutes, until loaves sound hollow when tapped. Cool completely on wire racks, before slicing.
Baguette is wonderful served with cheese, salad or soup. Loaf bread makes a tasty sandwich bread and nutritious too – another healthy bread made with whole grains! For the loaf bread, you need to roll it really tightly if you want to slice it thin. (It should be rolled tighter than I did)
To make sandwich:
2 slices of Spinach Pesto Bread
2 slices of pepperoni, roasted red peppers or grilled eggplant
1 slice of fresh mozzarella
2 slices of tomato
1/4 teaspoon olive oil
Brush one slice of bread with a little olive oil.
Place slices of pepperoni, and then cheese and top with tomato.
Cover with other slice of bread. You can eat as is, or grill for a panini sandwich.
These are delicious breads with garlicky spinach interlaced throughout them
Check out the Blogging Marathon page for the other Blogging Marathoners doing BM#15


This recipe is being sent to Vardhini's Bake Fest at Zesty Palette/Cooks' Joy, hosted this month by Sumee

Chef Mireille
https://www.globaltasteinc.com
Like me on FACEBOOK!
Follow me on TWITTER!
Contact me at [email protected] for personal chef and cooking class services!