Last Updated on December 16, 2020 by Madison Wetherill
Rista Palak
This variation on classic Kashmiri Rista – Lamb Meatball Curry is so delicious and full of iron and protein with the addition of spinach.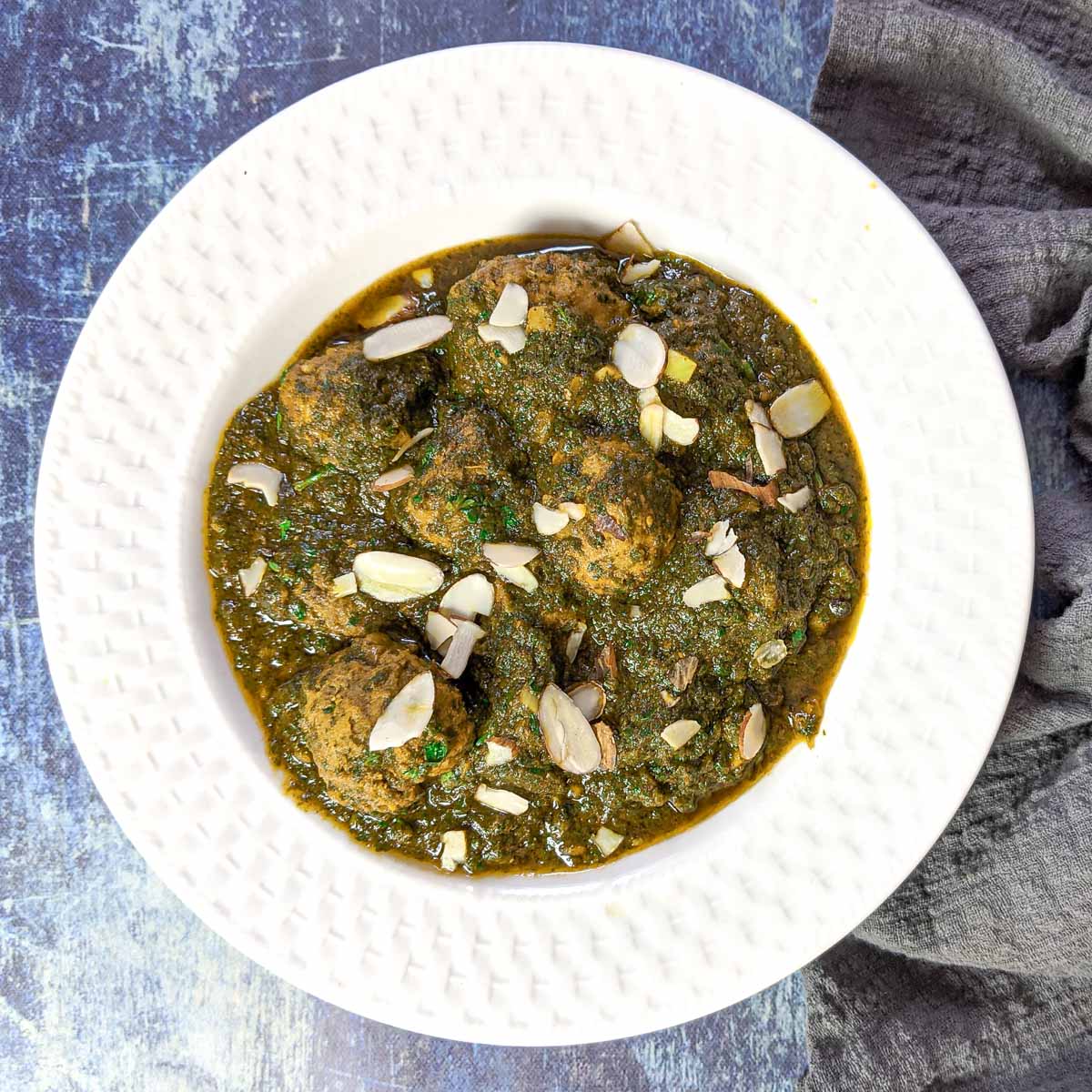 This post may include affiliate links.
It's thali time! Do you know what an Indian thali is?
A thali is a traditional Indian round platter that consists of small quantities of many dishes to make a complete meal. Many cultures have a version of a thali. Indonesia's Rijstafel utilizes the same concept.
Each state of India has its own thali and will consist of regional dishes particular to that state. This week I will be presenting thali's from three Indian states. The first state I will be presenting today is Kashmir. I am starting off today's thali special with Kashmiri Rista Palak – Lamb Meatballs in Spinach Curry.
I am a spinach fanatic. It is my favorite green vegetable so many of my recipes this favorite veggie. It's such a user friendly vegetable – sweet tender leaves, instead of the bitterness that's standard fare for most green leaf vegetables like kale. I put it in everything from omelettes and rice to pastas and smoothies. If you love spinach as much as I do, you will be a fan of this Kashmiri Rista Palak – Lamb Meatballs in Spinach Curry for sure!
This dish is a variation of the classic Kashmiri Rista, where lamb or mutton meatballs are cooked in a spicy curry with lots of Kashmiri red chili powder, which results in a bright red curry.
This is a dish that may have been included in a wazwan. A wazwan is a traditional Kashmiri wedding feast, where dozens of dishes are prepared. Did you miss my history notes on wazwan? You can read more about Kashmiri cuisine and the wazwan here! Imagine yourself sitting down enjoying a wedding feast as you dig into this scrumptious curry!
Kashmiri Chili Powder
This variation in spinach curry is slightly milder than classic Kashmiri Rista, however, it is still full of spices and flavor. Kashmiri cuisine is known for their abundant use of many spices in a single dish and Kashmiri red chili powder. Make sure to get Kashmiri red chili powder as it is milder than regular red chili powder or cayenne pepper.
If you cannot find Kashmiri chili powder, you can substitute half cayenne pepper and half paprika.
The Kashmiri Rista Palak was just one of the dishes I created for my Kashmiri Thali.
Kashmiri Thali
Rishta Palak – Lamb Meatballs in Spinach Curry
Rajma Masala – Kidney Bean Curry
Saffron Rice
Haak Ki Sarson (unfortunately with all these dishes, I forgot to get pics of this dish on its own, so the recipe will come later after I re make it) – a simple mustard green preparation in chile infused broth
Dogri Chicken Masala – a smoky chicken curry
Shufta – rose scented fruit and cheese dessert (recipe coming soon)
Kashmiri Naan – scented with fenugreek and cumin and stuffed with dried fruit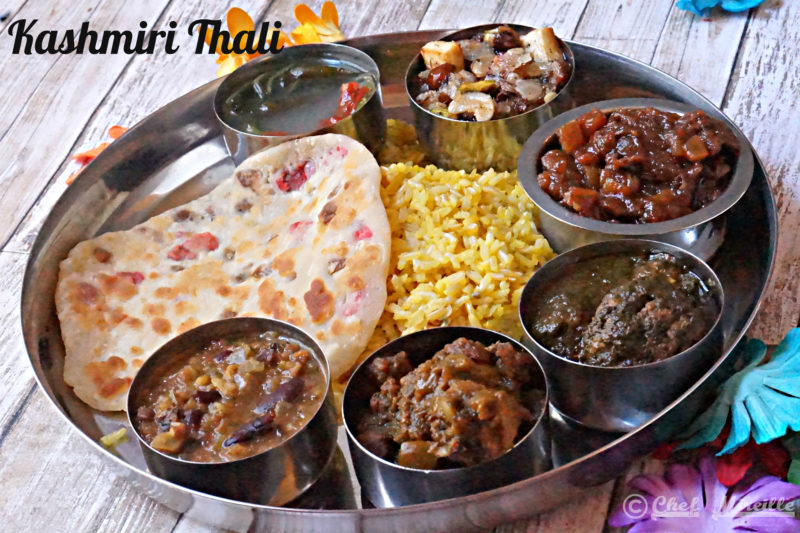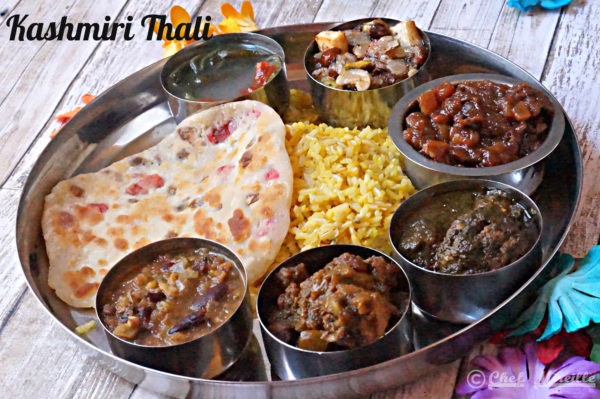 The meatballs are so good on their own. You can even just have them with some Naan bread and raita (Indian yogurt sauce).
Rishta Palak – Kashmiri Lamb Meatballs in Spinach Curry
Lamb Meatballs in Spinach Curry from the North Indian state of Kashmir
Ingredients
Meatball Ingredients
4

tablespoons

mustard oil

1

thinly sliced onion

1

lb.

ground lamb

1

"

piece of ginger

7

green chiles

3

cloves

garlic

1/2

teaspoon

ground cumin

1

pinch

freshly grated nutmeg
salt

to taste

1/2

teaspoon

turmeric
Curry Ingredients
2

tablespoons

ghee

4

cloves

10

peppercorns

1

bunch spinach

pureed

1

teaspoon

Kashmiri red chile powder

2

cloves

garlic

finely chopped

1"

piece

ginger

finely chopped

2

tablespoons

tomato paste

salt

to taste

2

tablespoons

sliced almonds

optional garnish

cilantro leaves

optional garnish
Instructions
Heat mustard oil in a skillet. Add onions and cook on low heat until they are golden brown, approximately 10 minutes.

In a food processor, combine ginger, chiles, garlic and cumin. Grind well. Transfer to a bowl and combine with the nutmeg, salt, lamb and caramelized onions.

Form into 16 2″ meatballs. Refrigerate for 30 minutes.

Dissolve turmeric in 1 1/2 cups water. Bring to a boil.

Add meatballs. Reduce heat to a simmer and cook for 10 minutes. Drain, but reserve the poaching liquid.

In a deep skillet, heat ghee. Add cloves and peppercorns. Cook for 2 minutes, until they become fragrant.

Add spinach and saute for 5 minutes, stirring frequently. Add chile powder, garlic, ginger. Simmer until oil separates, about 5 minutes.

Add reserved cooking liquid, tomato paste and salt. Simmer for 10 minutes, until thickened.

To serve, garnish with sliced almonds and cilantro leaves.
Nutrition
Calories:
393
kcal
|
Carbohydrates:
9
g
|
Protein:
14
g
|
Fat:
34
g
|
Saturated Fat:
12
g
|
Cholesterol:
68
mg
|
Sodium:
264
mg
|
Potassium:
278
mg
|
Fiber:
3
g
|
Sugar:
3
g
|
Vitamin A:
166
IU
|
Vitamin C:
10
mg
|
Calcium:
32
mg
|
Iron:
2
mg
Did you try this recipe? Leave a comment below.
Please follow me on Instagram @chefmireille or tag me #chefmireille with your pics! I'd love to share them!
DO YOU YUM? SAVE IT BELOW!
Yum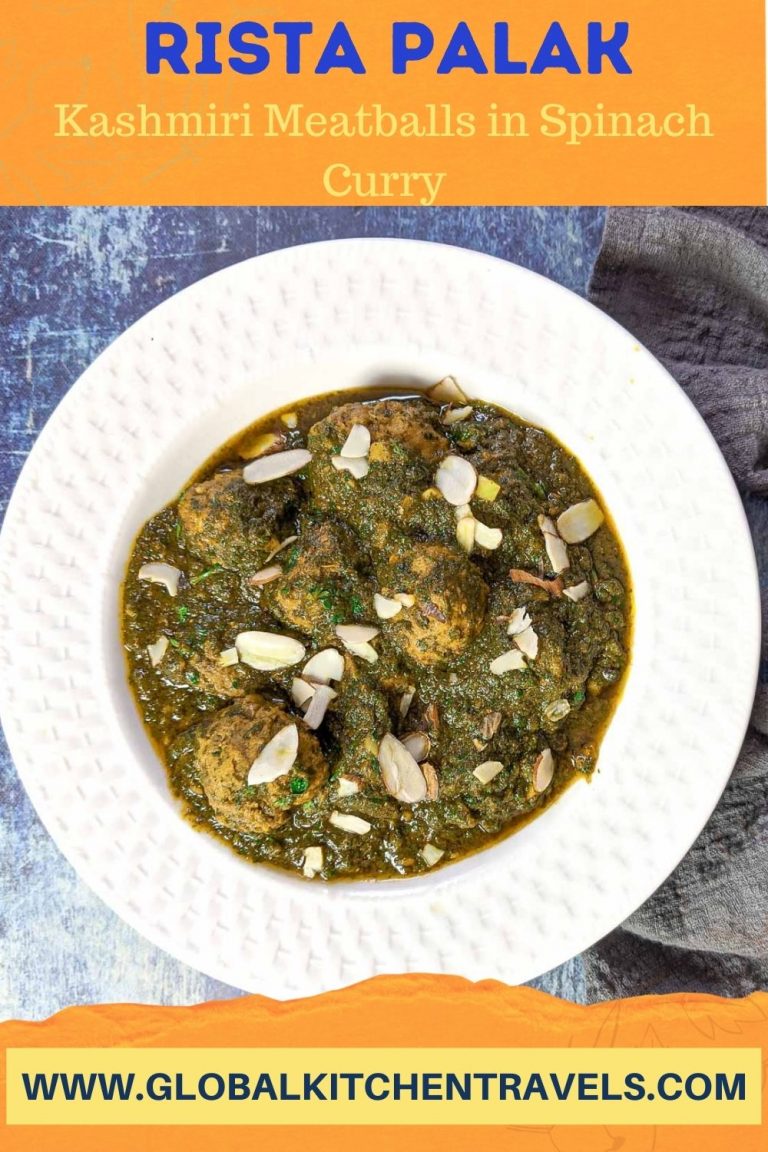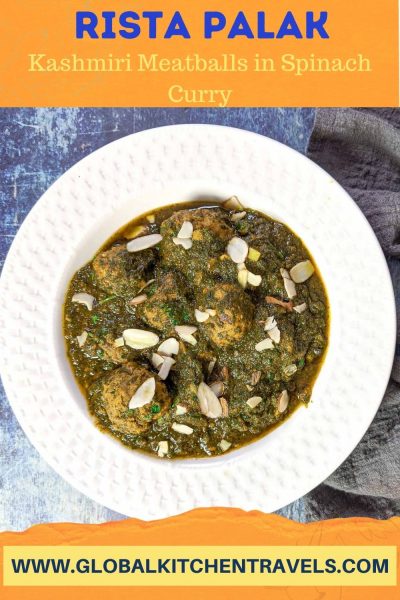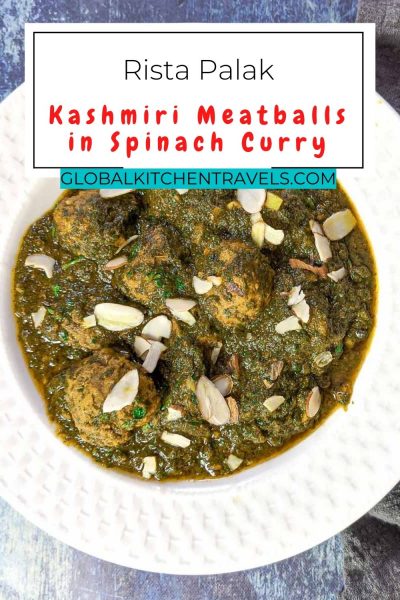 Don't forget to visit the RECIPE INDEX with over 1000 recipes from around the world including lots of Vegetarian Recipes and Gluten Free Recipes!