Last Updated on July 9, 2022 by Chef Mireille
Peruvian Scallop Ceviche with Choclo and Plantain Chips
Peruvian Scallop Ceviche is a delicious interpretation of Peru's national dish with just enough spice!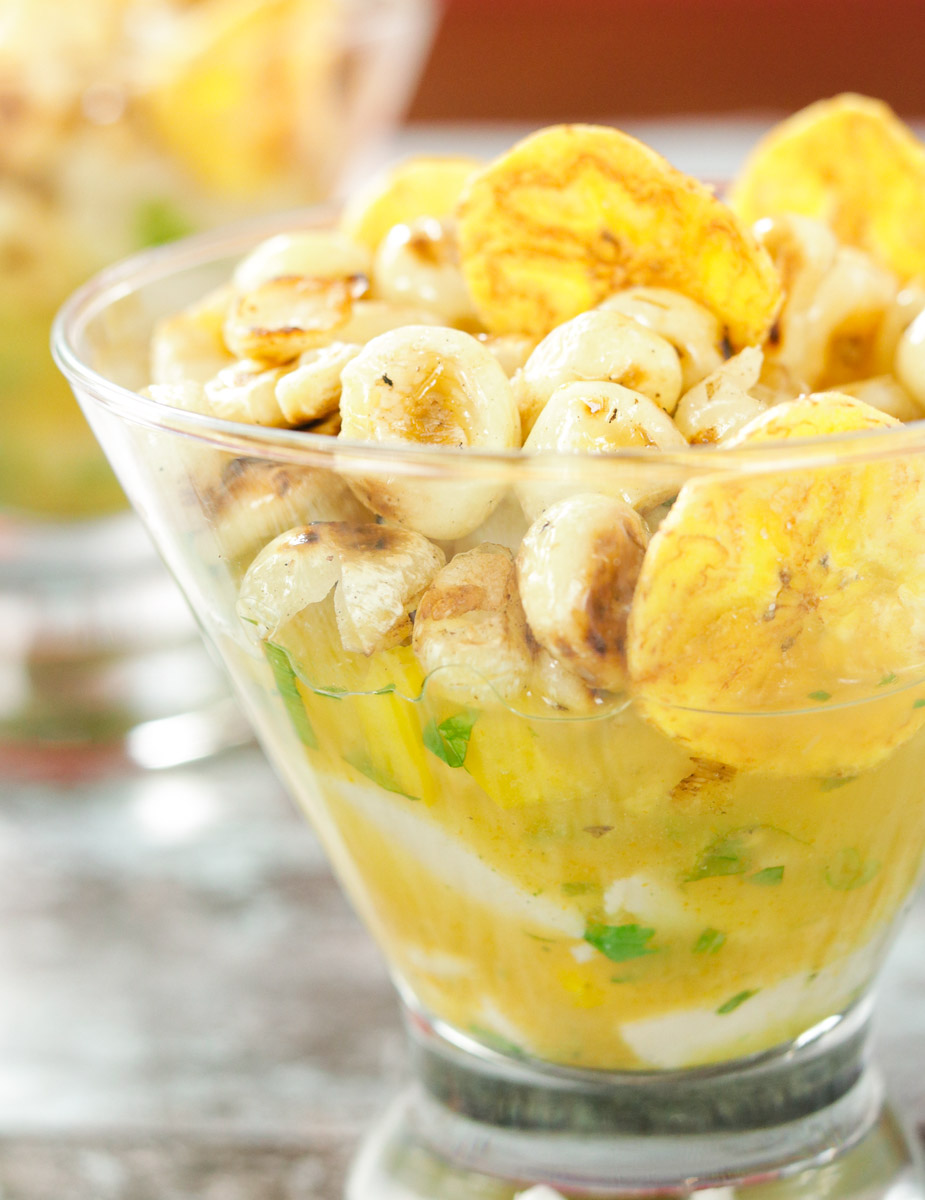 Many cultures have a local Chinese food cuisine – You can find Cuban Chinese Food, Afghani Chinese Food, Indian Chinese Food and Trini Chinese Food, just to name a few.
Although Peru does have Chifa (Peruvian Chinese Food), Nikkei – Japanese Peruvian Food – is the more popular Asian influenced cuisine in Peru.
Lima, the capital of Peru, is the only coastal South American capital. With the Japanese expertise in cooking techniques of fish and seafood, Lima was the perfect setting to marry Japanese cooking techniques with Peruvian ingredients.
This is how Ceviche, Peru's National Dish, grew out of sashimi.
So how did all these Japanese people wind up in Peru?
Japanese Peruvians
The first group of 800 Japanese came in 1899 to work as contract workers on colonial plantations.
By 1941, there were 26,000 Japanese in Peru. After the attack on Pearl Harbor, the US forced Peru to track them and send them to internment camps in the US.
A few hundred were sent to the US, never returning to Peru since their property was now lost to them.
However, today, there are over 160,000 Peruvians with some Japanese heritage out of a population of 31 million.
Today, the Nikkei are as Peruvian as they are Japanese.
…and the perfect representation of this is Ceviche. There are many cevicherias throughout Lima, but for the best ceviche when you make it to Peru, Al Toke Pez, a small street side vendor is the place to go!
So how do I know this since I've never been to Peru? I've been watching Street Food Latin America on Netflix. Last season was Street Food Asia. If you are a foodie like me who likes to travel and learn about local foods, I highly recommend you adding this to your Netflix watch lineup this week!
Peruvian Cuisine
One of my two best friends growing up was Peruvian. So I grew up eating Anticuchos, Lomo Saltado and Carapulcra on holidays or special occasions. For weeknight dinner, it might be Pollo en Salsa de Cilantro (Chicken in Cilantro Sauce) or Papas Rellena (meat stuffed potatoes) for an after school snack.
Peruvian cuisine is one of my favorite of all South American cuisines. With the use of pepper pastes like aji amarillo, aji panca and aji rocoto, their penchant for a good amount of spice definitely speaks to my palate.
If you like smoky, spicy food – Peruvian cuisine is definitely for you!
Their cuisine is a natural fusion of all the immigrants that have come into coastal Lima. Chinese, Japanese, Italian, African slaves and Indigenous tribes all have left their mark on Peruvian cuisine.
In fact, one of the most popular street foods in Lima is Platos Combinados (Combination Plates) – basically it will include any variety of foods from various cuisines. So you might get some calimari with fried rice and cassava bread. In Peru, that's normal!
Now you've learned all the reasons you have to visit Peru if you are a foodie…it's time to check out some other Peruvian Recipes you can try at home before you get there!
Peruvian Recipes
but if you are in NYC, I highly recommend visiting Urubamba for authentic Peruvian food!
Recipe FAQ
Why isn't ceviche cooked with heat?
The acid in the marinade cooks the fish or seafood in ceviche. It is not necessary to use heat to cook the seafood.
What kind of scallops should I use?
You can make Scallop Ceviche with either bay scallops or sea scallops.
What is most important is that the seafood is VERY FRESH. For Ceviche, look for sushi or sashimi quality seafood if your fish monger notes this.
The seafood should not smell, not should the fish market. If the fish market stinks, you need to change your seafood resource!
How long will Scallop Ceviche last?
The fresher you eat it, the better. However, it can stay in the refrigerator for up to 3 days.
Ceviche Garnishes
In this version, I have garnished the ceviche with two popular ceviche accompaniments – plantain chips and choclo.
What is choclo corn?
Choclo is a large kernel white corn, also known as choclo grano. It is similar to the same corn used for hominy in the famous Pozole of Mexican cuisine and the corn processed for grits.
Choclo is sold in two forms – either dried or frozen. The dried ones must be pre soaked, just like beans, before it is cooked. The dried one is called mote.
Choclo used to be only sold in good Latin American markets like Mi Tierra that sell South American goods, however, with the popularity of Peruvian cuisine in the NYC area due to restaurant chains like Pio-Pio, choclo is becoming more readily available at local supermarkets.
How about your city? Have you seen choclo grano in your market?
Choclo Grano, either boiled or roasted, is the go to accompaniment for most Peruvian street food, including ceviche.
If you absolutely cannot find choclo grano, you can use sweet corn. However, sweet corn has a totally different flavor and texture than choclo grano. Choclo grano is more chewy and firmer than sweet corn.
When you finish enjoy your ceviche, don't throw out the marinade liquid!
Leche de Tigre
The marinade liquid is known as leche de tigre, or Tiger's Milk. This is reputed to be the best hangover cure and an aphrodisiac.
It is often sold in the mornings at Lima cafe's to help you get over a night of drinking!
It is also sold at bar's, mixed with Pisco, Peruvian brandy, for a great cocktail!
So leche de tigre can help you both at the beginning of the night and at the end!
Now let's see how easy it is to make Peruvian Scallop Ceviche!
Peruvian Scallop Ceviche
Peruvian Scallop Ceviche makes a great first course to any meal, with the perfect combination of acid, spice and aromatics. Peru's national dish.
Ingredients
1

cup

lime juice

3

tablespoons

aji amarillo

1/4

cup

minced red onion

4

scallions

chopped

1

bell pepper

chopped

2

tablespoons

finely chopped cilantro

1

pound

scallops

Salt

to taste
Instructions
In a large shallow bowl, combine lime juice and aji amarillo. Whisk to combine.

Add onion, scallion, bell pepper and cilantro. Mix to combine.

Season scallops generously with salt. Toss to combine.

Add scallops to the lime marinade.

Cover and leave in the refrigerator for at least 4 hours, until the scallops are cooked and no longer raw..

Serve with plantain chips and choclo
Nutrition
Calories:
74
kcal
|
Carbohydrates:
8
g
|
Protein:
10
g
|
Fat:
1
g
|
Saturated Fat:
1
g
|
Cholesterol:
18
mg
|
Sodium:
299
mg
|
Potassium:
278
mg
|
Fiber:
1
g
|
Sugar:
2
g
|
Vitamin A:
721
IU
|
Vitamin C:
49
mg
|
Calcium:
10
mg
|
Iron:
1
mg
Did you try this recipe? Leave a comment below.
Please follow me on Instagram @chefmireille or tag me #chefmireille with your pics! I'd love to share them!
This post may include affiliate links.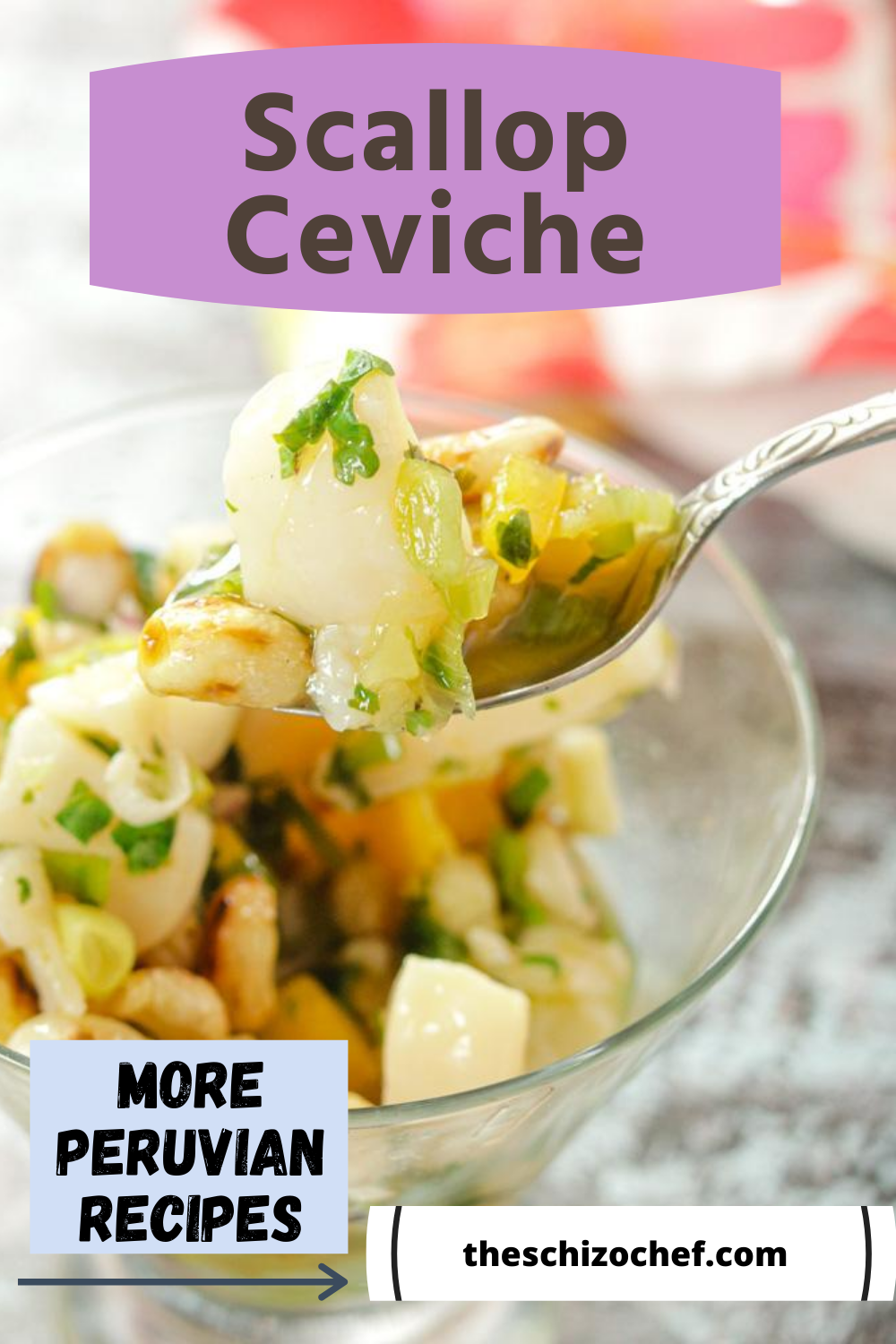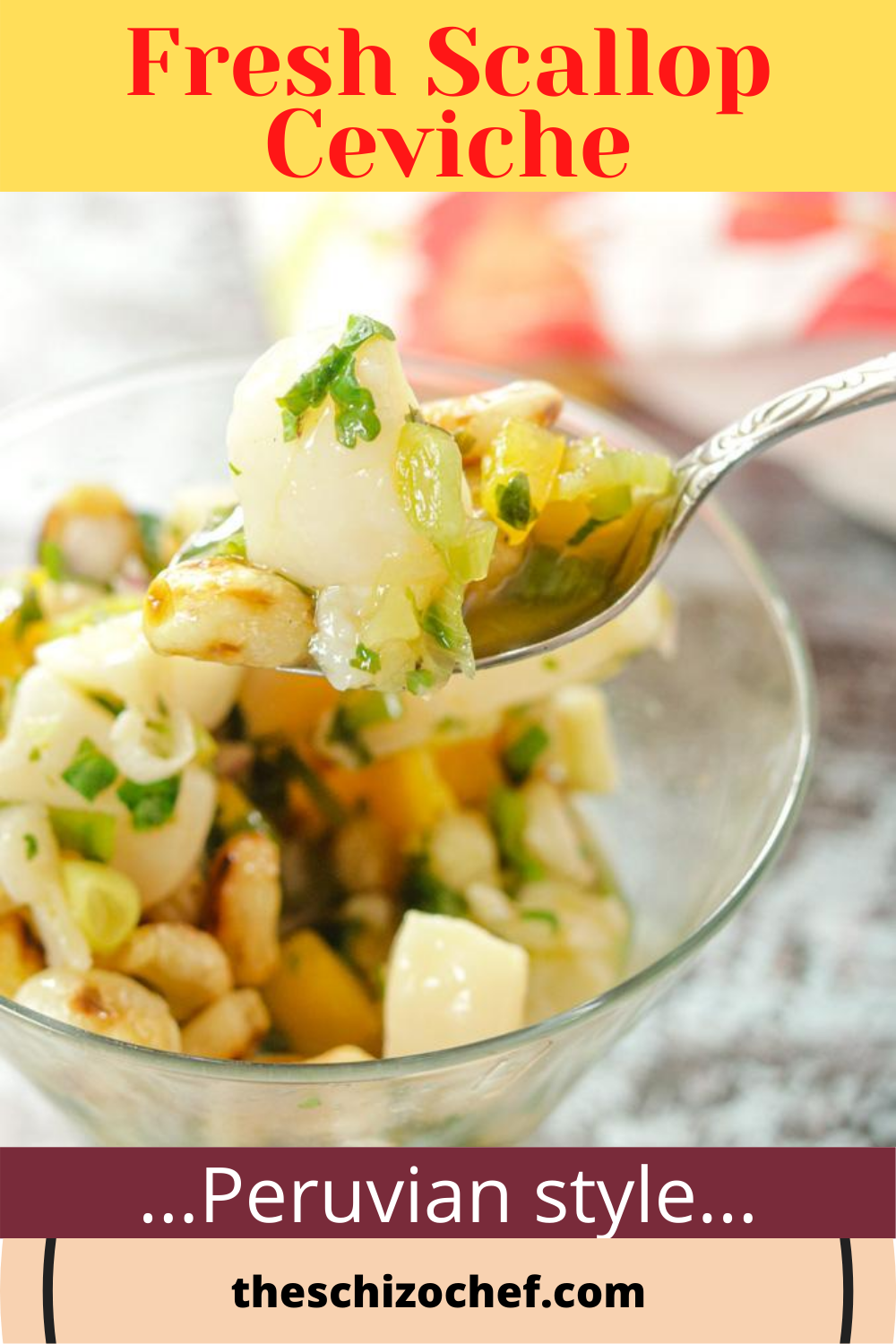 Don't forget to visit the RECIPE INDEX with over 1000 recipes from around the world including lots of Vegetarian Recipes and Gluten Free Recipes!