Last Updated on January 13, 2020 by Chef Mireille
Urubamba Peruvian Cuisine – Traditional Peruvian Cuisine in NYC – Jackson Heights – A quick train ride from Manhattan and you will be transported to the streets of Lima.
After sampling a number of mediocre restaurants recently, it was a pleasure to experience what good food and service can taste like again, at Urubamba Peruvian Restaurant in Jackson Heights. Located in the heart of the Latin American section of Jackson Heights, this restaurant pays homage to the multi-layered depth of Peruvian cuisine.
The meal started off with a pitcher of Chicha Morada, a local beverage made of fermented blue corn. Fruity, spicy and sweet at the same time, it reminded me of Caribbean sorrel, a drink close to my Caribbean descended heart. The appetizer sampler of ceviche, fish in aji yellow pepper sauce, calimari, mussels and yuca fries will have your taste buds thanking you with all the different levels of flavor and spice. One of the spiciest of South American cuisines, the fish in pepper sauce jumps out at you with a sauce, that has quite a powerful kick to it.
Of course, the menu has grilled steaks and Rotisserie chicken – standard fare at most South American restaurants, but I suggest going for the entrees that are unique to Peru. Start with some offals – Anticuchos (skewered veal hearts) are a popular street food item in Lima and here they are cooked perfectly, to moist tenderness. Tripe, not a favorite food of mine, was enjoyable here. Seasoned and expertly fried – those who don't usually like tripe texture, will enjoy this dish.
Beef in cilantro sauce was delicious, as was the falling off the bone tender Goat Stew, served over tacu-tacu. Tacu-Tacu is a kind of rice and cranberry bean pattie, served as an accompaniment to the main course. This is more interesting and delicious than plain white rice. I definitely suggest ordering one of the tacu-tacu entrees. Cumin and coriander are dominant flavors in the stews, but there is a great balance so not one flavor overpowers the entrees.
Don't finish your food. Instead, take home some leftovers and save room for dessert. Picarones, delicious anise flavored pumpkin and sweet potato donuts, are surprisingly light, given the starch content of the root vegetables.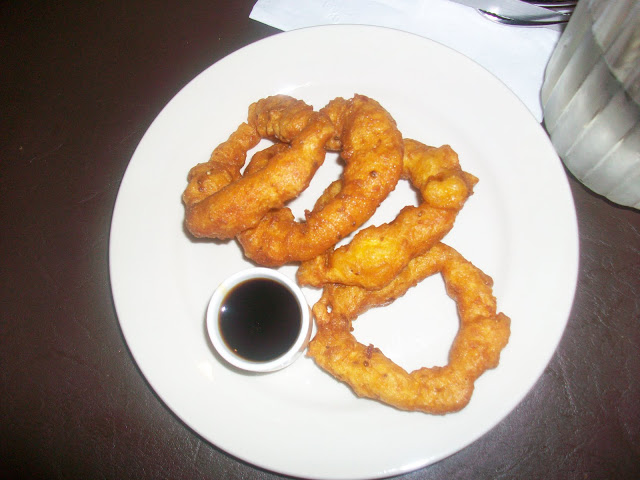 Picarones
Ice creams in local Peruvian fruit flavors like cherimoya and lucuma. Cherimoya tastes like candy, almost artificially fruity like gummi bears. Truly, a unique fruit flavor. The better choice is the lucuma, spiced with strong cinnamon and vanilla flavors, is the perfect end to this wonderful meal. Skip the post meal coffee. It is not needed, due to the spicy flavors in the lucuma ice cream.
Service is attentive and friendly. Not over the top, but adequate. This is a restaurant that I can recommend to frequent, until you have tried everything on their extensive menu.
Make your next Dining Out experience at Urubamba and I guarantee, you won't be disappointed.
2019 Update: Their portion size have gotten smaller, but the food is just as delicious!
Location
Urubamba Restaurant
86-20 37th Avenue
Jackson Heights, NY
(718) 672-2224
Do you know anyone else who likes learning about international food, culture, history and travel? Bring them over here to join the party! Don't forget to use those share buttons!
Start Here to find out how the Schizo Chef can help you with your cooking, travel and other needs!
If you like this recipe, PLEASE LEAVE A COMMENT & SUBSCRIBE!