Last Updated on May 20, 2015 by Chef Mireille
Our second posting of our Cookbook Recipe series is taken from The Great Curries of India.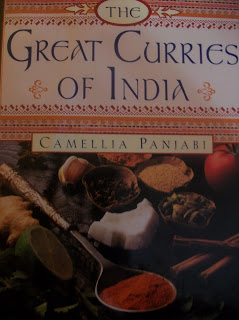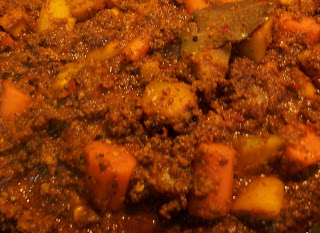 This cookbook is a wonderful book that includes recipes from the different regional cuisines of India. Ms. Panjabi also tells you exactly what region and community of India the recipes is from. I have made many recipes from this book and each one is a hit. My favorite is a delicious South Indian Prawn curry, made in a rich tomato sauce with jaggery and tamarind. I decided to try something different and tried this Vegetable Curry from the Indian state of Goa. The use of the Guajillo peppers are representative of the strong Portuguese influence on Goan cuisine.
Ingredients:
1 cup coconut
4 tablespoons oil
2 onions (1 finely chopped, 1 thinly sliced)
3 dried Guajillo chiles
2 teaspoons coriander seeds
1 2-inch piece of cinnamon stick
4 cloves
10 peppercorns
1/2 teaspoon mustard seeds
1/2 teaspoon cumin seeds
1/4 teaspoon asoefetida
1/4 teaspoon ground turmeric
2 bay leaves
2 blades of mace (can be purchased from Kalustyans)
1 pound vegetables, chopped (I used all root vegetables that have about the same cooking time, so they can be all added at the same time – potatoes, pumpkin and carrots
1 teaspoon lime juice
Method:
Heat 1 tablespoon of oil in a non-stick skillet. Add the coconut and saute for 5 minutes, stirring constantly, until golden brown. Remove and set aside in a bowl.
Remove the heads of the chiles and place in the skillet with the coriander seeds. After 3 minutes, add the cloves, peppercorns and cinnamon and stir for 2-3 minutes. Remove from the pan and add to the bowl with the coconut.
In a blender or food processor, combine coconut-spice mixture, roasted spices and 1 cup water.
In a large skillet, heat the remaining oil. Add the mustard seeds, cumin seeds, asoefetida and turmeric. After a minute, add the bay leaf and chopped onion. Fry for about 10 minutes, until golden brown. Add the coconut-spice mix and the mace and fry for 15 minutes, until the liquid has evaporated. Add 3 cups of water, salt and stir to combine.
Bring to a boil and add the vegetables, until cooked through, about 20 minutes.
Add the lime juice and taste for seasonings. Add salt, if necessary and serve with paratha.
For both vegetarians and non-vegetarians, this is a dish that can be served as a main dish. The dried chiles and the roasted spice paste create a great depth of smoky flavor. The Guajillo is a mild chile that adds flavor and smokiness, without adding a lot of heat. This is a great dish for people who like the flavors of Indian cuisine, but do not like a lot of pepper.
This semi-dry curry goes better with chapati or paratha, rather than rice. The coconut-spice mix consistency is perfect to be picked up with the bread, but there is not enough sauce to be absorbed by rice. If you would like some more heat to the dish, simply eat it with some achar. Sweet Lime Pickle would be the perfect achar to go with this mild curry.
Personally, I am not a fan of dry curries of this nature, but the dish had a lot of layers of flavor. I just was not a fan of the consistency.

Chef Mireille
Like me on FACEBOOK!
Follow me on TWITTER!