Last Updated on April 16, 2022 by Chef Mireille
Lucuma Ice Cream
This delicious ice cream tastes like a cross between mango and pumpkin. So delicious with cinnamon like undertones.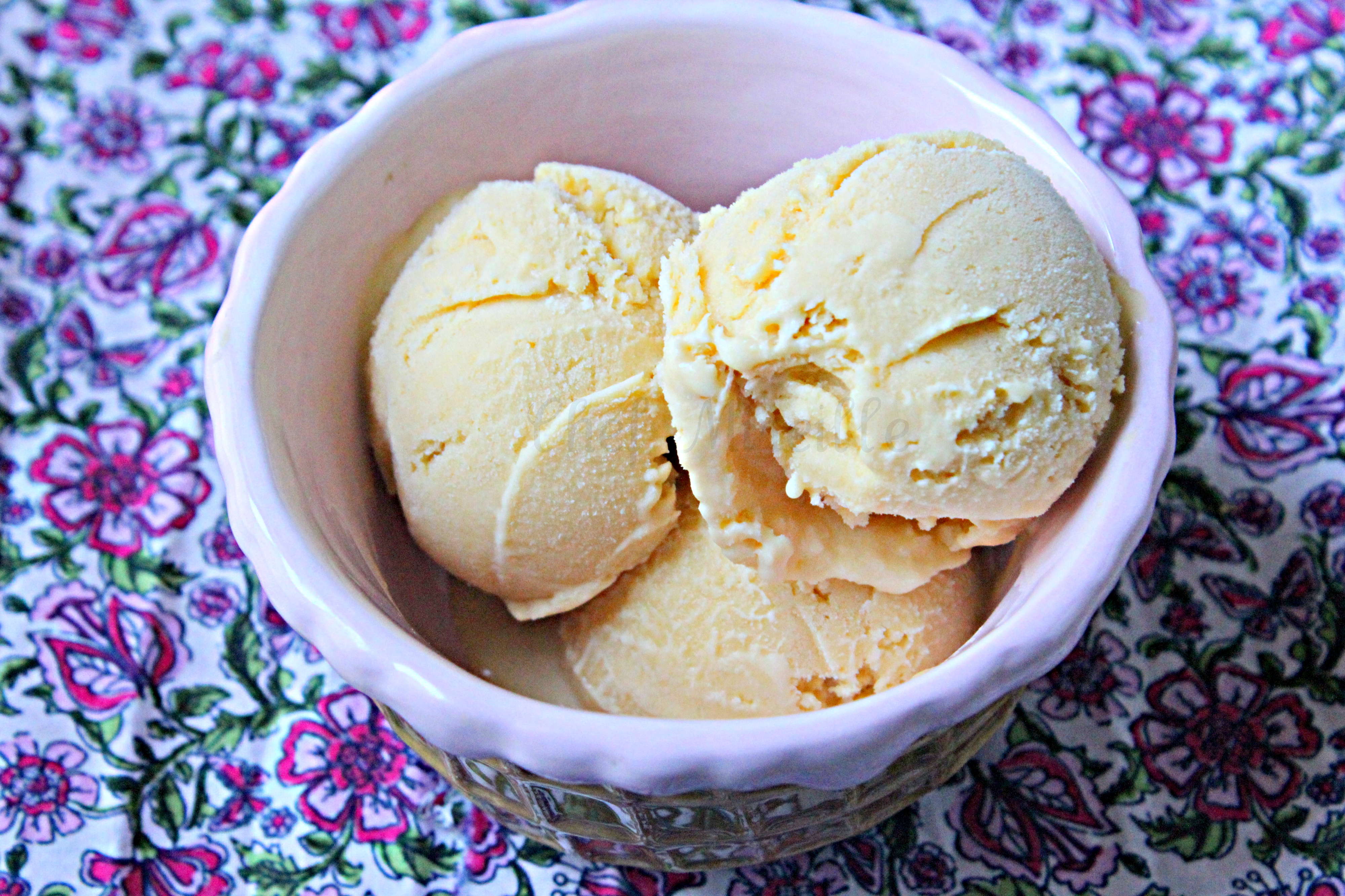 This post may include affiliate links.
Lucuma is a fruit native to Peru. You can find the frozen fruit puree at any good Latin supermarket. This Peruvian superfood was called the "Gold of the Incas". Check out the recipe for Lucuma Ice Cream – a Peruvian superfood for a delicious ice cream full of superfood goodness.
If you are looking for a low fat summer treat, this is not the recipe for you. Instead check out some of these other summer treats. However, if you would like to indulge in a rich and creamy ice cream full of healthful benefits, read on!
Low Fat Summer Treats
Peruvian Cuisine
Pio Pio is a popular NYC food chain that has popularized Peruvian food, however, now some people think Peruvian food is all about Rotisserie Chicken. It is so much more. It is a diverse cuisine and like any country has regional differences.
There is the European influenced cuisine of the capital in Lima and there is the indigenous influenced cuisine in the mountains and pueblos (villages). Then there is the African influenced cuisine in the Southeast, especially in Cuzco, where much of the African descended population lives.
For me going to Pio Pio is akin to going to KFC. I instead prefer the traditional foods I get at Urubamba Restaurant in Jackson Heights. Here I get things like Goat Stew, Beef in Cilantro Sauce, Tacu Tacu (Rice and Cranberry Beans), Anticuchos (Fried Sweetmeats), Picarones (Sweet Potato Pumpkin Doughnuts), Chicha Morada (Blue Corn Beverage) and Ceviche.
The best part of the meal at Urubamba are the summertime desserts of helado de lucuma and helado de cherimoya (custard apple ice cream). For the non Spanish speakers, helado is ice cream. Both of these fruits are native to Peru. Cherimoya tastes a bit like bubble gum. With its custard like texture, it is known as the ice cream fruit.
The lucuma is just as delicious. It tastes kind of like a custardy mango or pumpkin, with slight smoky flavors as if cinnamon or nutmeg had been added. I haven't been able to locate the fresh fruit here in the US, but the frozen fruit puree is available at good Latin Markets and is becoming more available at mainstream supermarkets at well.
Where to buy Lucuma
*I would love to provide more resources, so if you know of any place to purchase lucuma in any city, please let me know so I can update this info*
LUCUMA ALTERNATIVE
If you can't find lucuma in your city, you can use pumpkin puree and make pumpkin ice cream instead.
Lucuma Health Benefits
Lucuma is very healthy, rich in iron, protein, calcium and zinc. Americans have recently discovered this and now you can often find the powder at health food stores and gourmet supermarkets like Whole Foods and Fairway.
Let's hope lucuma doesn't have the same fate as quinoa, making it so expensive for the locals so they can no longer afford the healthy food of their ancestors. Not only healthy, but it is super delish!
There are a few flavors whose fragrance is so intoxicating, it puts you on a natural high. For me, those three ingredients are saffron, cardamom and lucuma. Hours and hours after cooking with it, it still perfumes the entire apartment. If you like the heady aromas of cardamom and saffron, you will also fall in love with lucuma!
I've already made a lightened up Vegetarian (eggless) version of Lucuma Ice Cream here, but this time I decided to go for the traditional version.
---
If you like spicy food, you will love Peruvian food as their cuisine is often flavored with a variety of pepper pastes. Check out some of my other Peruvian recipes I've already cooked up!
Peruvian Recipes
How to Make Lucuma Ice Cream – a Peruvian superfood
Rich and creamy Lucuma Ice Cream!
Do you like experimenting with unique ice cream flavors as much as I? Check out this amazing collection of 50 Unique Ice Cream Recipes
Lucuma Ice Cream – a Peruvian superfood specialty
Lucuma a Peruvian superfood makes a delicious ice cream!
Ingredients
3/4

cup

evaporated milk

1/2

cup

sugar

4

egg yolks

1

teaspoon

vanilla extract

1/2

cup

frozen lucuma puree

defrosted

1

cup

heavy cream
Instructions
n a saucepan, heat evaporated milk but do not let it boil.

Meanwhile, beat sugar and egg yolks until very light and voluminous.

Slowly add heated milk a little at a time, beating well after each addition.

Add vanilla, lucuma and heavy cream.

Mix until thoroughly combined.

Chill mixture in the refrigerator.

Churn in ice cream maker or alternately freeze in the refrigerator for 4 hours, stirring once an hour.
Did you try this recipe? Leave a comment below.
Please follow me on Instagram @chefmireille or tag me #chefmireille with your pics! I'd love to share them!
DO YOU YUM? SAVE IT BELOW!
Yum
Don't forget to visit the RECIPE INDEX with over 1000 recipes from around the world including lots of Vegetarian Recipes and Gluten Free Recipes!