Last Updated on April 6, 2021 by Chef Mireille
Coconut Fruit Parfait with Red Velvet Cake and Coconut Pound Cake – These delightful Coconut Fruit Parfait's with Marscapone Cream, cake and fresh fruit make a great summer dessert.
Make these for Memorial Day or as a July 4th dessert. You can use only fruits colored red and blue to make it more of a patriotic themed dessert.
This post also includes recipes for my version of a classic Red Velvet Cake and a Coconut White Cake, but you can use store bought cakes for Instant quick and easy versions of this delicious Dessert Parfait.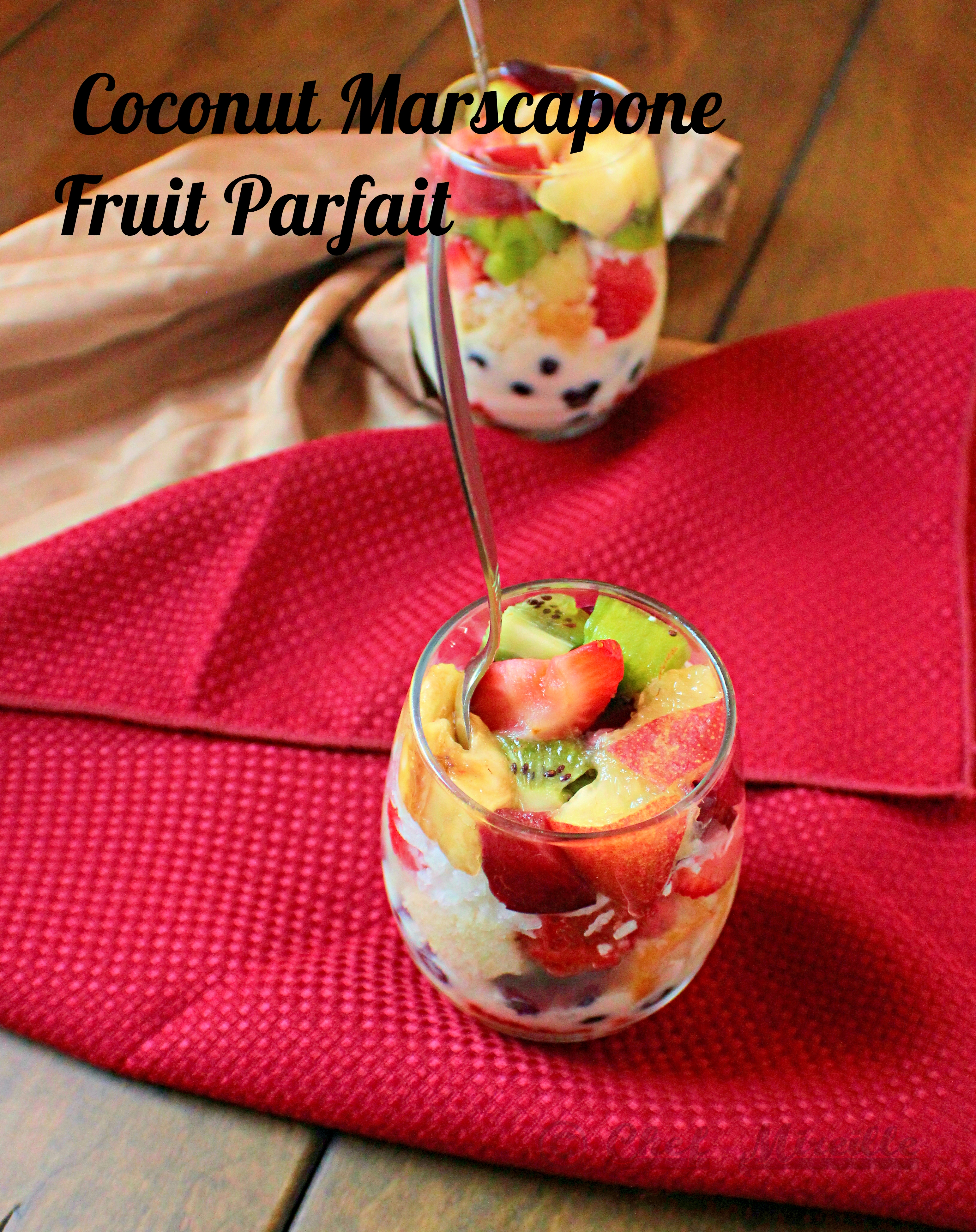 Whenever we think of the American Independence Day, we think of red, white and blue. A bunch of red, white and blue themed desserts satiate the blogosphere. However, in today's political climate I think it is important to represent what makes America great – it's diversity. The diversity of people who come from all over the world – "This land is your land, This land is my land".
Everyone was made to feel welcome here. In this country, my Mom came from a small Caribbean island that isn't even on some maps and became a nurse and a lawyer. In this country, my dad escaped living under a harsh dictator with his life at constant risk because he was a political activist.
When people say they want things to return to the way they used to be, so do I. I want it to return when everyone was welcome and while there were instances of bias, they were isolated and not an everyday occurrence. But at the same time, you are living in a fantasy world if you want to return to yesterday. Think about all the technology that make our lives easier. None of that would be in existence if people did not want to develop and progress.
In my small way as a food blogger, I want to express the diversity and the people of all colors and all faiths that coexist here that enrich our country. Instead of sticking to red, white and blue themes, colorful desserts as colorful as its people is what represents the best of America!
Now I went all out and gave you the recipes for two awesome cakes to go into this parfait. However, whose going to know if you turn this July 4th treat into a semi-homemade version. Buy the cakes or if you like those box cake mixes, hey no judgements here! Maybe you don't event like Red Velvet…although I can't fathom why 🙂 so here are some other cake ideas you might like to try!
CAKE RECIPES
There are two ways of presenting this dessert. You can either serve it completely assembled topped with lots of colorful fruit or you can serve it only until the flaked coconut layer. Then put out a platter of colorful fruit so everyone can top their own parfait as they desire.
How to Make Cake & Fruit Parfait
First we make the Red Velvet Cake
Then we make the Coconut White Cake
Cakes our made. Put together the Coconut Marscapone – Note that you are going to have extra cake that you can serve on its own!
Now we put our parfait's together!
You can serve it in one big dish like a trifle and spoon out servings, but I prefer the idea of serving it in individual portions!
It is a delicious summer dessert with varying textures – cake, creamy marscapone and refreshing fruit!
I know it looks like a sinful dessert, but with all that fresh fruit, how can that be a bad thing? – DONT GET SCARED by the calorie count. It does not take into account that you have a LOT of leftover cake with these parfaits and you can just serve the sliced cake on its own as another option at your party!