Last Updated on January 24, 2021 by Chef Mireille
Javanese Rose Dawet – This Lemongrass & Coconut Milk drink is popular from Indonesia to Suriname! Check out the recipe for this Vegan milkshake!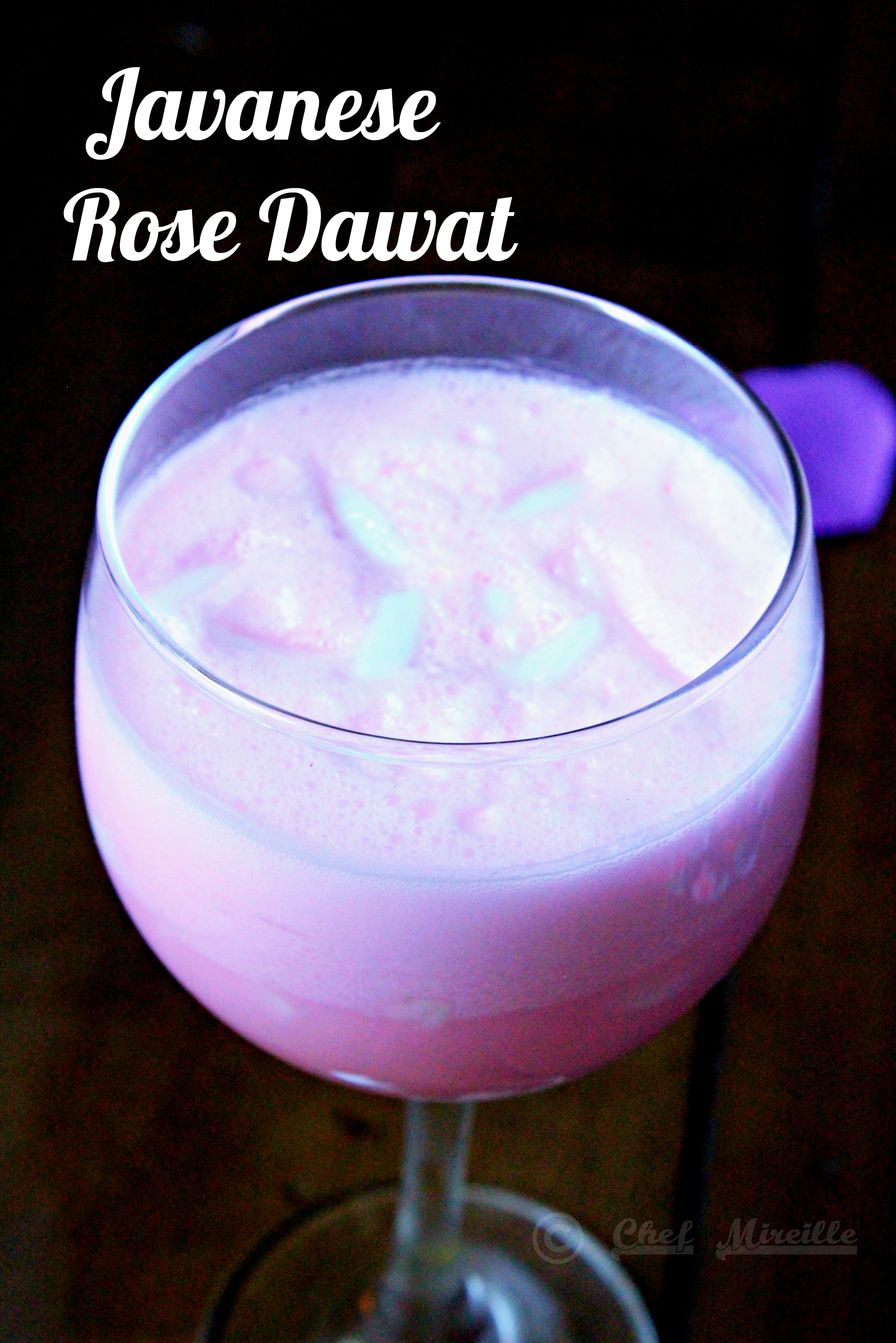 This post may include affiliate links.
Are you looking for a delicious sweet drink to enjoy as a snack or a treat? You may wonder how this drink got from Java in Indonesia to Suriname.
Well, there is a very large Indonesian population in Suriname, the small Dutch speaking country located on the northeastern coast of South America.
Indonesian cuisine is very familiar to me as my mother's family is from Suriname. There is a large Indonesian community in Suriname and even within my own family, specifically Javanese. In Suriname, the Indonesian community is referred to as Javanese. The original Indonesian immigrants most likely came from Java.
My first experience with this cuisine was when my Indonesian Surinamese family visited us in NY on their way to the Netherlands. That year, I was able to meet much of my extended family from Suriname as many of them were migrating to the Netherlands as Suriname was in economic upheaval immediately after achieving its independence from the Netherlands.
Even at 4 years old, I think I must have fallen in love with the cuisine as I certainly don't recall any bad food memories of the time they stayed with us. As I became older and they often visited us, I completely went mad over the fusion multi layered flavorful cuisine they often cooked for us when visiting. As my interest in culinary arts developed, I started collecting recipes from my Indonesian family and here is one of them!
Check out the 70's style photo of my cousin and I…part of the migrating family! Hope you enjoy the journey as I love sharing this little bit of my family history with you!
As what often happens, recipes change when they cross oceans according to food availability and local cultural preferences. Even though the Suriname version of the drink differs from the Indonesian version a bit, I am sure Indonesians will enjoy this version as much as the Surinamese do.
Indonesian version – Cendol recipe
In larger Indonesia, this drink is named Cendol but in Java, it has the same name as Dawet. Their version is a drink made of coconut milk and palm sugar with green, flavored with pandan, rice flour or tapioca noodles. Our Suriname version is flavored with lemongrass and young coconut meat. While food coloring is usually used to give our version a pink color, I opted for rose paste for a more flavorful beverage.
Specialty Ingredients
Young Coconut Meat – sold in cans or jars in Asian markets. The coconut meat is usually sliced up already for you in the jars, but in the canned version it is in large chunks. Just cut up into thin slices to garnish the drink. You can also reconstitute dried coconut in hot water if you cannot find young coconut meat in jars or cans.
Rose Paste – The rose paste might be a little harder to find, but if it is a store that carries a good variety of Southeast Asian products, it should be available. However, although it might not be as flavorful, you can substitute a little rose water and red food coloring if you cannot source the rose paste.
Coconut Milk – You need to use full fat canned coconut milk. Carton or tetra pack coconut milk will not yield the same result.
To learn more about the differences between the types of coconut milk, read all about it here – Types of Coconut Milk.
Here in NYC you can find these products at Asia Market Corp.
Let's go over all of the ingredients you will need to make delicious Javanese Rose Dawet
Ingredients
lemongrass
1 cup sugar
rose paste
Have you tried instacart yet? It's how I get all of my fresh grocery items delivered within 2 hours!
HOW TO MAKE SURINAMESE STYLE JAVANESE ROSE DAWET BEVERAGE
This Vegan drink is cool and refreshing on a hot summer day!
Suriname Style Javanese Rose Dawet
This Suriname Style Javanese Rose Dawat is a refreshing summer drink with the flavors of young coconut meat and lemongrass.
Ingredients
Syrup Ingredients
1 ½

cups

water

2

stalks lemongrass

1

cup

sugar

a few drops of rose paste
Dawat Ingredients
5

ice cubes

2

cups

coconut milk

1/4

cup

syrup

from above

4

tablespoons

young coconut meat
Instructions
In a saucepan, place lemongrass in the water. Bring to a boil.

Add sugar and boil for 10 minutes, until syrup consistency.

Remove lemongrass and let cool.

Add rose paste and stir to combine.

In a blender, crush 5 ice cubes. Add coconut milk and rose syrup. Blend until thoroughly combined.

To serve, place some of the coconut meat in the bottom of each glass. Add dawet. Garnish with more coconut meat on top.
Nutrition
Calories:
529
kcal
|
Carbohydrates:
72
g
|
Protein:
3
g
|
Fat:
29
g
|
Saturated Fat:
26
g
|
Sodium:
37
mg
|
Potassium:
302
mg
|
Fiber:
1
g
|
Sugar:
67
g
|
Vitamin C:
2
mg
|
Calcium:
29
mg
|
Iron:
4
mg
Did you try this recipe? Leave a comment below.
Please follow me on Instagram @chefmireille or tag me #chefmireille with your pics! I'd love to share them!
Don't forget to visit the RECIPE INDEX with over 1000 recipes from around the world including lots of Vegetarian Recipes and Gluten Free Recipes!