Last Updated on April 2, 2019 by Chef Mireille
This Spice & Herb French Braid infused with a myriad of spices and herbs is a flavorful addition to your breakfast or perfect to enjoy with a hearty bowl of soup or a green salad!
It's that time again….Bread Bakers. As soon as the theme of Braided Breads was announced, I decided immediately to do a basic French bread flavored up with spices and herbs. I was just going to do a basic 3 strand braid, which I've done before in breads like:
Other Braided Breads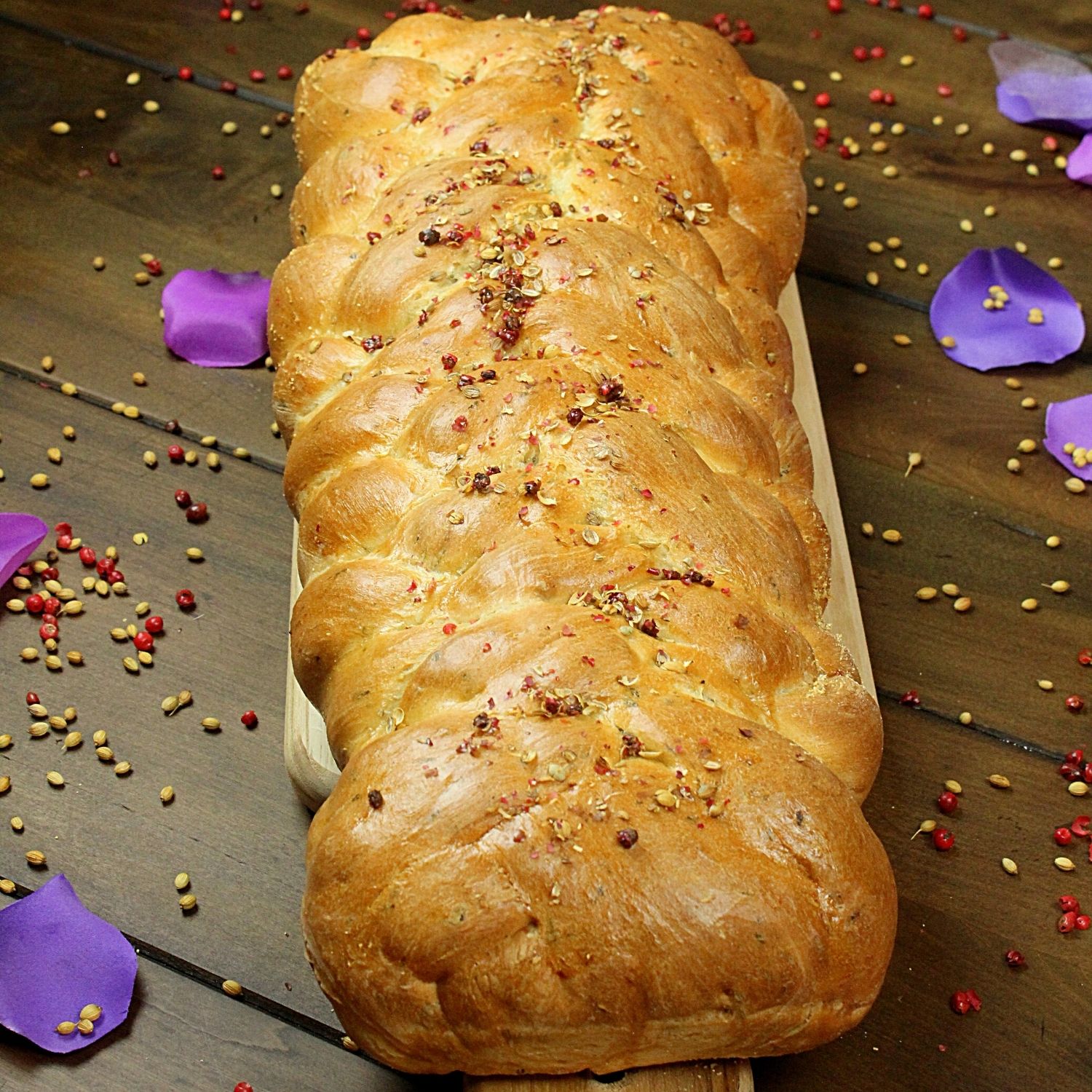 This post may include affiliate links.
…but that all changed after watching a You Tube video demonstrating how to braid breads up to 9 strands. It's actually a lot easier than you think. I am not the most artistic of bakers. If I was able to manage it, you certainly can!!!
How to make a French Braid loaf
With this bread's mosaic of spices and herbs, there is no flavor that dominates. In stead, subtle notes of the different spices and herbs create an incredibly flavorful bread that needs nothing more than some salted butter. Jam or cheese would overpower the gentle notes in the bread.
Perfect to serve with a cup of tea!
Spiced Braided French BRead
This Spice & Herb French Braid infused with anise, cumin, coriander, cilantro and mint is a flavorful addition to your breakfast or perfect to enjoy with a hearty bowl of soup or a green salad!
Ingredients
2

cups

water

2

tablespoons

shortening

4 1/2

teaspoons

instant yeast

4 1/2 – 5 1/4

cups

bread flour

or all purpose

1

tablespoon

salt

2

teaspoons

sugar

½

teaspoon

anise seed

1/2

teaspoon

cumin seed

1

tablespoon

finely chopped mint

2

tablespoon

finely chopped cilantro

1

teaspoon

coriander seed

1

teaspoon

pink peppercorns

1

egg white

cornmeal

for dusting
Instructions
In a saucepan, heat water and shortening to 120-130 F.

Sprinkle yeast on top and wait 5-10 minutes until it turns foamy.

In the large bowl of an electric mixerl, combine 3 1/2 cups of the flour with the sugar and salt and mix to combine. Add the warm water and mix until all the flour is well moistened.

Add anise, cumin, cilantro and mint.

Add another 1 cup of flour and knead for 10 minutes until dough is soft and elastic, adding up to another 3/4 cup of flour as necessary.

Turn onto a floured surface and knead in an additional 1/4 – 1/2 cup of flour until the dough is smooth and elastic.

Place in an oiled bowl. Cover loosely with plastic wrap and a kitchen towel and let rise for 1 hour, until doubled in size.

Turn dough onto a lightly floured surface. Sprinkle a little flour on top and knead for a few times.

Divide dough into 7 equal sized balls, about 1.8 oz. each.

Take one portion and roll into a rope by first squeezing the ball while pulling at both ends to get a short rope. Then turn the dough against the work surface as if you were turning a jump rope while pulling apart at each end, until you have a rope about 13-14″

Repeat with the other 6 portions of dough.

At one end squeeze all the ends together.

Starting at one end, take one rope and go over one and then under two ropes so that the rope you started with at the end is now in the middle.

Repeat at the opposite end.

Continue going back and forth from one side to the other until all the dough has been braided.

Carefully transfer to a baking sheet sprinkled with cornmeal.

Cover with a kitchen towel and leave to rise for 45 minutes.

Preheat oven to 375 F.

Meanwhile, crush the coriander and peppercorns with a rolling pin. Do not use a spice grinder as you want them only coarsely crushed.

Bake for 30 minutes.

In a small bowl, combine egg white with 1 tablespoon water. Brush on top of the loaves. Top with the coriander seed and peppercorns.

Bake for an additional 15 minutes, until the loaves sound hollow, when tapped.

Cool completely before slicing
Notes
You can adapt this bread recipe to different strand braids, whether you prefer a 3 strand, 5 strand or 7 strand braided French Bread
Nutrition
Calories:
304
kcal
|
Carbohydrates:
57
g
|
Protein:
11
g
|
Fat:
3
g
|
Saturated Fat:
1
g
|
Trans Fat:
1
g
|
Sodium:
444
mg
|
Potassium:
115
mg
|
Fiber:
3
g
|
Sugar:
1
g
|
Vitamin A:
6
IU
|
Vitamin C:
1
mg
|
Calcium:
16
mg
|
Iron:
1
mg
Did you try this recipe? Leave a comment below.
Please follow me on Instagram @chefmireille or tag me #chefmireille with your pics! I'd love to share them!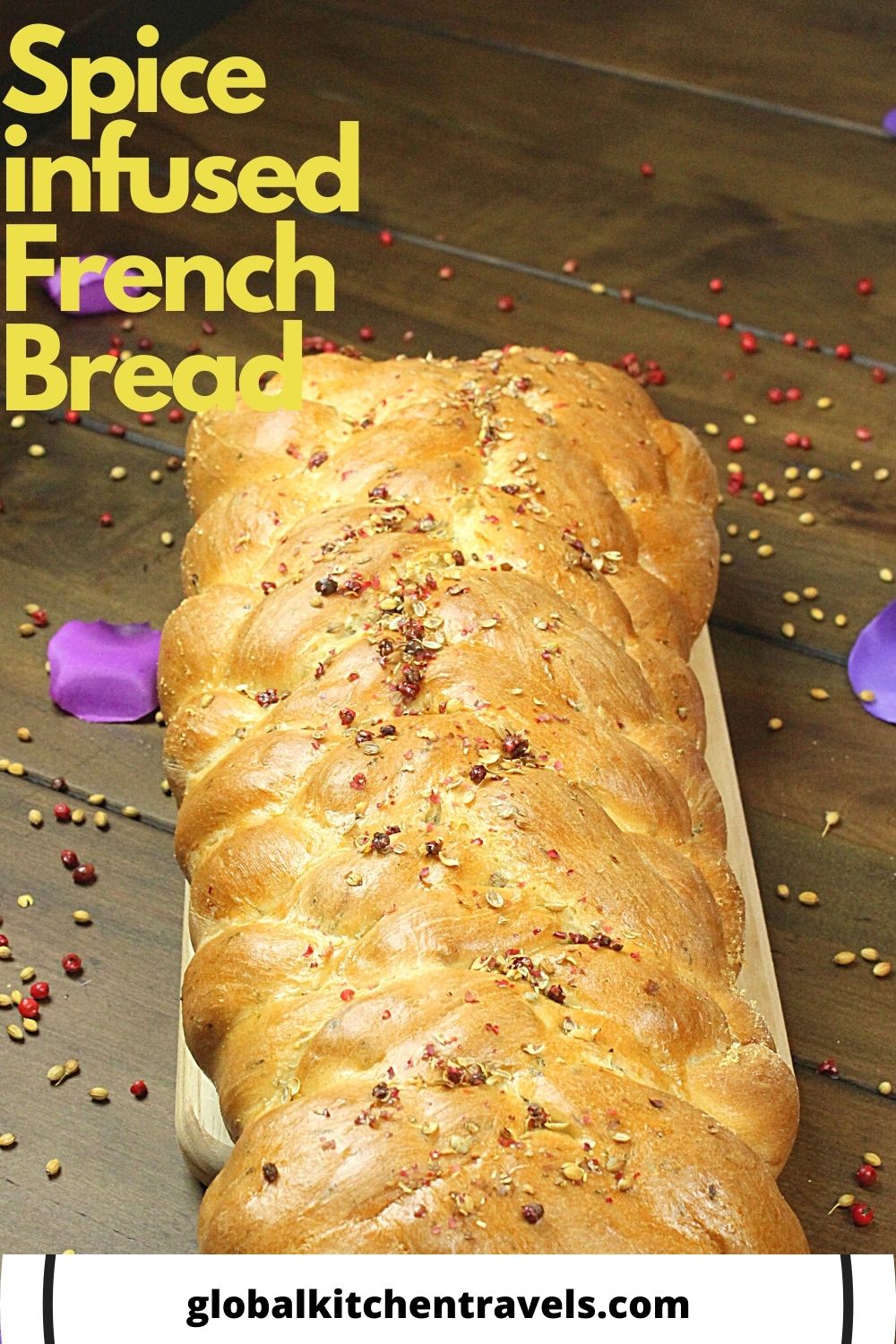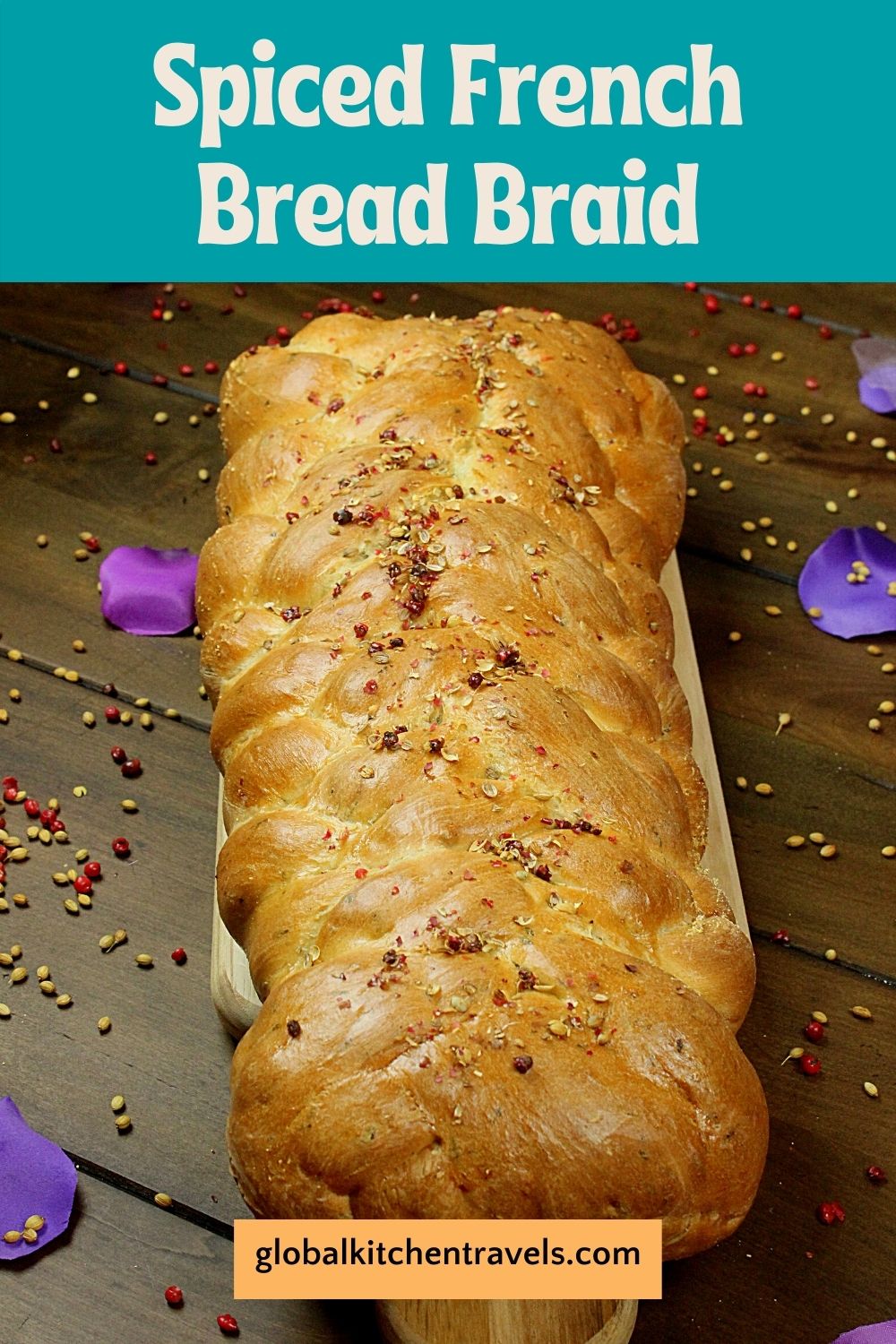 Don't forget to visit the RECIPE INDEX with over 1000 recipes from around the world including lots of Vegetarian Recipes and Gluten Free Recipes!