Last Updated on April 11, 2023 by Chef Mireille
This post may include affiliate links.
Peruvian Purple Corn Drink is a refreshing summer drink made from Peruvian blue/purple corn. This dried corn packs a punch of flavor in this non alcoholic refresher that is also packed with anti oxidants.
You can easily turn Peruvian Chicha Morada into a delicious cocktail by adding some Pisco (Peruvian brandy).
Not only is this a delicious drink, but it utilizes pineapple peels and apple skin, making it a great way to practice avoiding food waste.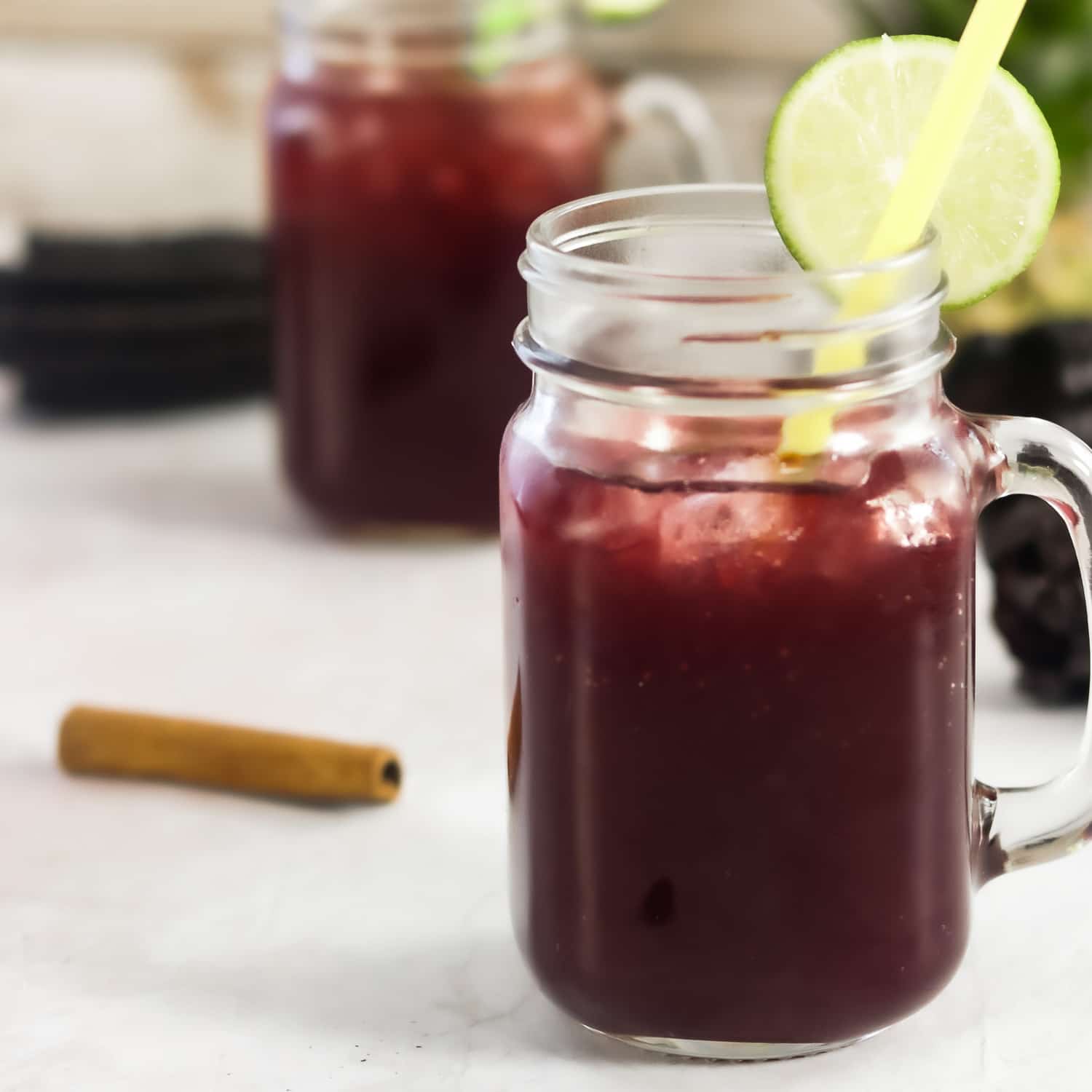 Table of Contents
Peruvian cuisine is in my top three of favorite South American cuisines. Suriname is #1 because of my family connection to the country so that cuisine is food that I grew up eating so it's comfort food to me. #2 is Brazil with its multi cultural cuisine and especially the African influenced food of the Bahia people. Peruvian cuisine I love because of their affinity for spicy food with a variety of pepper pastes used.
Believe it or not the most memorable occasion I have with Peruvian food..or really I should say drink…happened in college…
One of my best friends growing up was Peruvian (yes, Zandra I'm talking about you) and I had many meals at her house from the age of 8…and drinks. On one occasion when we were about 18 or 19, a bunch of girls were hanging out drinking and talking. We ran out of drinks, but no one wanted to go outside to buy more. Her parents were away in Peru, so it was just us and her brother in the other part of the house staying as far away from us as possible.
He was in the male minority and had no interest in being anywhere near some slightly intoxicated teenage girls. He was about 6 years older than us and as long as we didn't burn anything down, he wanted absolutely nothing to do with us.
Now before I continue, when I say we were drinking, at that age we mostly consumed wine coolers and beer which has a very low alcohol content. None of us drank hard liquor at that point. Zandra went into her parent's secret stash of a home brewed alcohol her parents had and OMG to date, this is the strongest alcohol I have ever tasted. With this alcohol that went straight to my head in one shot and with only 1 1/2 hours of sleep, I somehow managed to get to work the next day ( it was summer vacation from school and I worked at an answering service at the time), although the whole day was a blur. Wow to be 18 again and be able to survive on no sleep!
Anyway, years later as I began to explore the foods of different countries, I realized it was a home made version of fermented Chicha that I drank. In Peru, there is both this non alcoholic version of Chicha Morada as well as a fermented version that is distilled into an alcoholic beverage. I think I have too many foggy memories of the alcoholic version that this is one drink I generally stick to the non alcoholic version.
Even without fermentation, you can easily add a little of your favorite liquor to easily turn Chicha Morada into a delicious cocktail.
Peruvian Chicha Morada is not only delicious, but healthy too!
So even when I go to my favorite Peruvian restaurant in NYC, Urubamba Restaurant I always stick with the non alcoholic Chicha Morada – Peruvian Purple Corn Drink
Purple Corn FAQ
What is purple corn?
Purple corn is a dried corn product, sold in Latin American stores. It can sometimes be found in regular supermarkets with good international sections.
Where should you look for it?
When you go on the search for the corn, it is sometimes sold as blue corn and sometimes as purple corn. It is a dried corn product so you will need to look for it in the dry goods section of the supermarket. Unless the supermarket is divided by region, it will be in the same area where other grains like flour, etc. are sold.
Are there any substitutes?
In many health food stores and gourmet supermarkets, you can find purple corn powder and make an instant version of Chica Morada.
Health Benefits of Purple Corn
Although I have been eating purple corn for many years, it has recently been coined as another super food. For this reason, extracts and powders of purple corn can now often be found in health food stores or organic markets.
If you still want to try adding purple corn to your diet and can't find the dried purple corn, these other substitutions you can can try.
However, the real thing is definitely preferable.
So what are the health benefits of purple corn?
Purple Corn has one of the highest anti oxidant levels found in nature.
Studies have shown that purple corn can help with high blood pressure, kidney health and eye health. It is also a natural anti inflammatory.
Another way to enjoy all of the health benefits is to use purple corn flour the next time you make tortillas.
Chicha Morada – Peruvian Purple Corn Drink has a taste similar to a drink from the Caribbean called sorrel, made from hibiscus. See my Sorrel Recipe here. If you just can't lay your hands on purple corn, dried hibiscus is a good substitute, but first try these online sources.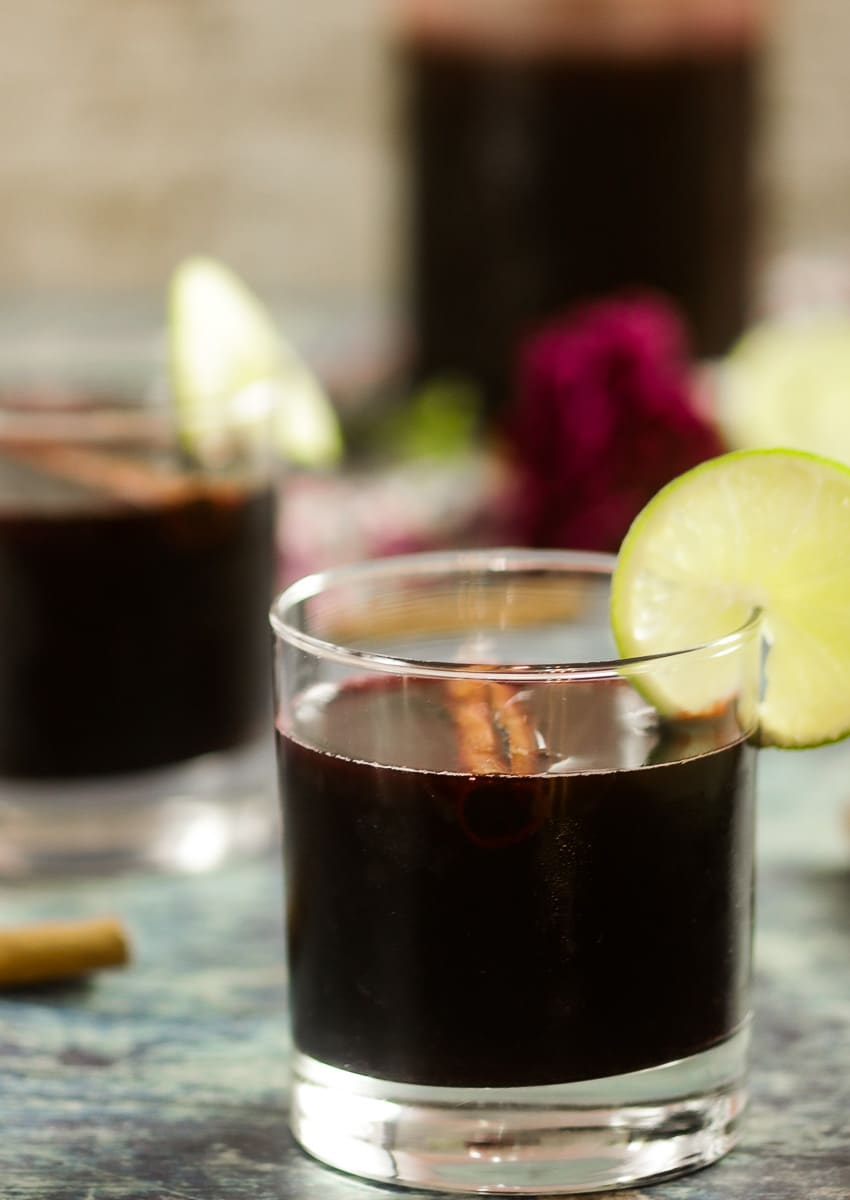 Where To Buy Purple Corn
Do you practice Zero Waste?
Making your kitchen and your home a place of zero waste not only saves you money, but also helps save the planet.
Getting extra use out of food products is definitely a way to practice zero waste.
The next time you purchase some pineapple and apples, save some of the skin and stick it in the freezer until you are ready to make your Chicha Morada.
If you are interested in learning more Zero Waste Recipes, check out my Zero Waste Series I have on Instagram.
Ingredients
Skin of 1 pineapple
Skin of 1 apple cleaned very well; use organic, if available
lime juice
How to make Peruvian Purple Corn Drink
Boil dried purple corn, pineapple skin, apple skin, spices and water together.
Add lime juice and sugar.
Chill and serve.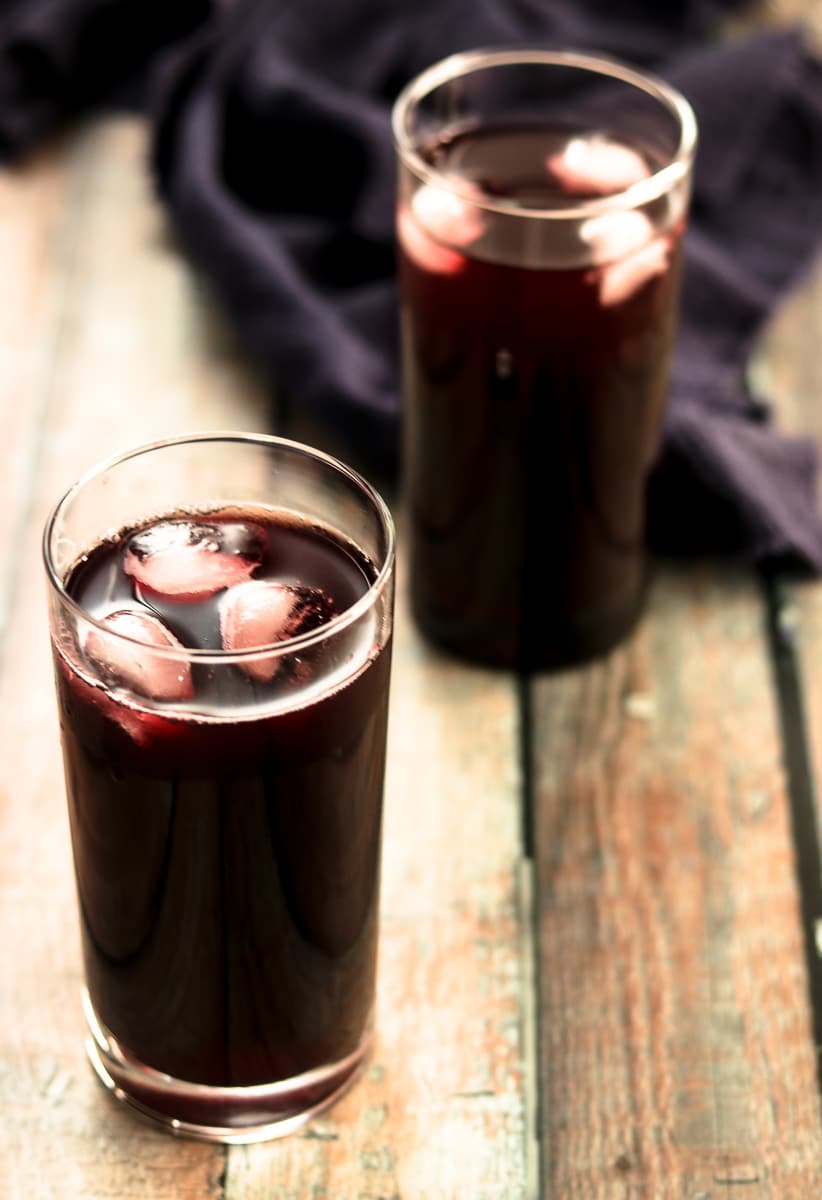 In addition to Chicha Morada, you can also make Mazamorra Morada, which is a delicious pudding made with the same purple corn.
Chicha Morada – Peruvian Purple Corn Drink
Chicha Morada – Peruvian Blue Corn Drink is a refreshing summer drink – Add some rum of vodka if you would like to turn it into a cocktail.
Ingredients
15

oz.

purple corn

Skin of 1 pineapple

Skin of 1 apple

cleaned very well; use organic, if available

5

cloves

4

quarts

water

1

cup

sugar

or more, according to taste

juice of 2 limes
Instructions
Combine corn, pineapple skin, apple skin, cinnamon sticks, cloves and 2 quarts of the water to a boil. Reduce to a simmer and let it cook for 30 minutes. Strain. Reserve 1 piece of pineapple skin and 1 blue corn cob.

Return strained liquid to the pot and add the remaining 2 quarts of water, lime juice and sugar.

Bring to a boil again. Reduce to a simmer and cook for another 30 minutes.

In a large pitcher, place the reserved pineapple and corn cob. Pour Chicha Morada into pitcher and chill in the refrigerator. The flavors will continue to infuse the liquid as it is chilling.

Serve cold over ice (or not), as desired.
Notes
Add some Pisco and turn it into a cocktail!
Nutrition
Calories:
75
kcal
|
Carbohydrates:
18
g
|
Protein:
1
g
|
Fat:
1
g
|
Saturated Fat:
1
g
|
Sodium:
12
mg
|
Potassium:
58
mg
|
Fiber:
1
g
|
Sugar:
14
g
|
Vitamin A:
70
IU
|
Vitamin C:
1
mg
|
Calcium:
12
mg
|
Iron:
1
mg
Did you try this recipe? Leave a comment below.
Please follow me on Instagram @chefmireille or tag me #chefmireille with your pics! I'd love to share them!
DO YOU YUM? SAVE IT BELOW!
Yum
Don't forget to visit the RECIPE INDEX with over 1000 recipes from around the world including lots of Vegetarian Recipes and Gluten Free Recipes!