Last Updated on December 14, 2020 by Chef Mireille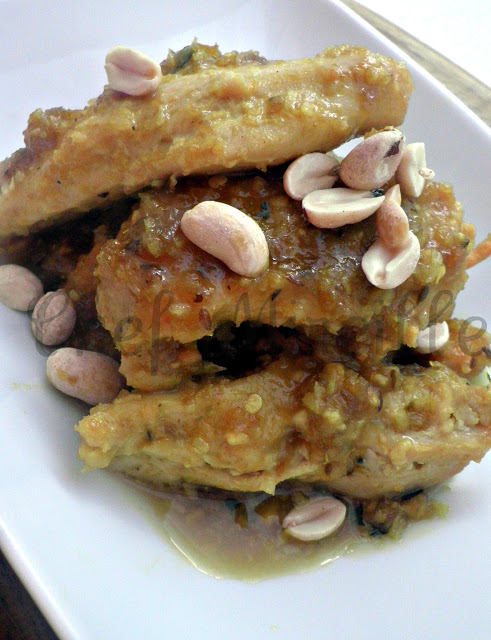 Being part of the food blogging world, I am connected with so many people and their talented, inspired recipes. Sometimes I follow their recipes exactly when I want to try something new and sometimes they inspire me to create new recipes by adding to recipes they have posted. This is one of those.
Inspired by Harini's Peanut Coconut Podi which I have now incorporated into my almost daily eating – I just love it and put it in everything, I created this quick chicken recipe. With kids in mind as that is my BM theme, this is mild, however, if you are making it for adults, you can add a few more chiles.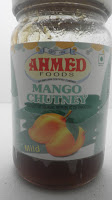 I used store bought mango chutney, but you can easily make your own. Try this recipe from one of my other Blogging Marathon participants you might want to try: Rajani's Mango Chutney
Peanut Mango Chicken
(click here for printable recipe)
Ingredients:
2 chicken breasts, cut into strips
3 tablespoons roasted peanuts
3 tablespoons grated coconut
1 teaspoon cumin seeds
1 teaspoon ground turmeric
1 teaspoon garlic, finely chopped
1 long, hot chile
2/3 cup mild mango chutney
1/3 cup water
12 curry leaves
salt, to taste (no additional salt is needed if you are using bottled mango chutney as that has salt in it)
extra roasted peanuts (optional garnish)
Preheat oven to 350 F.
Combine all ingredients, except the chicken in a food processor. Blend well.
In an oven safe baking dish, combine chicken with mix from food processor and salt, to taste (if using). Toss to thoroughly coat the chicken.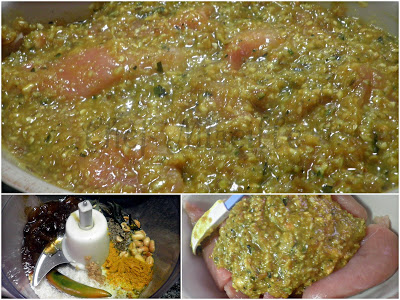 Cover with aluminum foil and bake for 30 minutes, until chicken is cooked through. Test with an instant read thermometer or cut a piece and there should be no pink left inside. Thermometer should read 165 F.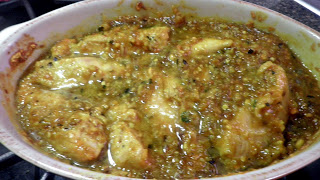 All the yummy sauce is perfect to serve with Indian flatbread (paratha, naan, etc.), rice or roasted potatoes.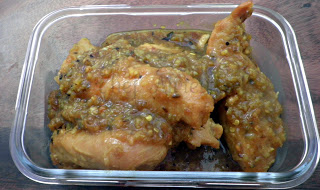 By covering the chicken in the oven, it locks in the moisture, essentially oven steaming the chicken. Since chicken breasts are very lean, they can dry out very easily. This is a delicious, healthy way of eating them – allowing them to be juicy and tender, without additional oil.
The sweetness of mango and coconut coupled with the balancing flavor of peanuts and the appealing color, this is a healthy & aesthetically appealing delicious dish for kids and adults alike!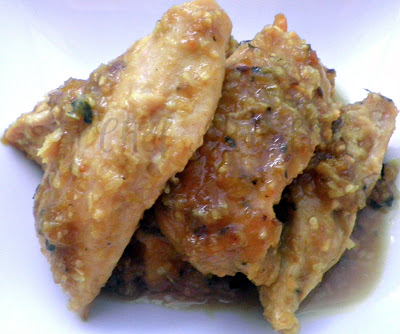 Check out the Blogging Marathon page for the other Blogging Marathoners doing BM#16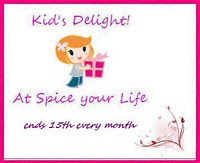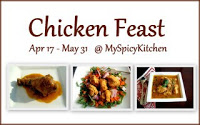 …linking to My Spicy Kitchen's Chicken Feast and Srivalli's Kids Delight hosted this month by Smitha
LIKE THIS RECIPE? LEAVE A COMMENT..I LIVE FOR THEM!
Chef Mireille
Like me on FACEBOOK!
Follow me on TWITTER!