Last Updated on August 26, 2021 by Chef Mireille
Ontbijtkoek – Dutch Spice Cake
This breakfast cake full of sweet, smoky spices is commonly eaten for breakfast in the Netherlands and Belgium. Just slightly sweet, it pairs well with cheese.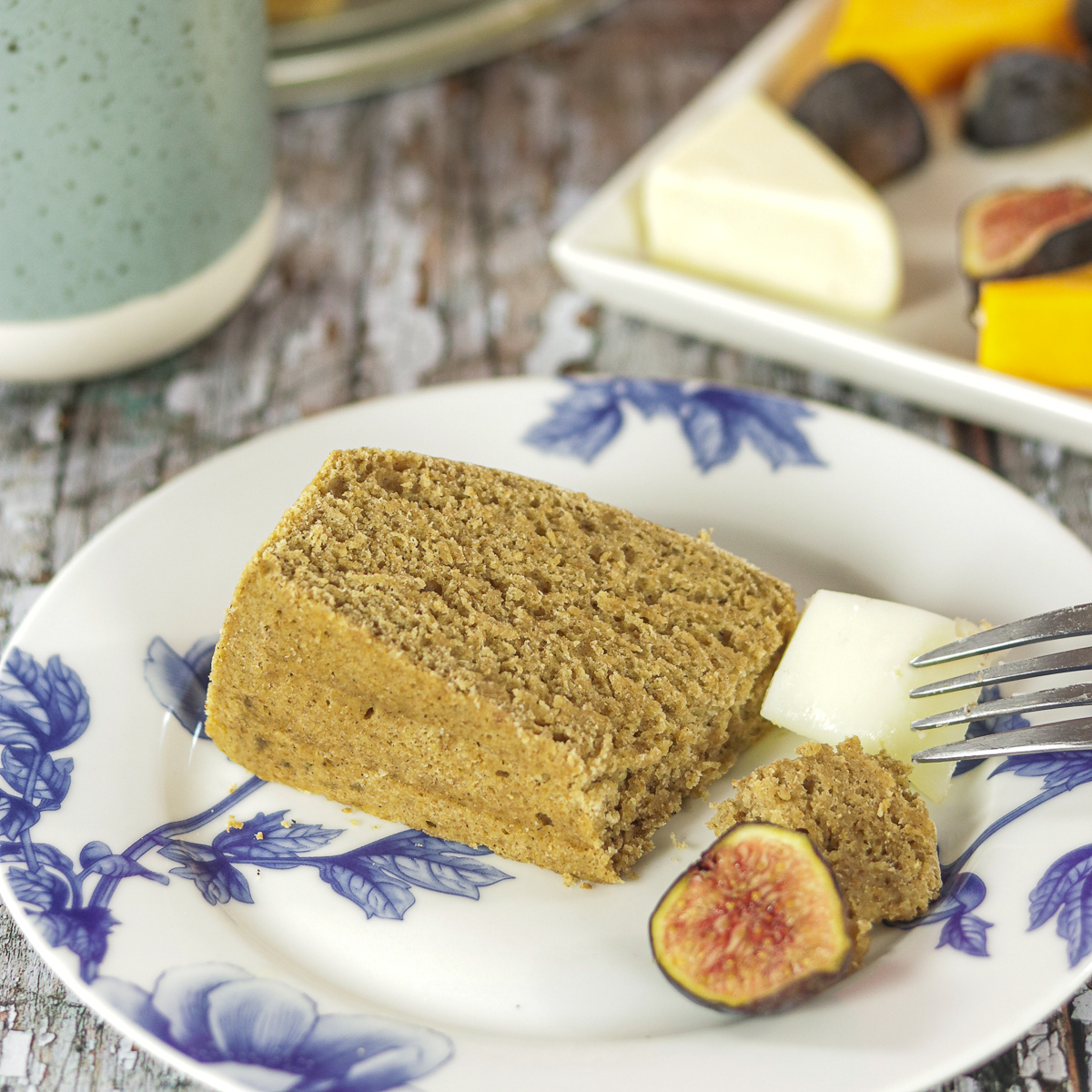 This post may include affiliate links.
Cake for breakfast? Hell yeah! This slightly sweet cake, full of warm spices, is how the Dutch do breakfast with cheese and other breakfast accouterments.
My family is from the Dutch Caribbean and through the years, much of my family has migrated from Suriname, Aruba and Curacao to the Netherlands. Three generations in for some of them, my extended family are as Dutch as they are Caribbean.
Many people do not realize what a large Antillean community exists in the Netherlands and how much Dutch influence is in our culture and our foods, even still in Aruba and Curacao with dishes like Keshi Yena – Stuffed Cheese – the national dish of Curacao.
A few months back I was with some work colleagues and we were driving in a car (pre COVID) to the train station and my Mom called me. I am not as fluent in Dutch as my Mom but sometimes if she doesn't want people to know what she is saying, she will speak to me in Dutch so I naturally respond in the same language.
Two of the people in the car both said to me that they didn't know black people could speak Dutch. One was white and one was black and I did not know how to respond without insulting them so I said nothing. ????????????
Tell that to every black person who lives in Suriname, Aruba and Curacao where Dutch is their first language – not to mention all the ones in the Netherlands. This is why I combine food and travel on this blog.
Travel is so important so we can embrace the global community we all belong to. Learn from experience and you won't believe the crazy things that people get on TV and say about other people and other cultures. Ok – getting off my sandbox now!
So due to my personal connection to the Netherlands I was thrilled the Eat the World Challenge hosted by Culture Eatz chose this country as this month's theme.
So let's do breakfast – Dutch style!
Dutch Breakfast
I remember the very first time I had breakfast with my Dutch family on my first trip there, when I was about 8 years old. That part of my family lives in a small farming village about 15 minutes outside of Amsterdam.
In the morning, loaves of fresh white and wheat bread are waiting on the porch, delivered by the local baker. In addition to this, there will be at least one type of sweet bread (often ontbijtkoek), a variety of cured meats, cheeses, fruit preserves, butter, fresh fruit, dry cereals and nutella. This was the first time I had tasted nutella…way before it was being sold in America and beyond.
This was the "simple" weekday breakfast. Things like eggs, sausages, pancakes and waffles are reserved for weekends, when there is more time for preparation.
Ontbijtkoek translated literally means Breakfast Cake. It is also sometimes called peperkoek – or Spice Cake.
Ontbijtkoek – Dutch Spice Cake is a popular item included on the Dutch breakfast table. Traditionally, breakfast in Holland is a grand affair. In the Netherlands like much of Europe, their large meals are breakfast and lunch. Dinner is the lightest meal of the day. This is actually a much healthier way of eating as you have more time to burn off the increased calories consumed at the beginning of the day.
Every time I return home from visiting a country where this is the custom, I always say I am going to adopt this healthier way of eating. However, before long I am back to my old American ways. It is just so challenging to change a routine you have been doing since your childhood.
You can also enjoy Ontbijtkoek – Dutch Spice Cake simply with some tea, cheese and fruit and it is just as delicious!
Due to the Dutch colonization of Indonesia, cloves, nutmeg and lots of sweet smoky spices were introduced into Dutch cuisine. This is what has led to the Netherlands having such fragrant desserts.
Ingredients
With whole grains and brown sugar, this is a cake made with mostly natural ingredients. It is quite a healthy cake, which is why the Dutch have no guilt in having it for breakfast.
This cake is made with basic ingredients and as there is no egg in it, it is easy to adapt to vegan. With whole grains, spices and milk, this cake is so easy to put together!
Make it Vegan
This cake can easily be made vegan by using almond milk, cashew milk, oat milk or any other non dairy milk.
Don't forget to check out my other Dutch Recipes before you get to making Ontbijtkoek.
Dutch Recipes
Eaten on its own or spread with some soft butter. This bread has a soft and moist texture, similar to Boston Brown Bread.
Ontbijtkoek – Dutch Spice Cake
Ontbijtkoek – Dutch Spice Cake is a breakfast cake, also called Peperkoek – commonly eaten in the Netherlands and Belgium, filled with spices like cinnamon, ginger, clove and more. A mixture of grains, brown sugar and milk.
Instructions
Preheat oven to 300 F. Spray a 3 1/2 pint cake pan with non stick spray. Sprinkle with breadcrumbs, if desired.

Sift flours and spices into a large bowl.

Add sugar and mix well with a whisk, pressing down to remove lumpy sugar pieces.

Gradually add milk and whisk well until thoroughly combined.

Transfer to prepared baking dish. Bake for 60-75 minutes, until a tester inserted comes out clean.
Notes
Some versions are made with 100% all purpose flour or only a mixture of all purpose and rye. You can mix the grains as desired.
The flavor in this gets better with time as the spices have time to develop. Wrap tightly in aluminum foil after cooling completely. This will taste fantastic on day 2 or day 3.
Nutrition
Calories:
213
kcal
|
Carbohydrates:
44
g
|
Protein:
5
g
|
Fat:
2
g
|
Saturated Fat:
1
g
|
Cholesterol:
4
mg
|
Sodium:
169
mg
|
Potassium:
251
mg
|
Fiber:
2
g
|
Sugar:
16
g
|
Vitamin A:
68
IU
|
Calcium:
112
mg
|
Iron:
2
mg
Did you try this recipe? Leave a comment below.
Please follow me on Instagram @chefmireille or tag me #chefmireille with your pics! I'd love to share them!
Check out all the wonderful Dutch dishes prepared by fellow Eat the World members and share with #eattheworld.
Click here to find out how to join
and have fun exploring a country a month in the kitchen with us! Culinary Adventures with Camilla:
Memories of Holland, Dutch Traditions, and Sailboat Speculaas
Pandemonium Noshery:
Mosterdsoep – Dutch Mustard Soup
Amy's Cooking Adventures:
Dutch Farmer's Cheese Soup (Boerenkaas Soep)
Sugarlovespices:
Dutch Apple Tart, Hollandse Appeltaart
Making Miracles:
Hutspot met Gehaktballen (Dutch Mashed Potatoes and Carrots with Meatballs)
Sneha's Recipe:
A Small Batch Bitterballen
Chef Mireille:
Ontbijtkoek – Dutch Spice Cake
Kitchen Frau:
Boerenkool Stamppot (Dutch Mashed Potatoes and Kale with Sausage and Pears)
A Day in the Life on the Farm:
Hachee
DO YOU YUM? SAVE IT BELOW!
Yum
Don't forget to visit the RECIPE INDEX with over 1000 recipes from around the world including lots of Vegetarian Recipes and Gluten Free Recipes!