Last Updated on January 12, 2020 by Chef Mireille
Queens Vlaai – Dutch Apricot Tart is a traditional tart on a yeasted pie crust to celebrate the Dutch royal family – the House of Orange-Nassau.
QUEENS VLAAI HISTORY
The official royal name of the Dutch Royal Family is the House of Orange-Nassau. Many Dutch things have the word orange in it to symbolize the House of Orange. The capital of my mother's birthplace of Aruba, a former Dutch colony, is Oranjestad, translated it means the state of orange. This royal dynasty was created by the marriage of Henry III of Nassau-Breda of Germany to Claudia of Chalon-Orange of French Burgundy in 1515. William I, a descendant of this union was the first king when the Kingdom of the Netherlands was established in 1815.
Now enough of history…back to this dessert. There are a number of foods colored orange to represent the House of Orange including Oranje Boven and this is one of them. The dried apricots represent the color of the House of Orange. Vlaai is basically the Dutch word for pie, but these pies are different than American pies, in that they are all made with a yeasted dough. So this is the Queen's Tart, due to it's orange color. There were three monarchs of queen rulers in the Netherlands dating back to 1890 until Queen Beatrix abdicated her throne in 2013 for her son to become king. I am not sure when this dessert was created. It could have been under any one of the previous queens' reighn. It is one of the foods made on Queen's Day, which will be celebrated next week…except it's now known as King's Day, since there is no longer a queen in power.
This recipe is adapted from a Sunset book I have on breads.
But before I get to the recipe, you may notice that these photos have a far superior look to my usual photos. There's a reason for that. They weren't taken by me. One of the greatest gifts that blogging gives is friendships that form through blogging groups or mutual appreciation of each other's blogs. What's even better is when you live in proximity to each other and get to translate those online relationships to in person friendships. The members of the Blogging Marathon group who live in the NY/NJ area all get together periodically to have lunch and learn from each other so that we can all improve each other's blogs. Compared to Usha, Pavani and Rajani, my skills are surely lacking as a photographer. So I used our most recent meetup to take advantage of their superior skills. I definitely learned some skills in the process and have noticed my pics are a bit better since meeting them again. It was a fun day that included a delicious lunch, a photography lesson and a visit to Christmas Tree Shop, which is located just behind Rajani's home to pick up some cheap props. The first year we met only once. It has been gradually increasing and now we have planned to meet again next month. I can't wait!
I have to give a shout out to them…thx to the great pics and Rajani's superior camera…

IN THE MAKING – MAKING QUEENS VLAAI – DUTCH APRICOT TART
Using dried apricots, you don't have to wait until apricots are in season to enjoy this delicious treat!
This tart is as delicious as it looks.
The whole blogging team enjoyed it, as well a Rajani's son, so I can vouch for it being a #kidfriendly treat.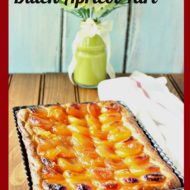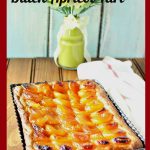 Print Recipe
Queens Vlaai – Dutch Apricot Tart
This traditional Dutch tart is made to celebrate the Dutch Royal Family - the House of Orange-Nassau
Ingredients
2 1/4

teaspoons

active dry yeast

or 1 pkg.

1/2

cup

warm water

110 - 115 F

1/3

cup

room temperature butter

1/4

teaspoon

salt

3/4

cup

sugar

1 3/4

all purpose flour

3

cups

dried apricots

1 1/2

cups

water
Instructions
In a shallow bowl, sprinkle yeast on top of the water. Let stand 5-10 minutes, until foamy.

In an electric mixing bowl, combine proofed yeast with butter, salt, 1/4 cup of the sugar and 1 cup of flour. Using a dough hook, mix until well combined.

Add remaining flour and knead for 5 minutes, until dough is elastic. Place in a lightly greased bowl. Cover with plastic wrap sprayed with non stick spray and a kitchen towel. Leave to rise until doubled in size, 60 - 75 minutes.

Meanwhile, let's make the filling. In a saucepan, combine the apricots, remaining sugar and water. Bring to a boil. Reduce heat and simmer, stirring occasionally, until apricots are softened, about 15 - 20 minutes. Using a slotted spoon, remove apricots to a bowl.You should have about 1/3 cup of syrup remaining in pot.

Preheat oven to 375 F.

Punch dough to remove air. Press dough into the bottom and sides of a tart pan with a removable bottom.

Arrange apricots, slightly overlapping, over the surface of the dough. Pour syrup on top. Gently press down down so that it is flush with the fruit.

Bake for 35 - 40 minutes, until crust is golden brown.
Do you know anyone else who likes learning about international food, culture, history and travel? Bring them over here to join the party! Don't forget to use those share buttons!
Start Here to find out how the Schizo Chef can help you with your cooking, travel and other needs!
If you like this recipe, PLEASE LEAVE A COMMENT & SUBSCRIBE
Check out the Blogging Marathon page for the other Blogging Marathoners doing BM# 63
Loading InLinkz ...
Sign up for our updates!
Subscribe to get our latest content by email and get your FREE Pantry Cheat Sheet - Learn the basics to cook any International cuisine!