Last Updated on June 3, 2015 by Chef Mireille
Blogging Marathon #26
Theme: Kid's Delight – Street Food
Most of my mother's family comes from Dutch colonized countries like Suriname, Aruba and Curacao. Many of them have migrated to Holland, which I have been visiting since I was a child. My first visit there without my parents as an adult, occurred when I was 21. I took my best friend with me and we stayed with my cousin, who had an apartment in Amsterdam while he was attending University. Most of the building's residents were other college students and as he is only 11 months older than me, it was great fun hanging out night after night with other young people within my own age group of another country.
Although some quiet nights were spent at home exchanging cultural ideas, many nights were spent frequenting the bars and nightclubs of Amsterdam and after dancing all night, we all emerged into the wee hours of the morning starving. The state did not last too long as the many street stalls serving bitterballen were there to satiate our appetite. I hadn't thought of these in many years until I happened upon a recipe for them and then I couldn't stop thinking about our nightly Bitterballen fix and had to make them, to remind me of this fabulous vacation and the fun nights spent with my cousin and his friends.
Bitterballen are fried balls of usually meat, although Vegetarian options are also available. The most common Vegetarian options are usually stuffed with potato and/or cheese. This may have changed in recent years. When I saw this Vegetarian Bitterballen recipe jam packed with healthy veggies, I knew I wanted to try it.
These fried little delights are a favorite of kids and adults alike in Holland!
Yield: 18-20
Ingredients:
1/2 lb. potato, peeled & grated
1/2 red bell pepper, finely chopped
2 stalks celery, finely chopped
1 onion, finely chopped
1 leek (white part only), finely chopped
1 large carrot, grated
10 green beans, ends trimmed & finely chopped
1/3 cup frozen green peas
1/3 cup canned corn
2 cups vegetable broth
3 tablespoons all purpose flour
4 tablespoons butter
2 egg yolks, beaten
1/4 cup parsley, finely chopped
6 eggs
6 tablespoons milk
2 1/2 cups breadcrumbs (I used 4C brand whole wheat breadcrumbs)
salt and pepper, to taste
oil, for deep frying
In a large pot, bring 2/3 of the broth to a boil. Add carrot and celery and reduce to a low simmer. Cook for 8 minutes, stirring occasionally.
Add potato, green beans, leek, bell pepper and another 2/3 cup of the broth. Cook for 15 minutes, stirring occasionally.
Add corn and peas. Cook for another 5 minutes. Drain vegetables.
Drain well, squeezing all the cooking liquid from the vegetables. Save the cooking liquid.
If you have liquid from the cooked vegetables, you can use this instead of the remaining 2/3 cup of broth. I only got about 1 tablespoon of cooking liquid from the drained vegetables.
In the same pot, add butter. After 1 minute, add onions and saute for 1-2 minutes until softened, but not browned.
Add the flour and cook, stirring constantly, for 1 minute. Add the reserved cooking liquid or the remaining 2/3 cup broth a little at a time, stirring constantly until you have a thick gravy like consistency. Remove from the heat.
Add the egg yolks, cooked vegetables, parsley, salt and pepper and mix well.
Transfer to a shallow dish and let it cool for a few hours.
Combine the egg and milk and beat together in a bowl.
Using a small ice cream scoop, take a portion of the vegetable mix and form into a ball.
Roll in the breadcrumbs. Press well into the ball. Dip in the egg mixture and roll in breadcrumbs again, pressing well into the ball. Repeat for all the vegetable mix.
Heat enough oil for deep frying. Fry until golden brown on all sides; about 2-3 minutes.
Transfer to a paper towel lined plate to absorb extra oil.
In Holland, these would be served with sweet chili sauce.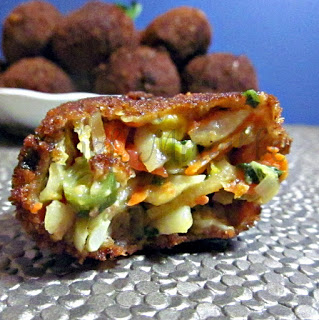 These are so crispy on the outside because of the double coating, filled with so many vegetables creates a complex flavor, with nothing overpowering the other tastes.
Check out the Blogging Marathon page for the other Blogging Marathoners doing BM#26
…linking to Kid's Delight hosted by Preeti, Let's Cook for Kids, Nupur's What's With My Cuppa hosted by me & No Waste Challenge hosted by Elizabeth
LIKE THIS RECIPE? LEAVE A COMMENT..I LIVE FOR THEM!
Chef Mireille