Last Updated on February 20, 2018 by Chef Mireille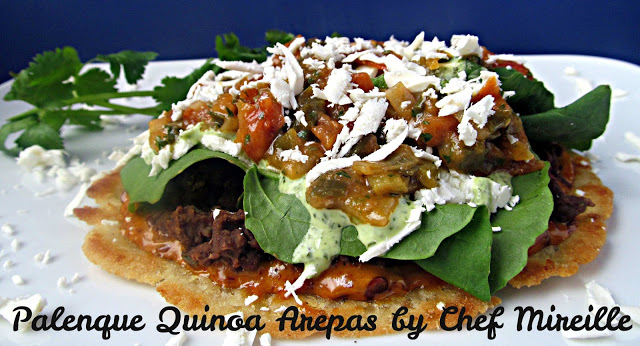 Blogging Marathon #26
Theme: Kid's Delight – Street Food
I am an arepa fan, as demonstrated by my recipes here and Pumpkin Arepas here.  However, the style of arepas I usually make are the ones made in Venezuela and Ecuador.  These thick cornmeal cakes can be split open and stuffed with cheese and other fillings, like a sandwich.
The Columbian style arepas are much thinner, closer to a pizza instead of a sandwich.  One of the food trucks in NYC, called Palenque, serves these arepas, piled high with a variety of toppings suitable for both vegetarians and carnivores.  Not to be left behind developing food trends, they have hopped onto the quinoa craze and now have a quinoa arepa base you can choose also.  Here's my attempt at re-creating the delicious food served by Palenque.
Palenque moves around.  If you want to find out where they are going to be, take a look at their schedule here.
Let's first make the toppings and accompaniments. Don't be intimidated by all the components because most are super easy to make:
Frijoles Macerados (Red Bean Puree)
Ingredients:
1 1/2 cup small red beans, soaked overnight
3 cloves garlic
2 bay leaves
1 teaspoon cumin
1/3 cup cilantro leaves, firmly packed
1/3 cup water
1/2 teaspoon salt
1 tablespoon oregano, finely chopped (1 teaspoon of dried oregano can also be substituted)
In a saucepan, combine garlic, bay leaves and beans.  Add water to cover.  Bring to a boil.  Reduce to a simmer and cook until very soft; about 1 1/2 hours.  Let cool for a few minutes.
Transfer to blender with all other ingredients except oregano and 1 cup of the cooking liquid.  Puree.
Transfer to a bowl and add oregano.  Mix well.

Chipotle Mayo
1 cup mayonnaise
1/3 cup chipotles in adobo sauce, canned
Combine ingredients in a food processor and mix until smooth.

Cilantro Salsa
Ingredients:
1 cup cilantro leaves, firmly packed
1/2 cup crema (Mexican/South American sour cream, but with a much milder taste than American sour cream and a thinner consistency – closer to yogurt).  If using American sour cream, mix it with a little heavy cream).
juice of 1 lemon
1/3 cup olive oil
2 tablespoons water
1/2 teaspoon salt
1/4 teaspoon black pepper
Combine cilantro, crema and lemon juice in a food processor and mix until smooth.
While processor is running, slowly add olive oil until sauce is smooth and homogenous.
Add water, salt and pepper and mix well.

Hogao
Ingredients:
1 1/2 cups tomatoes, chopped
1 tablespoon olive oil
1 cup scallions, chopped
3 cloves garlic, minced
1/2 teaspoon ground cumin
1 bouillon cube, crushed
1/4 cup water
1/2 teaspoon salt
1/2 teaspoon freshly ground black pepper
2 tablespoons cilantro, finely chopped
Heat oil.  Add scallion and garlic and cook for 1 minute, until scallions soften. Add tomatoes, bouillon cube, water, salt and pepper. Bring to a boil.
Reduce to a medium-low flame and simmer for 20 minutes, until most of the liquid has evaporated.
Add cilantro and mix well.

Quinoa Arepas
Ingredients:
1/2 cup cooked quinoa
1 1/4 cup masa harina (pre cooked cornflour)
1 cup warm water
2 tablespoons milk
1 teaspoon salt
oil, for frying
Combine the quinoa, masa and salt together.  Add water and milk and mix until you have a soft dough.  Let rest for 5 minutes.
Divide into 9 equal portions.
Heat a skillet with just enough oil to coat.
Spread a large piece of plastic wrap on a work surface and spray with non stick spray.  Place one ball of dough on top and cover with another piece of plastic wrap.
With the palm of your hand, keep on pressing down until the dough is pressed thin, about 1/4″ thick.
Lift off the top plastic wrap and carefull remove flattened dough with a spatula.
Transfer to heated skillet and cook for 2-3 minutes, until the edges start to brown.  Flip over and cook for another 2-3 minutes until golden and crispy.
Additional Toppings: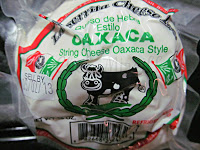 Oaxaca cheese (Mexican/South American string cheese)
Arugula
Now let's make our Palenque style Arepas
Serves 9
Take one cooked arepa and spread with a little chipotle mayo. (Palenque uses butter and then puts the chipotle mayo on top, however I choose to skip the butter to reduce the fat content just a little).
Spread with beans.
Add a few Arugula Leaves.
Sprinkle cheese on top.
Next comes a drizzle of cilantro sauce and then the hogao.  Add a little more cheese on top, if desired.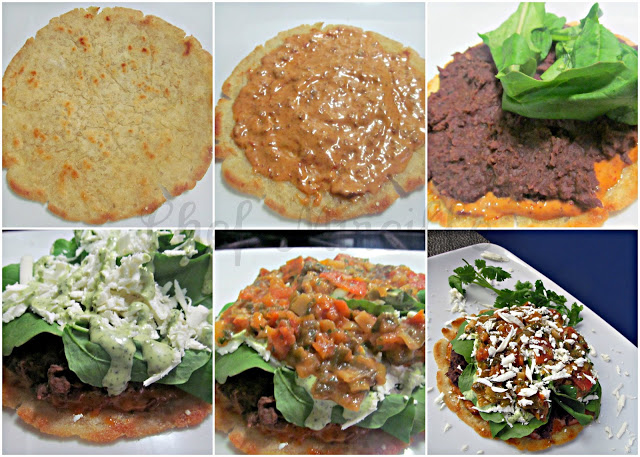 The explosion of flavors with all the different components is indescribable.  Fresh and spicy!  This flavorful arepa "pizza" with all the trimmings will cost you all of $7!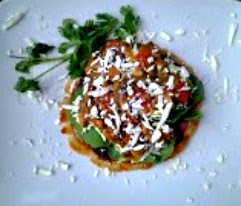 Check out the Blogging Marathon page for the other Blogging Marathoners doing BM#26
LIKE THIS RECIPE? LEAVE A COMMENT..I LIVE FOR THEM!
Chef Mireille
Sign up for our updates!
Subscribe to get our latest content by email and get your FREE Pantry Cheat Sheet - Learn the basics to cook any International cuisine!