Last Updated on April 17, 2021 by Chef Mireille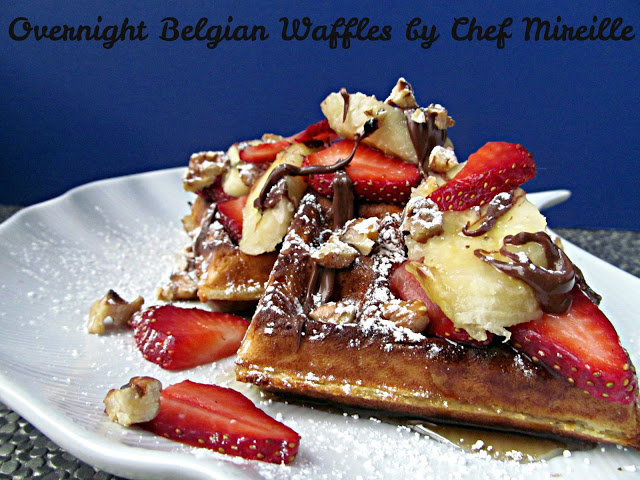 This post may contain affiliate links.
When I was a child, street food in NY basically consisted of three options. Hot Dog stands that sold frankfurters, hot sausages, knish (German potato stuffed pastries) and pretzels were on every street corner. In the summertime, ice cream trucks joined them and in the wintertime, vendors selling roasted nuts joined them.
In the last 10 years, their biggest competition have come from Halal carts. Halal carts now outnumber the Hot Dog carts. Halal carts sell chicken or lamb platters with rice and salad, as well as gyros and for the Vegetarians, falafel. Now, they have incorporated American food into their options so you can just as easily get a burger and fries from a Halal cart.
In the last few years, every immigrant group is now represented in the street food available in NY – we have Indian food carts, Korean and Peruvian, just to name a few. Waffle Trucks, Yogurt Trucks and so much more now add to the cultural landscape of New York City. The variety of street food is now so abundant that for the last 8 years, the Vendy Awards have been awarded to the best street food vendors. You don't have to cook in a fancy Michelin star restaurant to now get recognition for delicious food. The 2012 awards included a Mexican as well as a Filipino food cart. To keep your hand on the pulse of this emerging genre of culinary dining, take a look at this. In 2013, five other American cities will be joining NY in providing Vendy Awards.
I was so happy to pick up this week's BM theme of celebrating delicious Street Food. Wafels & Dinges is a street food vendor with 3 carts located throughout Manhattan. They provide waffles with both savory and sweet toppings – everything from chili con carne to chocolate dipped waffles. Here's my version of a waffle with all the trimmings, in the vein of Wafels & Dinges.
I make waffles often as demonstrated by these links:
Banana Cornmeal Waffles
Carrot Waffles (eggless)
Peach Waffles (eggless)
Savory Waffles
However, what most Americans call Belgian waffles are not available in Belgium. American style waffles use baking powder as the leavening agent for an instant rise product. In Belgium, there are a few different types of waffles and the Brussels waffles are what most resembles the ones we have here in America, except a yeast risen batter is utilized.
With much of my family being Dutch, these Belgian Waffles are my favorite thing to enjoy when I visit them in the Netherlands. Since Belgium is our neighbor, authentic Belgian Waffles are as easy to come by in the Netherlands as they are in Belgium.
Serves 7
Ingredients:
1 1/2 cups lukewarm milk
6 tablespoons butter, melted
1/2 teaspoon salt
2 teaspoon sugar
2 eggs
1 teaspoon vanilla extract
2 cups all purpose flour
1 1/2 teaspoon dry active yeast
1/2 cup milk
In a bowl, combine lukewarm milk, butter, salt, eggs and vanilla extract. Stir to mix well.
Add flour and yeast and stir to mix.

Cover with plastic wrap and leave at room temperature for 1 hour.
You can cook now or leave in the refrigerator overnight. I left it in the refrigerator and you should see air bubbles from the batter fermenting. After the fermentation process, the batter thickens quite a bit and it was closer to bread dough than batter.
Add remaining milk and stir well.

Heat a waffle iron and spray well with non stick spray. Pour in 3/4 cup batter (I have an 8-inch round waffle iron) and cook until well done; about 5 minutes.
Repeat until all the batter is used.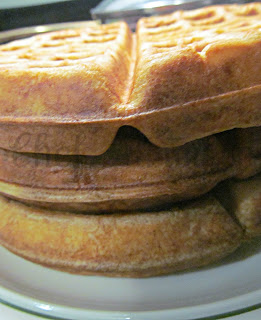 While American style waffles are more cake-like, these are more bread-like, leading to a crispier texture. The vanilla flavor was really strong because of the batter sitting overnight, which led to a bigger flavor than the American style waffles. I am now a convert and will be making these whenever waffles are on the menu.
Now let's dress up the waffles with the toppings available from the street food cart!
Toppings:
maple syrup
nutella
bananas, sliced
strawberries, sliced
roasted walnuts, chopped
powdered sugar
To serve, place 1/2 of 1 round waffle on a plate. Add all of the toppings and serve.