Last Updated on January 12, 2022 by Chef Mireille
Colcannon – Irish Potato Cabbage is a classic country Irish comfort food. With simple cost efficient ingredients, this is a simple on pot dish.
In America and especially NYC, everyone is Irish on St. Patrick's Day. NY has one of the largest Irish populations in America, except for maybe Massachusetts. On St. Patrick's Day, Irish pubs are filled to capacity and everyone partakes in Shephard's Pie, Corned Beef & Cabbage and green colored muffins and cookies. In fact, I even saw green milk in the supermarket this week.
This post may include affiliate links.

I couldn't let the holiday come without presenting at least one Irish dish.  Colcannon is a traditional Irish comfort food using the ubiquitous potato, ever present in their diet.  Traditionally, colcannon would include ham.  There are so many people that do not eat pork now, whether it is for religious, ethical or health reasons.  However, many who were previous pork eaters miss that smoked flavor that comes from bacon and sausages. 
For this reason, you can now find these smoked products made from chicken or turkey.  I have found turkey pepperoni and for this recipe, I used smoked chicken sausage. You can also use turkey ham. *(if you're vegetarian, you can use seitan)*
HOW TO MAKE COLCANNON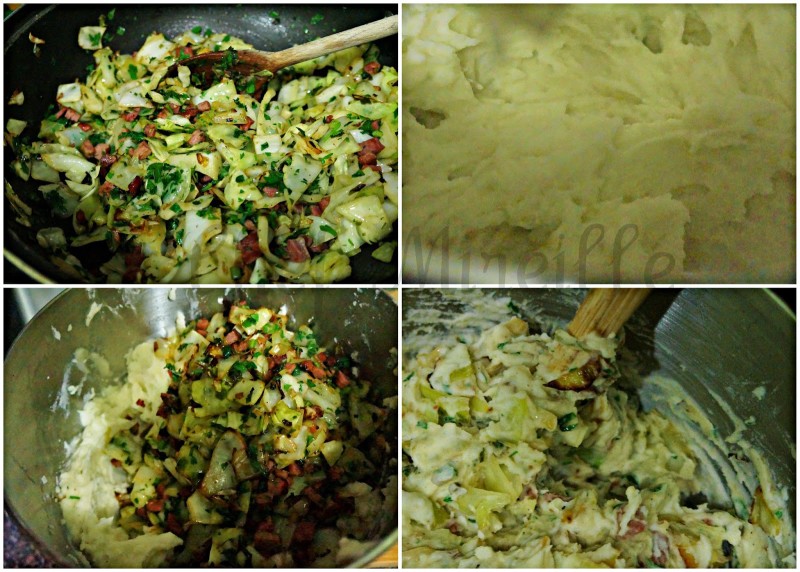 A filling one pot meal!  It is often served with additional cream and melted butter on top.
This is made with just a few ingredients that wont bust the budget, yet it is still delicious and so hard to resist with the creamy potato base.
This simple one pot meal is a perfect way to celebrate St. Patty's!
Colcannon – Irish Potato Cabbage
Colcannon – Irish Potato Cabbage is a classic one pot dish that epitomizes Irish comfort food.
Ingredients
2

lbs.

potatoes

2

tablespoons

oil

4

cups

cabbage

chopped

6

oz.

chopped smoked chicken sausage

or smoked ham

1

bunch finely chopped scallions

1/4

cup

finely chopped parsley

2

tablespoons

butter

2/3

cup

heavy cream

1/3

cup

lowfat milk

1/2

teaspoon

ground black pepper

1

teaspoon

salt
Instructions
Boil potatoes until tender.  Peel potatoes and place in the bowl of an electric mixer.

Meanwhile, heat oil in a skillet.

Add sausage and scallions. (Reserve a little scallion for garnish). Saute until sausage starts to brown. Add cabbage and saute until cabbage is cooked, about 5 minutes. Add parsley and stir to combine.

Whip the potatoes with the butter, cream and milk until creamy. Add salt and pepper. Whip to combine.

Using a rubber spatula, fold the cabbage combination into the potatoes.

Garnish with chopped scallions and parsley.
Nutrition
Calories:
280.5
kcal
|
Carbohydrates:
25.28
g
|
Protein:
7.27
g
|
Fat:
17.45
g
|
Saturated Fat:
7.59
g
|
Sodium:
481.98
mg
|
Fiber:
4.16
g
|
Sugar:
3.85
g
Did you try this recipe? Leave a comment below.
Please follow me on Instagram @chefmireille or tag me #chefmireille with your pics! I'd love to share them!
Don't forget to visit the RECIPE INDEX with over 1000 recipes from around the world including lots of Vegetarian Recipes and Gluten Free Recipes!