Last Updated on December 14, 2020 by Chef Mireille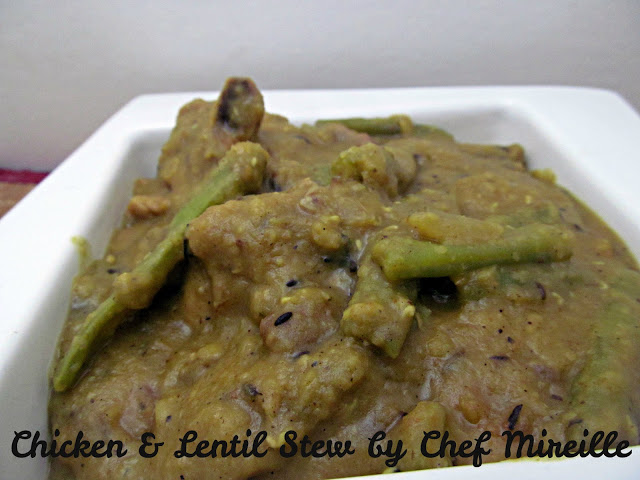 Here is my last recipe for I Heart Cooking Clubs focus on Madhur Jaffrey. Here is my adaptation of her recipe from Quick & Easy Indian Cooking.

Chicken, Lentils & Green Beans
Serves 8
Ingredients:
5 tablespoons oil
3 bay leaves
5 cloves
6 green cardamom pods
1 cinnamon stick
3 dried chiles
2 1/2 pounds chicken thighs, skinned and quartered
1 2/3 cups red lentils
5 cups water
1/2 teaspoon ground turmeric
2 teaspoons salt
freshly ground black pepper
1 1/2 teaspoons garam masala
1 1/2 tablespoons lemon juice
12 ounces green beans, ends trimmed and snapped in half
1/8 teaspoon asoefetida
1 1/2 teaspoons cumin seeds
1 onion, chopped
2 cloves garlic, finely chopped
1 teaspoon ground cumin
1 teaspoon ground coriander
1/4 teaspoon red chile pepper (cayenne)
1 tomato, chopped
In a large non stick skillet/wok, heat 3 tablespoons of the oil. Add dried chiles, bay leaves, cinnamon stick, cloves and cardamom. Fry for 1 minute, until the bay leaf starts to darken.
Add chicken pieces in one layer and fry on both sides until golden brown. Remove to a platter, leaving the oil and spices in the pan.

Add lentils, water and turmeric and bring to a boil. Reduce to a simmer and cook on medium heat partially covered for 20 minutes, stirring occasionally.

Toss the fried chicken pieces with the lemon juice, 1/2 teaspoon of the salt, 1/2 teaspoon of the garam masala and liberal amounts of black pepper.
Return the chicken pieces to the pot with the lentils. Add the green beans and the remaining salt. Stir to combine and bring to a boil. Cover and reduce flame to low. Cook for 20 minutes, stirring frequently.

In a large skillet, heat remaining oil. Add the pinch of asoefetida. After 30 seconds, add cumin seed and cook for 1-2 minutes, until they start to brown. Add onions. Once they become soft, add garlic and cook another few minutes, until onions start to brown. Add tomatoes with the rest of the ground spices.

Cook for 1 minute more.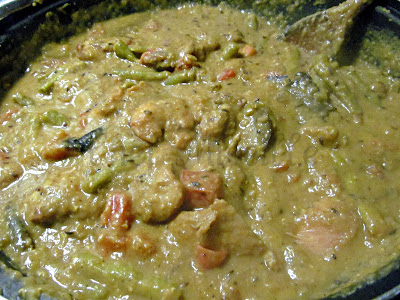 You can eat it with rice or paratha, but it is just as good on its own as a hearty chicken stew.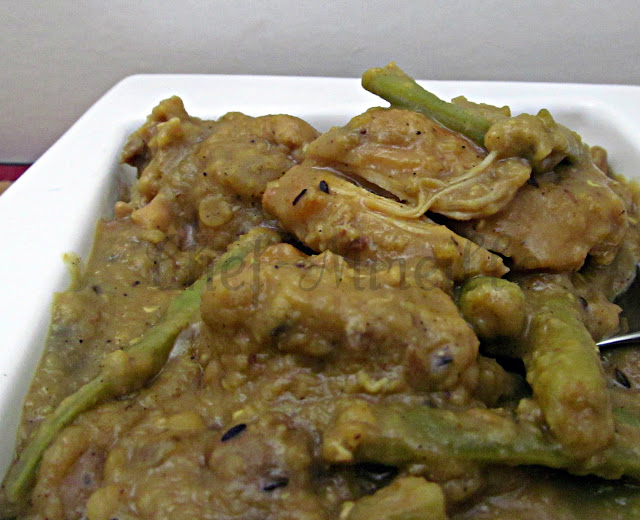 LIKE THIS RECIPE? LEAVE A COMMENT..I LIVE FOR THEM!
Chef Mireille