Last Updated on May 19, 2020 by Chef Mireille
Halayang Ube – Gluten Free Filipino Purple Yam Cake
Halayang Ube – Gluten Free Filipino Purple Yam Cake – is an easy cake to put together that requires no oven. Cook on the stove for a bit and then chill!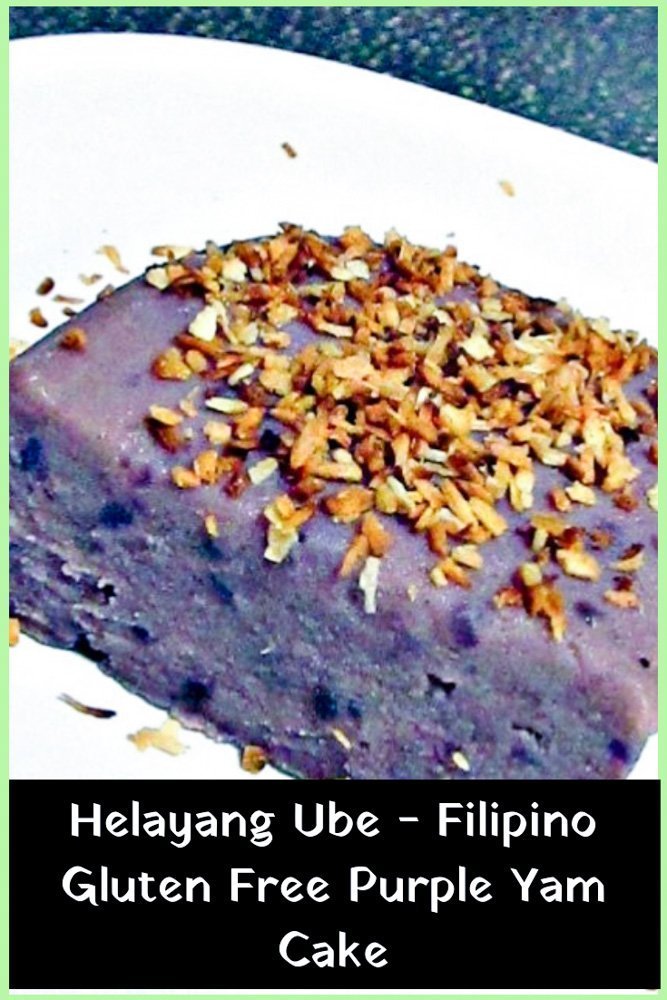 The most popular color for desserts in the Phillipines is purple. This is due to the frequent use of ube, purple yam in their desserts. A few years ago, Dr. Oz spoke of the amazing health benefits of this sweet potato, also commonly consumed in Japan, where it is known as Imo. With 150% more anti-oxidant power than blueberries, it is a good vegetable to include in your diet. For a while, these sweet potatoes could be found in high quality supermarkets like Trader Joe's & Whole Foods. Another food fad came along to replace this super food and again, they are hard to come by.

If you live near a large Chinatown, you may be able to find them. I get them at a large market in NYC's Chinatown called New York Mart, where produce from all over Central Asia as well as Southeast Asia can be found. Fresh bamboo shoots, lotus root and other produce particular to the Asian sub-continent are all readily available here.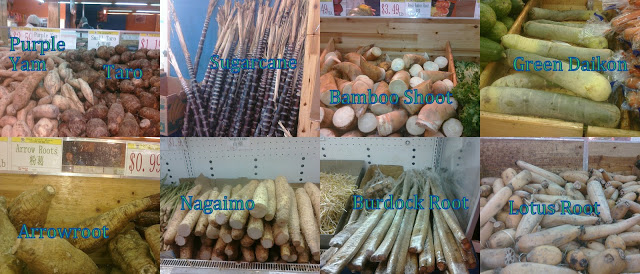 a few of the goodies available at New York Mart
A few years ago, when I sampled Filipino food for the first time at Tito Rad's, I fell in love with this fabulous Ube Cake. When I came home with some ube on my recent visit to Chinatown, the first thing I did was go on an internet search for this cake recipe and I was FINALLY able to recreate it myself.
IN THE MAKING – HOW TO MAKE HELAYANG UBE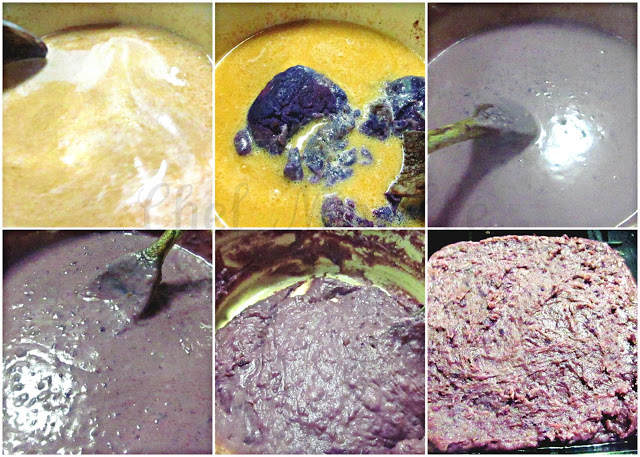 Chill for a few hours. Flip over the Halayang Ube onto a serving dish.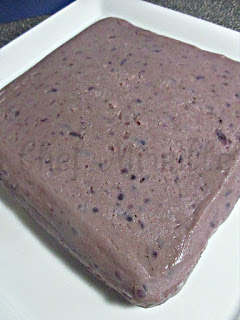 Heat a skillet and dry roast coconut until golden.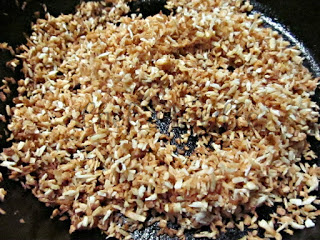 The perfect gluten free dessert!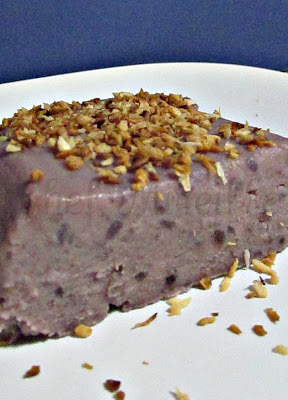 Halayang Ube – Gluten Free Filipino Purple Yam Cake
Helayang Ube is a gluten free Filipino cake made from purple yam.
Ingredients
2 1/4

cups

ube

purple yam, boiled until tender, peeled & mashed (or frozen grated ube)

1

stick butter

1 12

oz.

can evaporated milk

1 14

oz.

can sweetened condensed milk

1/3

cup

dessicated coconut

toasted (or latik)
Instructions
In a saucepan, melt the butter on medium heat. 

Add the evaporated milk and the condensed milk and stir well to combine.

Reduce heat to low and add the grated ube. 

Cook for about 40 minutes on medium low flame until very thick, stirring frequently to prevent it from sticking to the pan.

Transfer to a buttered dish.  Using a buttered rubber spatula, spread the ube mixture in an even layer.

Chill for a few hours.

Flip to remove from dish.

Serve, garnished with latik or toasted dessicated coconut.
Notes
Pudding must be chilled in the refrigerator for a few hours and preferably overnight.
...adapted from here
Nutrition
Calories:
255.88
kcal
|
Carbohydrates:
29.16
g
|
Protein:
5.16
g
|
Fat:
13.75
g
|
Saturated Fat:
8.89
g
|
Sodium:
76.24
mg
|
Fiber:
1.43
g
|
Sugar:
21.18
g
Did you try this recipe? Leave a comment below.
Please follow me on Instagram @chefmireille or tag me #chefmireille with your pics! I'd love to share them!
Do you know anyone else who likes learning about international food, culture, history and travel? Bring them over here to join the party! Don't forget to use those share buttons!
Start Here to find out how the Schizo Chef can help you with your cooking, travel and other needs!
If you like this recipe, PLEASE LEAVE A COMMENT & SUBSCRIBE!