Last Updated on April 13, 2021 by Chef Mireille
Kremas: Haiti's Creamy & Delicious Egg-Free Eggnog – Also called Cremas… This egg-free holiday drink is well known in Haiti… it's heavily spiced, decadently creamy and spiked with rum! Once you try this, you'll never go back to typical eggnog! Vegan variation also included.
Also spelled Cremas or Cremasse, this is one of the most popular Haitian drinks. Although especially popular during the holiday season, it can be enjoyed at any time.
If you'd like to explore more into Haitian cuisine, check out these Haitian Recipes.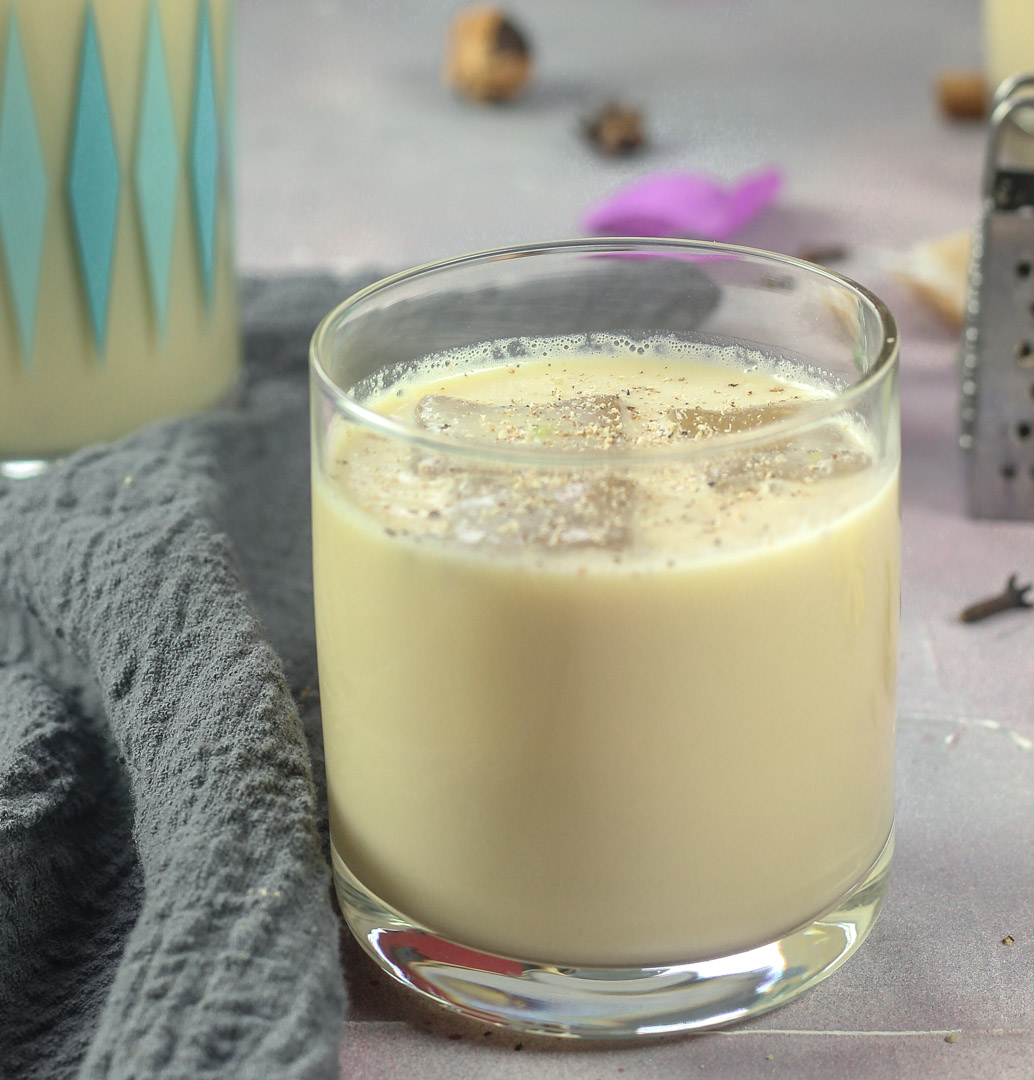 Many cultures throughout the world commonly enjoy milky holiday beverages that are often enhanced with the addition of alcohol.
Here in the U.S. we have Eggnog, Puerto Rico has Coquito, Turkey has Sahlep, and Chile has Cola de Mono.
In my mother's country of Aruba, we have Ponche Crema or Ponche Creme… a drink most typically served during the holidays in most of the Caribbean islands (except for Puerto Rico). You can find flavored varieties like Pistachio in most liquor stores, even here in America.
However, in my father's country of Haiti, we celebrate with Kremas – sometimes spelled as Cremas or Cremasse. Haitian Kremas is our version of a spiked egg-free eggnog, deliciously creamy but not your typical nog.
Unless you are Caribbean or make lots of Pina Colada, cream of coconut may be an unfamiliar product to you. It is basically coconut cream (the thick coconut milk which rises to the top) mixed with lots of sugar until it has an almost syrup like consistency.
Here's an instant home made version you can make yourself if cream of coconut is not available where you live. I haven't tried it myself so I can't vouch for the results, but give it a whirl!
Which Rum Should I Use?
Rum is the most popular alcoholic beverage in the Caribbean, as I'm sure you know. Since we grow a lot of sugarcane, it is the least expensive alcohol to produce so just about every island has a local rum production industry. Each island will swear that theirs is the best.; try telling a Trini that there is any rum better than Angostura and get ready for a fight! In Jamaica, it is Appleton or Myer's Dark.
Rum is a big part of Caribbean culture – Rum Punch, Rum-based cocktails and many desserts like Black Cake often have rum as the star.
Haiti is no different. If you tell a Haitian person, you made Kremas with anything but Rhum Barbancourt, I'd be surprised if they are even willing to taste it. The flavor in their oak aged rum is something to be proud of, so I can see why they are so particular.
All it takes is just a few ingredients and spices whipped up together in a blender with your favorite rum… Kremas is so quick and easy to put together!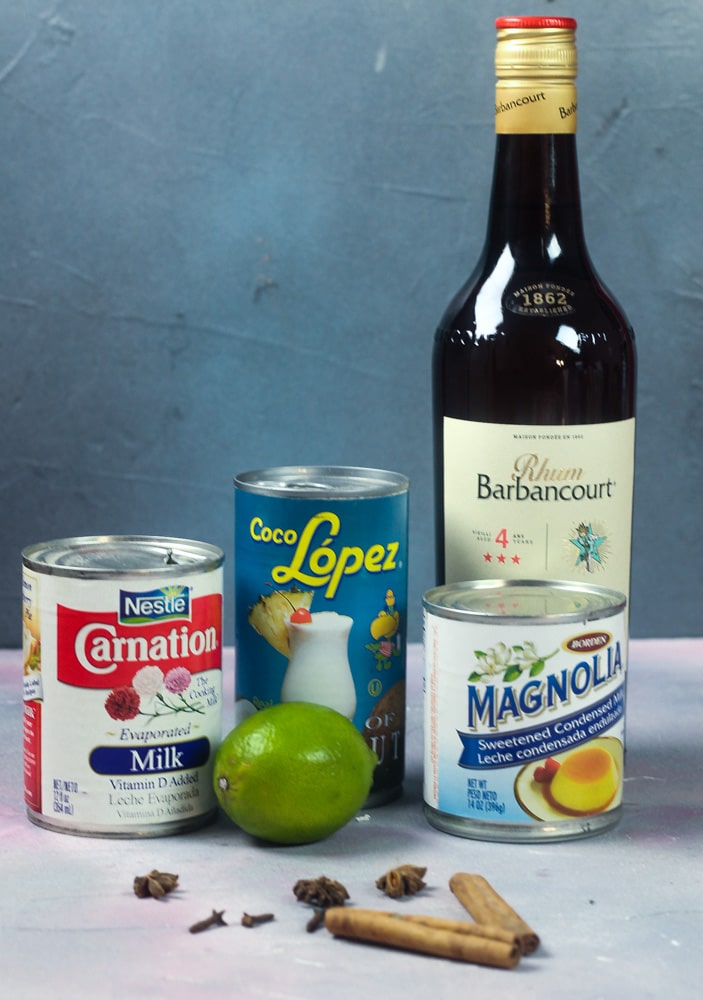 Now I don't want to cast any shade against Eggnog or Coquito, but I do want to mention a few reasons I think you might want to replace your eggnog with Kremas (Cremas) – Haitian Eggless Eggnog from this year forward!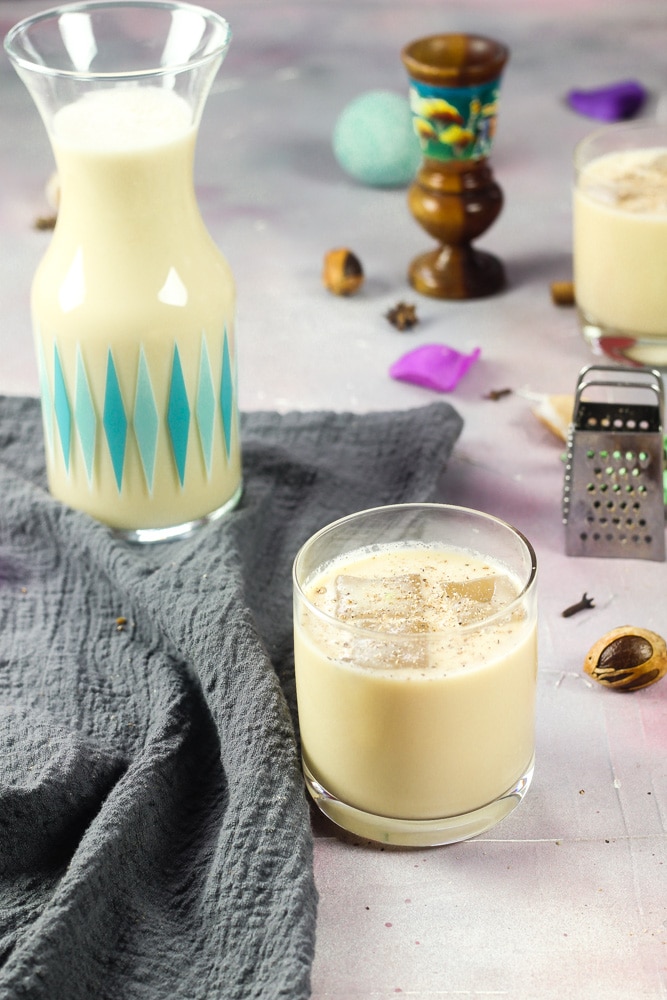 5 Reasons to Replace your Eggnog with Kremas
It's DELICIOUS!!!
Some people are allergic to eggs.
Some people don't like to consume raw eggs (Ew… Salmonella).
Some Vegetarians/Vegans don't eat eggs.
Did I mention how DELICIOUS it is!?
If you prefer not to drink alcohol, feel free to make it alcohol-free since it's still delicious without the rum. It won't be authentic Haitian Kremas but that's ok!
Star Anise
Star Anise is a spice that permeates Haitian cuisine. It is used in everything from drinks and desserts to meat stews and sometimes even in Sauce Pois. While the other spices can be customized by preference, star anise is required for Kremas. In fact, I like the star anise to shine which is why I usually don't add vanilla extract or almond extract. I have listed them as optional ingredients below as many people include it in Kremas. But I think sometimes less is more so that the flavor of the individual spices can be better appreciated.
Variations
For an instant version, omit steps 1-5 and instead use ground spices.
Add 1 teaspoon ground cinnamon, 1/2 teaspoon ground star anise and 1/4 teaspoon ground clove.
Make it Vegan by replacing the evaporated milk with coconut milk or evaporated coconut milk and replacing sweetened condensed milk with sweetened condensed coconut milk.
Although I present food from around the world on this blog, I am half Haitian so I do have a little bias towards Haitian cuisine. Would you like to try some other Haitian foods? Here are some other Haitian recipes to compliment your Kremas.
Haitian Recipes
Oh and by the way, this is a little off topic but some trivia you might be interested in… Did you know that it was a regiment from Haiti, the world's first independent black nation, that helped America hold onto Savannah during the American Revolution against the British? There is a statue in dedication to Haiti, located in Savannah – You might want to check out my Savannah travel post here to find out more about it!
Haiti gets a lot of bad press, but it is a beautiful vacation island with gorgeous beaches and a vibrant culture. Check out more of what you can eat and experience when you visit Haiti in What to Eat in Haiti.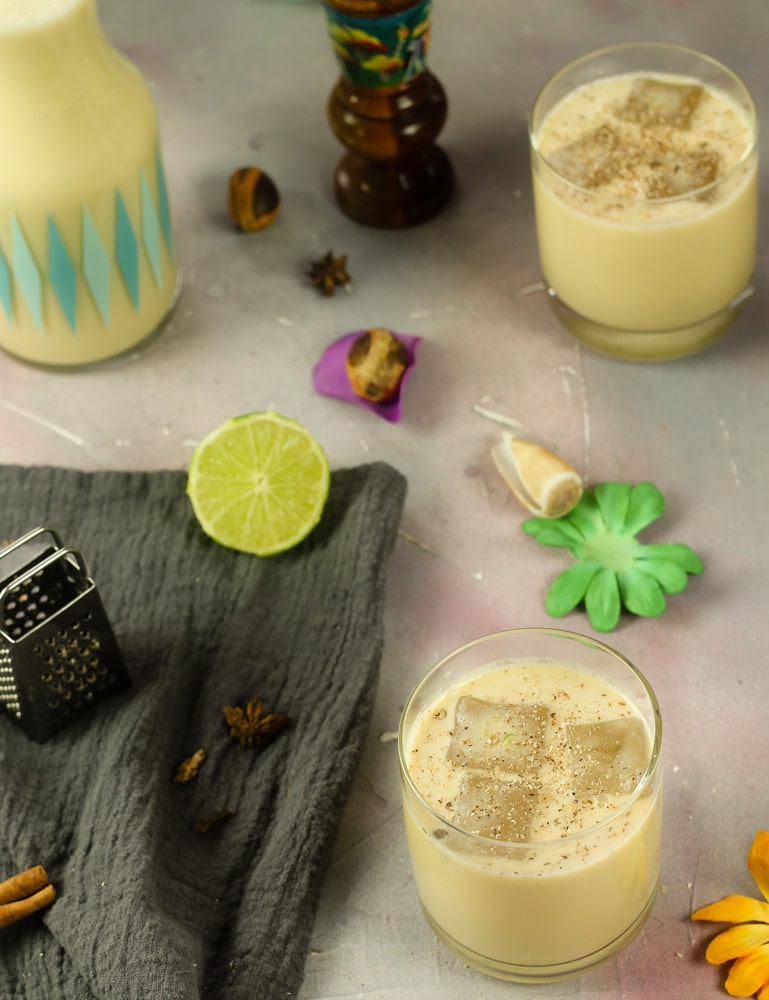 Kremas (Cremas) – Haitian Eggless Eggnog
Kremas is the Haitian version of eggnog without eggs – heavily spiced with star anise, cloves and cinnamon.
Ingredients
1 12

oz.

can evaporated milk

use coconut milk to make it Vegan

2

star anise

3

cloves

1 14

oz.

can sweetened condensed milk

use sweetened condensed coconut milk to make it Vegan

1 15

oz.

can cream of coconut

1

teaspoon

vanilla extract

optional

1

teaspoon

almond extract

optional

zest of 1 lime

1

Tablespoon

lime juice

1

cup

Barbancourt rum

freshly grated nutmeg

for garnish
Instructions
In a saucepan, combine evaporated milk with star anise, cinnamon and cloves.

Heat milk until it is very warm, just till little bubbles start appearing at the perimeter, but DO NOT BOIL.

Turn off heat and leave for at least one hour. SEE NOTE

Strain evaporated milk and discard the spices.

In a

blender

, combined spiced evaporated milk with condensed milk, cream of coconut, vanilla extract, almond extract, lime zest and lime juice.

Blend until well mixed.

Add rum and blend until mixed.

Transfer to a bottle and chill for several hours.

To serve, garnish with freshly grated nutmeg.
Notes
It is preferable to put the evaporated milk with the spices in the refrigerator overnight, after you simmer it. By letting the spices infuse overnight, your kremas will be much more flavorful.
If you do this overnight methodology, it is so flavorful that the vanilla and almond extract is not necessary. However if you are doing the quick method, then I would add it.
For an instant version, omit steps 1-5 and instead use ground spices.
Add 1 teaspoon ground cinnamon, 1/2 teaspoon ground star anise and 1/4 teaspoon ground clove.
Nutrition
Calories:
369
kcal
|
Carbohydrates:
49
g
|
Protein:
5
g
|
Fat:
12
g
|
Saturated Fat:
9
g
|
Cholesterol:
21
mg
|
Sodium:
97
mg
|
Potassium:
225
mg
|
Fiber:
1
g
|
Sugar:
48
g
|
Vitamin A:
168
IU
|
Vitamin C:
2
mg
|
Calcium:
185
mg
|
Iron:
1
mg
Did you try this recipe? Leave a comment below.
Please follow me on Instagram @chefmireille or tag me #chefmireille with your pics! I'd love to share them!
ARE YOU EXCITED TO TRY THIS RECIPE? PLEASE HELP ME CONTINUE TO PROVIDE YOU WITH DELICIOUS RECIPES BY SHARING IT AND SHOPPING FOR YOUR FAVORITE PRODUCTS WITH INCLUDED AFFILIATE LINKS!
Need more culinary inspiration? Check out the Recipe Index with over 1500 Recipes from Around the World with lots of Vegetarian 🥕🍆🍅and Gluten Free Recipes!