Last Updated on January 11, 2020 by Chef Mireille
November Food & Travel Update – Catch up on all the new recipe and travel posts!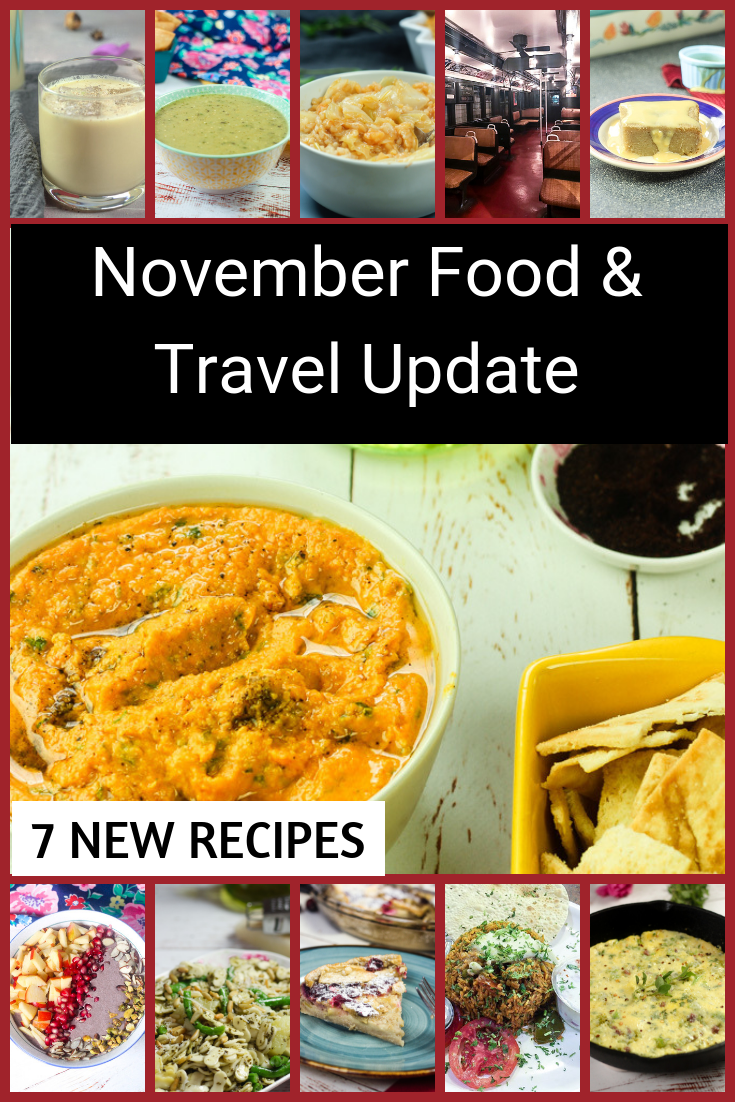 Hello wonderful people!
As I start to take stock of 2018 and set goals of 2019, I am making a few changes.
We all lead such busy lives and I am sure you don't have time to check every post when I publish it – though I wish you would 🙂 so at the beginning of every month, look out for the previous month's review.
In this one post, you will be able to check out what you missed in the month.
November Update
There's something for everyone – healthy breakfast bowl, decadent desserts, gluten free cake and vegetarian party food!
Travel posts that include NYC, Bangkok & Mumbai!
Here is the update for November and what to look forward to in December…
Every month I participate a few weeks in the Blogging Marathon, where me and some fellow bloggers do some theme based blogging. The November themes I did were Global Cuisine – Italy and Naturally Colorful Food!
Traditional Italian Recipes
Pesto Corzetti alla Genovese (V)
Naturally Colorful Food
Salsa Verde (V)
Carrot Hummus (V)
Acai Yogurt Bowl (V)
As we are in the middle of the holiday season, here are a few both new and vintage post recipes, you might want to add to your holiday table.
Holiday Recipes
Kremas – Haitian Eggless Eggnog (V)
Cranberry Apple Flaugnarde (Clafoutis) (V)
After a long hiatus, I have started to do regular weekly travel posts again. Here is what you missed in November!
Travel Posts
24 Hour Foodie's Guide to Mumbai
Bangkok Public Transportation Guide
Miscellaneous
Party Planning Guide – FREE DOWNLOAD – all you need to host this year's holiday dinner!
December Preview
Just like any other month, December is going to feature some new recipes from around the world including Japan, Spain, the Phillipines and Lesotho – that's right I said Lesotho. Make sure you come back to see what I am presenting from this small African nation.
I am also participating in Bake-a-thon in December so look for a lot of recipes that use the oven – both sweet and savory!
There will be some great dessert options you might like to add to your holiday table like steamed cakes and a creamy pudding…so stay tuned…
Do you know anyone else who likes learning about international food, culture, history and travel? Bring them over here to join the party! Don't forget to use those share buttons!
Start Here to find out how the Schizo Chef can help you with your cooking, travel and other needs!
If you like this recipe, PLEASE LEAVE A COMMENT & SUBSCRIBE!