Last Updated on January 11, 2020 by Chef Mireille
NYC Transit Museum – Kid Friendly Interactive Museum – Travel back in time and stroll through the trains of yesteryear and learn some interesting history also. Great experience for both kids and adults.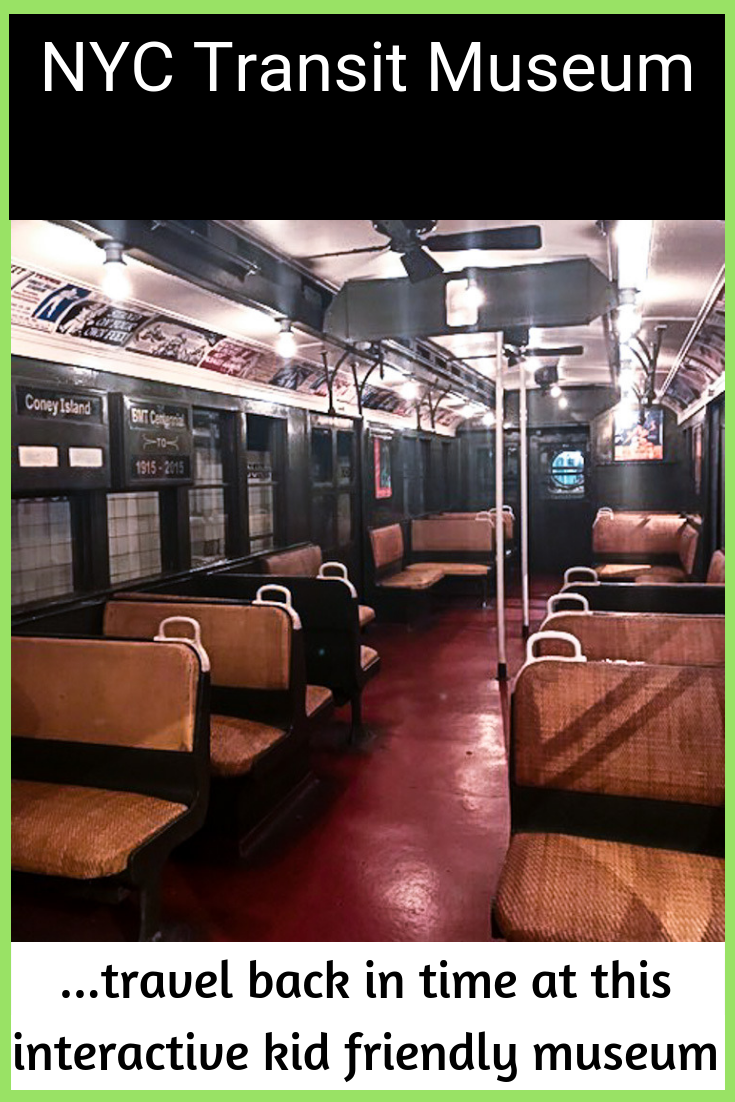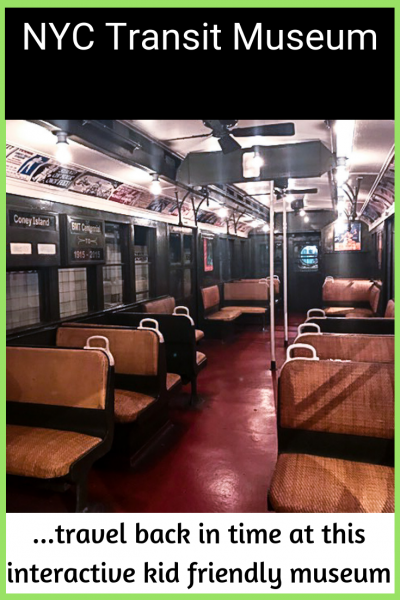 Most of us are too busy in our daily lives with work and family and friends to act like tourists in our own city. We rarely visit the sights if we are local to the place. I actually have done a lot of my home city's tourist attractions because I have a large international family who often come to visit. Therefore, me or some other member of the family who lives locally becomes their personal tour guides. In fact, there are a few sights I have seen too many times to count that I am sick of visiting and refuse to go, at this point. I call my sister or one of my cousins and tell them you have got to take them because if I have to do that 4 hour Circle Line tour of NYC one more time, I am going to scream!!!
My whole life I have heard of the NYC Transit Museum and every time someone would mention it, I would be reminded that I need to visit. Finally, I managed to get there. Although I had wanted to visit for many years, even I was so surprised how much I enjoyed the visit and how much I learned. So much so that when I had some family visiting from Aruba just a few months later, I went again. They had a blast, so for now this is replacing my visit to the Intrepid Museum, which was my go to museum to show visiting family, as I am now sick of the place! However, if you are visiting NYC for the first time, the Intrepid Sea, Air, Space Museum is still a fantastic place to visit as it is housed in a battleship and includes a submarine that you can go down into!
The NYC Transit Museum is located in a no longer in use abandoned subway station in downtown Brooklyn, a quick 30 minute subway ride from midtown Manhattan.
HOW TO GET THERE
Take the 2, 3, 4 or 5 train to Boro Hall or the R train to Court Street. It is just a few blocks from there.
SPECIAL EVENTS
When you go down the subway steps, to the left is a gift shop and there will be a board with the day's special events. They have a lot of kid friendly classes and events. In fact, on the day I went with my cousin, it was her 7 year old son's birthday. They had a craft class where he was able to make his own subway map to take home. He had so much fun. If you are traveling with kids, this is definitely a place to take them.
It is an interactive museum, so they can hop on a bus and sit behind the wheel, pretending they are driving. They are free to walk and sit on the various trains. He happily spent a few hours there and absolutely loved the visit.
We did not do it, but you can also rent out space for kid's birthday parties there. There is a bus which is used for the private party space, so if you are child happens to have a birthday when you are visiting NYC, this might be a fun way for them to spend the day!
HOW TO TOUR THE MUSEUM
You can pay extra for scheduled guided tours, however I found it unnecessary.
There is an easy to follow path and all the photos and artifacts have descriptions. Without a guide, you can go along at your leisure at stop longer at the displays that you find most interesting.
THE MAIN FLOOR
On the main museum floor, you start with the path and learn about the history of the planning and execution of building the subway. There are photos of the actual workers.
https://www.flickr.com/photos/132661972@N04/44274388830/in/dateposted-public/
There are displays and historical notes for everything with artifacts that were used in the construction of the subway system.
You will learn about some of the socio-political problems with building the subway system, including unions, strikes and racism.
You'll also learn about the different forms of transportation that existed in NYC, dating all the way back to the 1810.
You can see the evolution of the turnstiles from back when they were humanly manned and go through them all – from the beginning to now.
There is an old style booth where the clerks would sit. It in interactive and you can go inside and see what all is in there.
As a local New Yorker who remembers how devastating Hurricane Sandy affected us, it was remarkable to learn about how the MTA prepared for it and what it took to repair the damages. Some stations had to be completely rebuilt from the ground up.
Not only Sandy, but how the MTA adapts to problems like black outs, snow storms , water main breaks and tunnel floods is truly amazing. As a local who takes the subway daily, whenever there are delays or any problems, we complain and sometimes complain loudly. Visiting the museum really made me appreciate what goes into operating one of the most extensive subway systems in the world and keep it operating 24/7 365 days a year!
DOWNSTAIRS FLOOR
When you are finished, it is time to go to the lower level.
This is, in my opinion, the coolest part of the museum. They have cars from different trains dating back to the 1800's to present day.
You are able to go through and sit on the various trains and see how the seats changed as well as how the materials used changed over time.
Some had ceiling fans and then electric fans before the trains were air conditioned.
Looking at some of the old ads had me in stitches and just interesting to learn what was going on in the world at that time!
Some of the courtesy ads we still have today – as the same inconsiderate people are still riding the trains!
There are also construction hats etc. that you can take some photos with.
Although this is a #kidfriendly museum and some of the displays are definitely just for kids, I think any adult would also find it so interesting as there is lots of knowledge to be gained as you read through the displays.
SPECIAL NOTES
There is no alternative way of entering the subway, so it is not a handicap friendly museum.
The museum is located near a lot of other things to see, so you can spend the whole day in Brooklyn. It is near the outdoor Fulton Mall and the indoor Atlantic Center Mall for shopping. City Point Shopping Center is nearby which houses the best food court in NYC!
It is also near the Middle Eastern enclave on Atlantic Avenue where you can peruse spice shops and have a meal at one of my favorite restaurants, Yemen Cafe.
Do you know anyone else who likes learning about international food, culture, history and travel? Bring them over here to join the party! Don't forget to use those share buttons!
Start Here to find out how the Schizo Chef can help you with your cooking, travel and other needs!
If you like this recipe, PLEASE LEAVE A COMMENT & SUBSCRIBE!