Last Updated on June 3, 2015 by Chef Mireille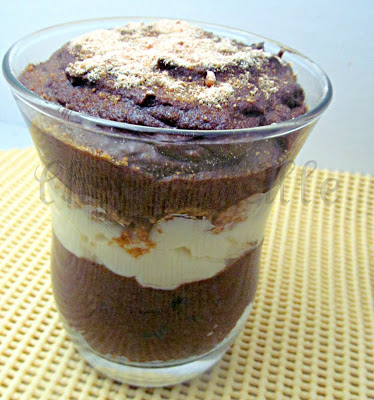 Blogging Marathon #23
Theme: Kids Delight – Desserts
In case you have not noticed yet, I LOVE orange fleshed sweet potatoes, also known as yams in the United States, although this is a misnomer. High in Vitamin C and carbs, it is often recommended for Diabetics to replace rice or other simple carbohydrates in their diet. As versatile as pumpkin, it can be used in both sweet and savory dishes. Kids will love this dessert full of delicious chocolate and won't even know you're sneaking in some healthy vegetable in it too!
Sweet Potato Mousse Parfait
Serves 6
Ingredients:
1/2 cup orange fleshed sweet potato (aka yams), peeled, boiled and mashed
1 cup heavy cream
3 1/2 ounces dark baking chocolate (85% cacao)
1 teaspoon ground cinnamon
1/4 teaspoon salt
1 teaspoon vanilla extract
1/4 cup sugar
8 oz. marscapone cheese
2 tablespoons honey
20 amaretto cookies, crumbled (susbstitutes: ginger snap cookies or vanilla wafers)
8 amaretto cookies, ground to a powder
In a double boiler, melt the chocolate over medium-low heat. Pour this into the mashed sweet potato and mix well, along with the sugar, vanilla, salt and cinnamon.
Using an electric mixer, beat cream until very stiff peaks form.
Fold into sweet potato mixture.

In a small bowl, combine marscapone cheese and honey and mix well.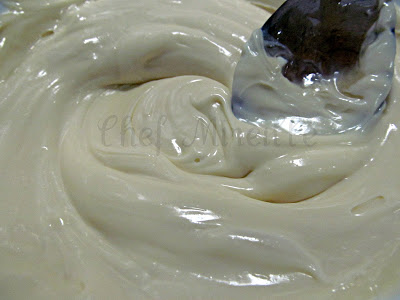 To serve, place a little of the crumbled cookies on the bottom of a glass/ serving dish. Add a little of the mousse mixture on top. Top with a little of the marscapone and then the crumbled cookies. Add another layer of the mousse. Sprinkle the ground cookies on top. Chill for 1 hour.
Creamy layers and the crispy cookies for a little textural variety make this a delicious treat for any time!
Check out the Blogging Marathon page for the other Blogging Marathoners doing BM#23
…linking to: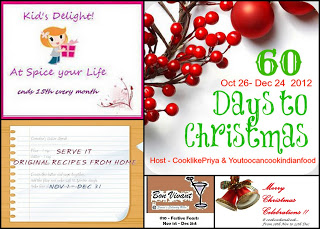 Srivalli's Kid's Delight hosted by Veena
Merry Christmas Celebrations
Divya/Priya's 60 Days of Christmas
Serve it Series, hosted by Krithi
Sumee's Bon Vivant – Festive Feasts
LIKE THIS RECIPE? LEAVE A COMMENT..I LIVE FOR THEM!
Chef Mireille
Like me on FACEBOOK!
Follow me on TWITTER!