Last Updated on December 14, 2020 by Chef Mireille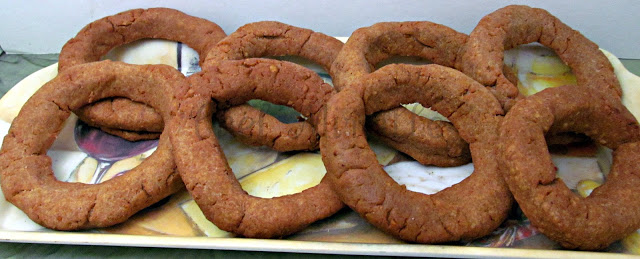 For this month's Indian Cooking Challenge, Srivalli challenged us to make the Karnataka treat, Kodubale. I skipped last month's ICC, but I am back this month with this challenging recipe. The hardest thing about this recipe was figuring our what urikadale/chutney dal/pottukadalai was. After doing an intense web search by all its different names, I finally figured out that it is basically roasted yellow split peas. Once I figured that out, I thought the rest of the recipe was going to be pretty easy to do, especially since I had already recently done muruku, which is similar to this. However, it was a bit challenging trying to massage the dough into the right shape without it cracking. I could not get mine as thin as a pencil, as the recipe indicated. Regardless of thickness, the taste make a delicious, spicy snack!
Kodubale
(click here for printable recipe)
Ingredients:
1/2 cup yellow split peas
1/2 cup dessicated coconut
2 cups rice flour
1/2 cup all purpose flour
1/2 cup whole wheat flour
1 tablespoon ghee
1/4 teaspoon asoefetida
1 1/2 teaspoons salt
1 teaspoon chile powder (cayenne pepper)
oil, for deep frying
In a dry skillet, roast the dry peas until golden and fragrant. Grind with the coconut, until you have a fine powder.
Dry roast the all purpose and whole wheat flour until golden, about 5 minutes on medium flame.
In a large bowl, combine roasted flour, ground peas and rice flour. Add ghee, asoefetida, salt, chile and enough water to make a stiff dough. (I used 1 1/3 cup plus 2 tablespoons water)
Heat oil to 350 F.
Shape into rings the thickness of a pencil and drop in the hot oil.
Fry until golden brown on both sides. Drain on paper towels.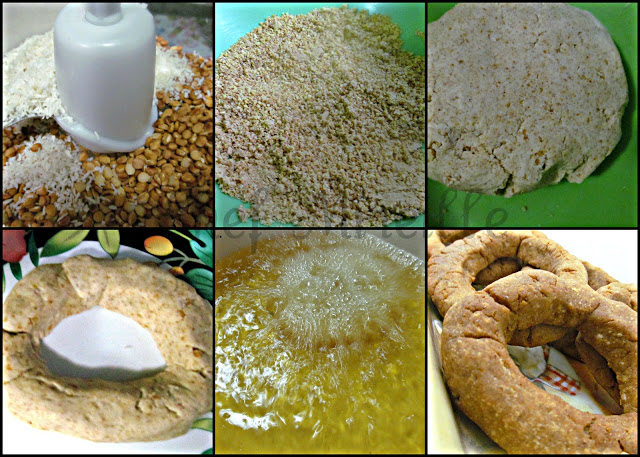 These are so delicious. Because of the roasted flours, it has a nutty flavor. Crunchy on the outside and the consistency of a dense bread on the inside. The Indian version of a pretzel.

LIKE THIS RECIPE? LEAVE A COMMENT..I LIVE FOR THEM!
Chef Mireille
Like me on FACEBOOK!
Follow me on TWITTER!