Last Updated on January 13, 2020 by Chef Mireille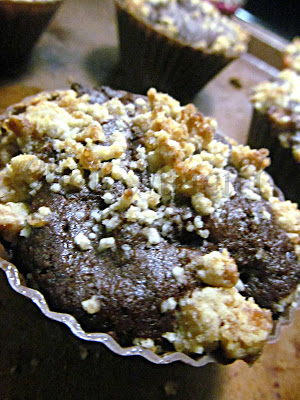 Streusal Quince Cocoa Muffins – These eggless muffins are so moist and delicious and a great use of seasonal quince.
I often make the foods for holiday parties and birthday parties at my Mom's office. Her boss is allergic to eggs so it provides me the opportunity to get creative with eggless desserts. Whether you don't eat eggs as a Vegetarian or because of an allergy, you will love these muffins and so will the egg eaters you know too!
Here is another recipe using the quince I picked up a few weeks ago. For more info on quince, you can read my post here. While perusing my 750 Best Muffin Recipes cookbook looking for inspiration for this week's BM theme, I happened upon a recipe for Quince Muffins. With a few adaptations, I created this recipe.
If you don't have access to quince, the closest substitute would be pear, but then it is not necessary to pre-cook the pear.
Quince Cocoa Muffins
Ingredients:
1 1/2 cups quince, peeled, cored and chopped
3/4 cup sugar
1 teaspoon lemon juice
2 1/2 cups water
1/2 cup whole wheat flour
1/2 cup all purpose flour
1/2 cup unsweetened cocoa powder
1 tablespoon baking powder
1 teaspoon ground cardamom
1/2 teaspoon salt
2/3 cup sugar
1/2 cup plain yogurt
1/3 cup butter, melted
1/3 cup milk
2 teaspoons vanilla extract
Streusal Topping
1/2 cup all purpose flour
1/4 firmly packed brown sugar
3 tablespoons butter, melted
Combine the quince, sugar, lemon juice and water to a boil. Reduce heat and simmer for 30-35 minutes, until tender. Drain and let cool.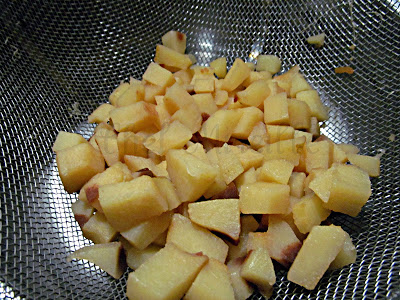 Cooked Quince
Preheat oven to 375 F. Spray a muffin tin with non stick spray or use muffin liners. (I use silicone baking cups)
To make the streusal topping, combine the 1/2 cup flour, brown sugar and 3 tablespoons melted butter. Mix until crumbly. Refrigerate until ready to use.
In a large bowl, mix flours, cocoa powder, baking powder, salt and cardamom.
In another bowl, mix the butter, yogurt, milk, sugar and vanilla until smooth. Add this to the flour mixture and mix until thoroughly combined. Fold in quince.
Divide the batter equally among 12 muffin cups.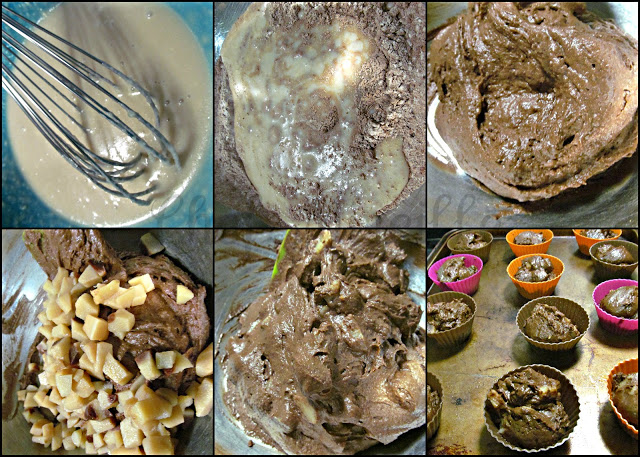 Sprinkle the topping on top.

Bake for 25 minutes, until a toothpick inserted comes out clean.
Cool and serve.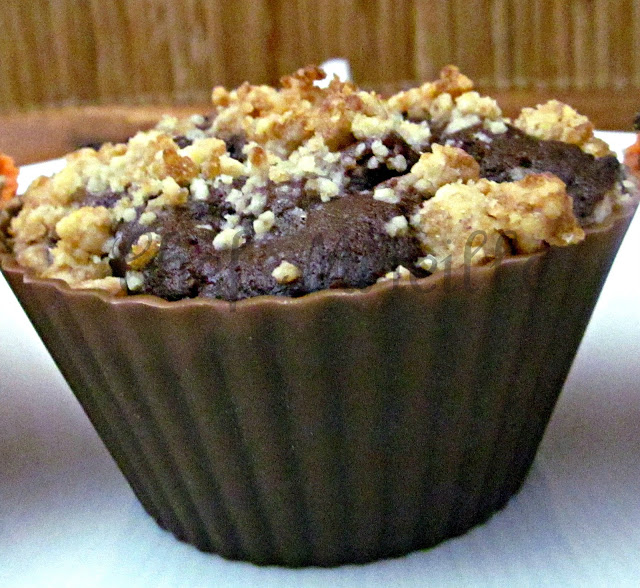 Chocolate combined with the natural spicy undertones inherent in quince, these crunchy streusal topped muffins are perfect on a cool winter night with a mug of hot cocoa…for the the cocoa fanatic in your house. For me, it went perfect with a plain glass of milk.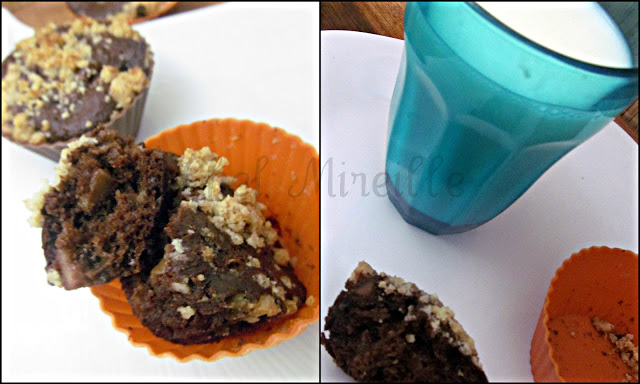 Do you know anyone else who likes learning about international food, culture, history and travel? Bring them over here to join the party! Don't forget to use those share buttons!
Start Here to find out how the Schizo Chef can help you with your cooking, travel and other needs!
If you like this recipe, PLEASE LEAVE A COMMENT & SUBSCRIBE!
Check out the Blogging Marathon page for the other Blogging Marathoners doing BM#23

…linking to Bake Fest, Let's Party hosted by Sowmya, Sheelu's Christmas Event, Divya/Priya's 60 Days of Christmas, Cookcookandcook and Cook-Eat-Burp's Mission Explore Food hosted by Yashodha's Kitchen