Last Updated on June 2, 2015 by Chef Mireille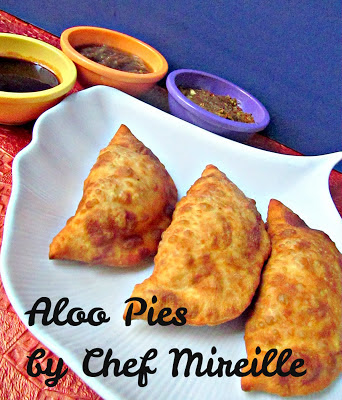 Blogging Marathon #33
Theme: Combo Meals
I am taking you to Trinidad again today with a combo meal. Aloo Pies are one of the most popular street foods in Trinidad. It is basically a potato filling inside a stuffed pastry. They are then split open and served with kuchela (Trinidad's version of green mango pickle), tamarind chutney and hot sauce.
Let's first make the accouterments.
I've already posted the recipe for tamarind chutney here.
Where as in East Indian cuisine, there are many different types of achar or pickled vegetables or fruit, in Trinidad there is generally only one. When you say achar, everyone knows you are referring to kuchela, the green mango pickle served with everything.
Kuchela
(adapted from
here
)
Ingredients:
2 green mangoes, grated
2 cloves garlic
1 Scotch Bonnet pepper
3 tablespoons mustard oil
1/2 teaspoon salt
1 tablespoon coriander seed
1 teaspoon cumin seed
1/2 teaspoon black peppercorns
1/4 teaspoon fennel seed
1/4 teaspoon fenugreek seed
1/4 teaspoon brown mustard seed
Preheat oven to 200 F.
Peel and grate mangoes. In Trinidad, these would then be left out in the sun to dry. As I live in a Brooklyn, NY apartment with no backyard and I have no intention of leaving this out on the fire escape, I did an oven version of drying the mango.
Place the grated mango in a kitchen towel. Squeeze out all the liquid from the mango and place on a silpat or parchment paper lined cookie sheet. Place in oven for 2 hours.
Meanwhile, make the achar masala.
In a dry skillet, roast the coriander, cumin, peppercorns, fennel, fenugreek and mustard seed until fragrant. Let cool. Using a coffee/spice grinder, grind to a powder.
In a bowl, combine the dried mango with the garlic and pepper. Add masala powder and salt. Stir to combine. Add mustard oil and stir to combine.
Transfer to glass jar and store in refrigerator for at least 1 week.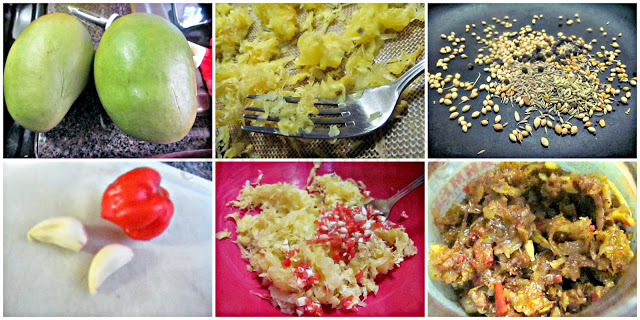 Serve as a condiment with anything and everything…like they do in Trinidad!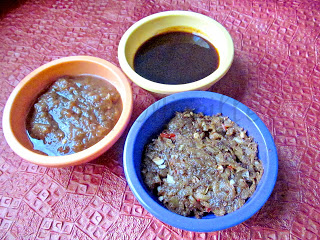 Tamarind Chutney, Kuchela & Hot Sauce
Have your condiments ready for the aloo pies!
The aloo pies sold in most places are quite large and I usually have a hard time finishing one. So I made these smaller than the traditional size to make them the perfect party food.
Aloo Pies
Yield: 10 mini pies
Ingredients:
1 cup + 1 tablespoon flour
1 teaspoon baking powder
1/2 + 1/8 teaspoon salt
1/4 teaspoon ground black pepper
1/3 cup warm water
8 oz. potatoes, peeled and boiled until tender
1/2 Scotch Bonnet pepper, minced
1/2 teaspoon roasted cumin powder
1/8 teaspoon ground turmeric
1 clove garlic, finely chopped
oil, for deep frying
Mash potatoes. Add 1/8 teaspoon salt, black pepper, cumin, turmeric, Scotch Bonnet and garlic. Mix well.

In a large bowl, combine flour, baking powder and remaining salt.
Add water a little at a time until you have a soft dough. Cover and let rest for 15 minutes.
Divide dough into 9 equal sized balls.
On a lightly floured surface, roll a ball into a 2 inch circle. Place 1 tablespoon of the potato filling in the center. Fold over circle to form a crescent. Seal using the tines of a fork. Trim any excess dough using a pizza slicer.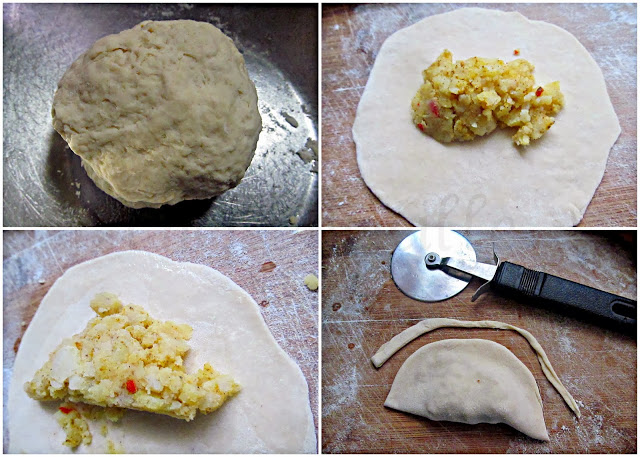 Repeat for the remaining dough.
All the trimmed dough should yield you one more pie.
In a large pot, heat enough oil for deep frying.
Fry aloo pies until golden brown on both sides. Drain on paper towels.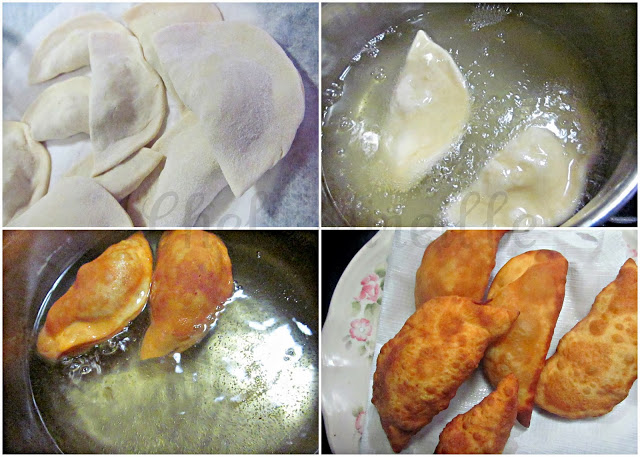 To serve, split open with a sharp knife, place a little kuchela inside and then top with tamarind chutney and hot sauce.
Enjoy!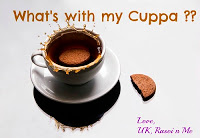 Check out the Blogging Marathon page for the other Blogging Marathoners doing BM#33
…linking to Whats With My Cuppa hosted by Nandoo
LIKE THIS RECIPE? LEAVE A COMMENT..I LIVE FOR THEM!
Chef Mireille