Last Updated on June 3, 2015 by Chef Mireille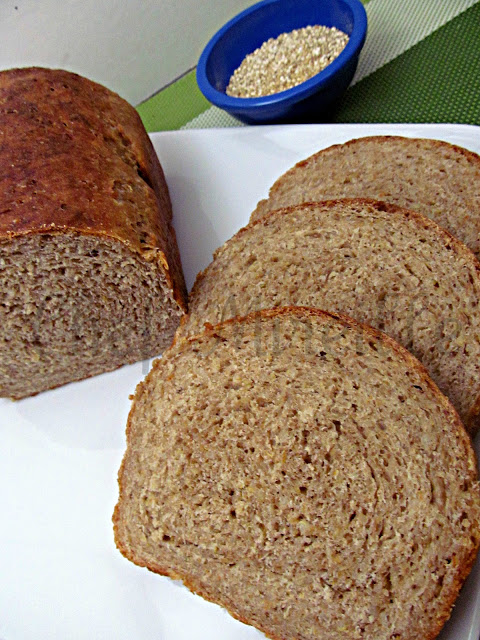 Although I have been making bread for many years, I still have always used a recipe as a guide. I usually replace some of the ingredients in the original recipes to create unique recipes of my own creation. I have done this for so long that I finally got up the courage and confidence to create my own original bread recipe, without depending on another source for a guide. Always trying to include whole grains in my diet as much as possible, I came up with this quinoa bread.
Quinoa Bread
(click here for printable recipe)
Ingredients:
3 cups whole wheat bread flour (or whole wheat flour)
1 1/2 – 2 cups white bread flour (or all purpose flour)
1 cup quinoa
1/2 cup water
1 1/2 cups buttermilk
2 teaspoons salt
5 1/2 teaspoons yeast
2 tablespoons honey
2 tablespoons butter, melted
Bring 2 cups of water and quinoa to a boil. Reduce to a simmer, cover and cook for 10-15 minutes, until all the water has been absorbed. Add buttermilk, water and honey. Stir to combine. Using an instant read thermometer, check temperature. It should be 120 – 130 F. Reheat it if it needs to be brought back up to temperature after the buttermilk and water has been added.
In a large bowl, combine 2 cups of the whole wheat flour with the yeast and salt. Add quinoa mixture and stir to combine until well moistened. Add the rest of the whole wheat flour and 1 cup of the white flour and mix thoroughly.
Start to knead in the rest of the flour 1/4 cup at a time, until you have a slightly sticky and elastic dough. Knead for about 10 minutes. (This dough will not be quite as elastic as traditional breads because of the quinoa. Don't be tempted to add more flour.)
Place in a greased bowl.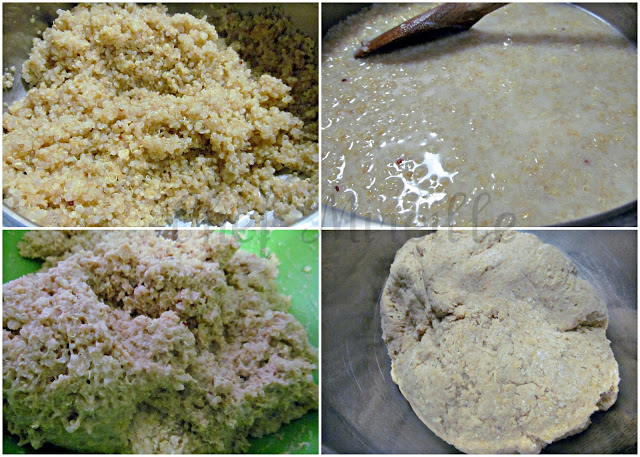 Cover with plastic wrap and a kitchen towel. Let rise for 1 hour.
Grease two loaf pans.
Punch down the dough to release air bubbles.

Divide dough in half. Place one half on a lightly floured surface. This dough is very soft. Sprinkle a little flour on all sides of the dough. Roll out to a large rectangle. Starting at the narrow end, roll up the dough, folding in the sides as you roll. Place in loaf pan. Repeat with the other half of the dough. Cover with kitchen towel and let rise for 45 minutes, until doubled in size. (After 30 minutes, start to preheat oven to 375 F).
Place loaf pans in oven and bake for 30 minutes.
Brush melted butter on top.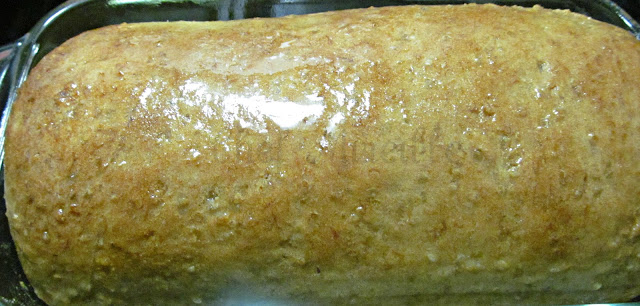 Bake for another 15 minutes.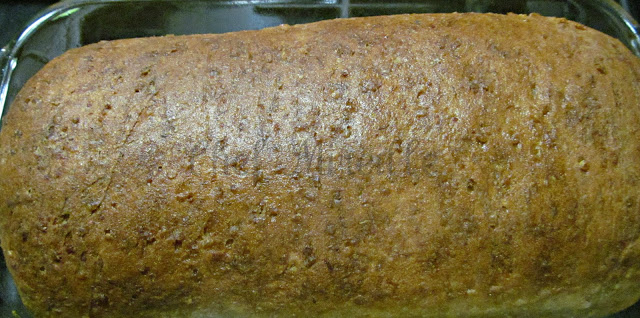 Remove from loaf pans and let cool, before slicing.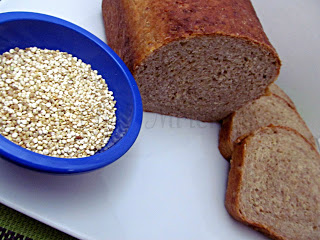 Enjoy as part of a healthy breakfast with quince jam, cheese, tomatoes and pomegranate seeds.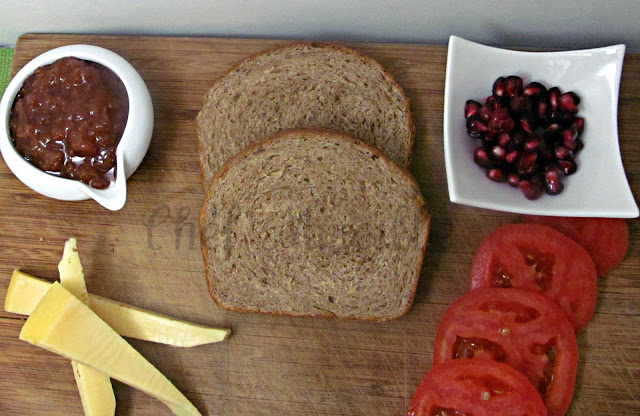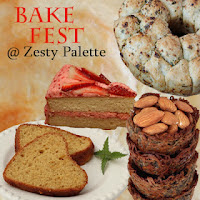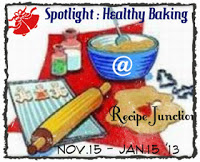 …linking to Yeastspotting, Bake Fest & Recipe Junction's Healthy Baking
LIKE THIS RECIPE? LEAVE A COMMENT..I LIVE FOR THEM!
Chef Mireille
Like me on FACEBOOK!
Follow me on TWITTER!