Last Updated on June 3, 2015 by Chef Mireille
MERRY CHRISTMAS!!!
Many of you I know are up late doing prep work for your Christmas meal. Are you still stumped for ideas for dessert? How about trying this Dutch classic? It is not overly sweet so as far as desserts go, it is pretty healthy. With all of the other traditionally decadent foods served at Christmas, why not end your meal with this healthy dessert?
A huge section of my extended family lives in Holland. I have visited the country several times since I was a child, yet I am really unfamiliar with most Dutch cuisine, except for street food like krokets. Most of my family migrated to Holland from either Suriname or the Dutch Caribbean, so when I visit Holland, this is the type of food my family cooks.
The places the Dutch colonized has much more interesting cuisines than the potato based meals of Holland. You ask most Dutch people what is the best food in Holland and most of them will send you to an Indonesian restaurant. However, they do have many delicious sweets and pastries.
Hopping around the blogosphere recently, I happened along this simple semolina pudding. After I saw it on one site, I started looking for variations and realized it was one of the most popular homestyle treats of Holland. After talking with my cousin via skype, she said it was one of her favorite Dutch foods so then I knew I had to try it. Although it is traditionally served with a currant sauce, I made a quince sauce since I had recently come home with a bag of quince from the local market and I had one more left I had to utilize after making Quince Jam & Quince Cocoa Muffins.
Although I did not use the recipe on Kayotic Kitchen's blog because I wanted to do a traditional version which she does not have on her blog, she has an AMAZING collection of recipes…so many I want to try. I definitely recommend if you'd like to explore some yummy Dutch cuisine.
…to all my numerous family members living in Holland, this is for you!
(click here for printable recipe)
Serves 8
4 1/4 cups milk (don't use low-fat)
1/8 teaspoon salt
1/2 cup semolina
1/3 cup sugar
1/4 cup skinned almonds, chopped
1/4 cup currants
1 egg, separated
1 quince, peeled, cored and chopped
1 cup water
1/2 cup sugar
2 tablespoons tapioca starch
1 cinnamon stick
1 1/3 cup pomegranate juice, separated
4 tablespoons pomegranate seeds
Bring the milk and salt to a boil. Slowly add semolina and sugar. Reduce to a simmer and cook for 8 minutes, stirring frequently.
In a small bowl, beat egg yolk and add to semolina with the almonds and currants. Mix well.
In a separate bowl, beat egg white until stiff peaks form. Fold into semolina.
Pour into a holiday themed mold sprayed with non stick spray and let chill for 1 hour.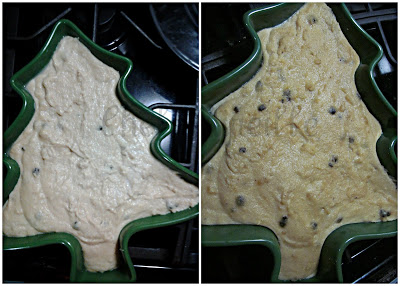 Before & After chilling
To make sauce, bring quince, water, cinnamon and sugar to a boil. Reduce to a simmer and cook for 20 minutes, until quince soften. Using an immersion blender, puree for a few minutes, but it should still be a little chunky – like applesauce consistency. Stir in starch and 2/3 cup pomegranate juice. Cook for 5 minutes until the raw taste of the starch is cooked out. Add remaining 2/3 cup pomegranate juice and seeds and stir well.
Place a large plate over the mold and flip over to release.
To serve, pour sauce on top and slice.
This delicious Christmas dessert is being served at these Holiday Parties:
Srivalli's Kid's Delight hosted by Veena
Merry Christmas Celebrations
Cookcookandcook and Cook-Eat-Burp's Mission Explore Food hosted by Yashodha's Kitchen
Serve it Series, hosted by Krithi
Sumee's Bon Vivant – Festive Feasts
LIKE THIS RECIPE? LEAVE A COMMENT..I LIVE FOR THEM!
Chef Mireille
Like me on FACEBOOK!
Follow me on TWITTER!