Last Updated on June 3, 2015 by Chef Mireille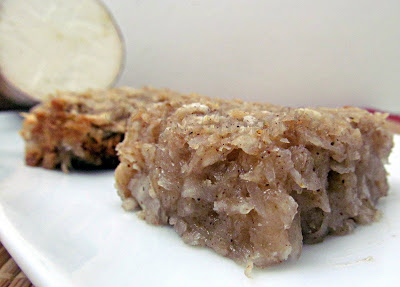 Blogging Marathon #24
Theme: Revisiting Old Recipes
Here is another Caribbean treat, commonly eaten during the holidays.
I have been eating pone all of my life, however, it was one of those things that was usually purchased from a Caribbean bakery or a homemade version was usually available at my aunt's (she is from Tobago) house during the holidays.
A few years ago I attempted to make it myself using a recipe from the cookbook, Sweet Hands. It did not come out the consistency I was used to, even though I followed the recipe exactly. Sadly, my aunt is no longer around for me to ask her. On my decision to revisit this recipe, I consulted two other Caribbean cookbooks I own to try to come up with a version closer to the one I get from bakeries and my aunt's house, as a child. After going over the recipes listed in The Multi-Cultural Cuisine of Trinidad & Tobago & the Caribbean as well as Sharon Atkin's Classic Caribbean Cooking, I came up with this version and I just prayed it would be closer to the way I like pone to be.
Cassava Pone
Serves 12
Ingredients:
2 cups cassava, grated
1 cup frozen grated coconut, defrosted (or freshly grated coconut)
3/4 cup sugar
1/4 teaspoon ground clove
1/2 teaspoon ground cinnamon
1/2 teaspoon ground ginger
1 teaspoon vanilla extract
1/2 teaspoon ground black pepper
1/3 cup evaporated milk
Preheat oven to 350 F. Lightly grease a square baking dish.
In a large bowl, mix all ingredients until thoroughly combined.
Bake for 55 minutes until golden brown.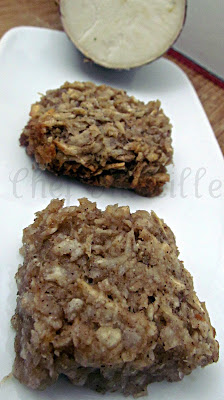 This one is way better than the first one I did from the Sweet Hands cookbook, however, the consistency still needs to be a wee bit firmer, but it still tastes delicious and will have to be a work in progress and you can enjoy this alternative until I develop a good recipe for the authentic one!
Check out the Blogging Marathon page for the other Blogging Marathoners doing BM#23
LIKE THIS RECIPE? LEAVE A COMMENT..I LIVE FOR THEM!
Chef Mireille
Like me on FACEBOOK!
Follow me on TWITTER!