Last Updated on September 11, 2021 by Chef Mireille
Bami Suriname Style are easy Stir Fried Noodles that comes from Suriname's Indonesian population. A little sweet and spicy at the same time.
This is a great base recipe and then you can add any variety of meat and vegetables you like to turn it into a one pot dish.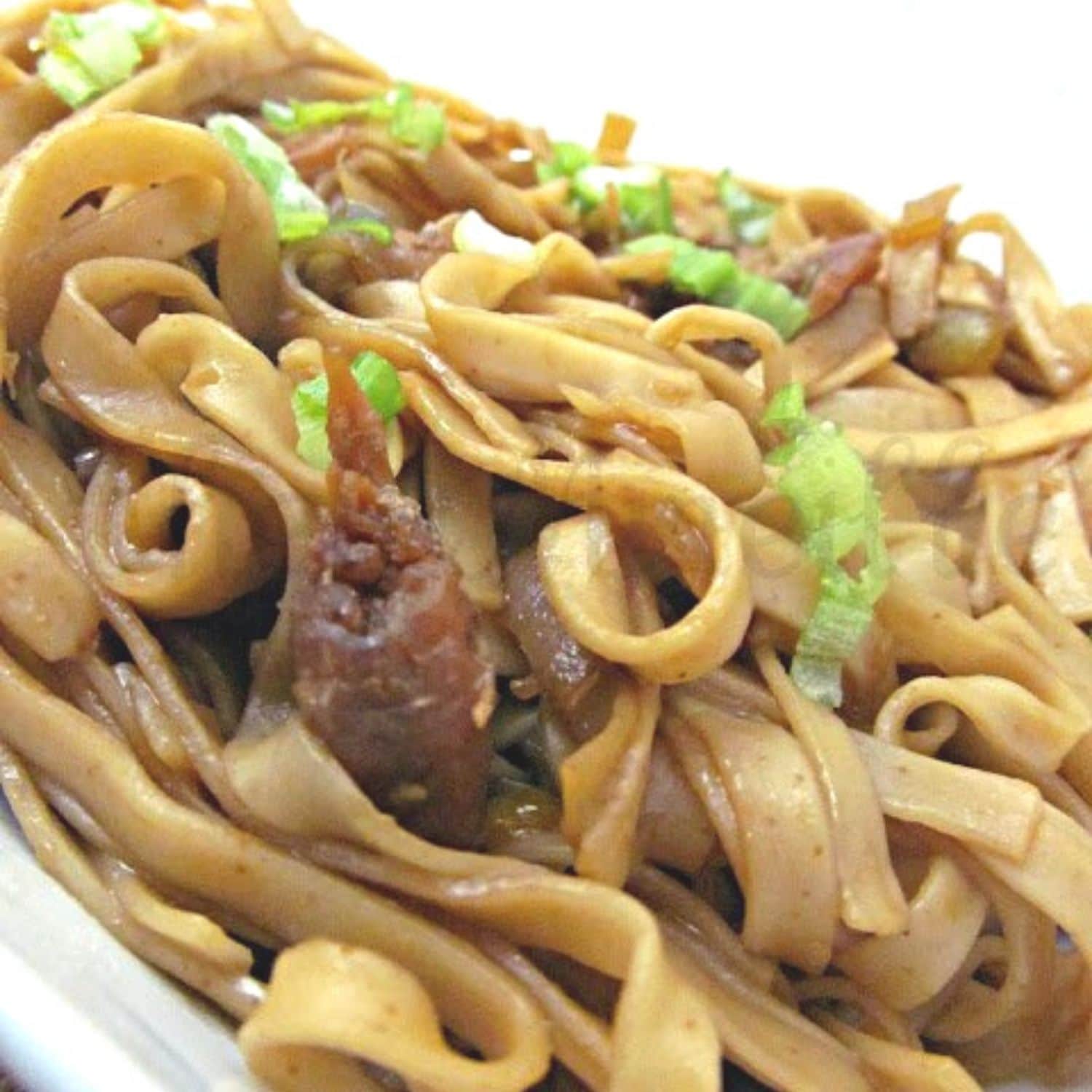 Have you heard of Suriname before?
I am so happy to see that so many people are FINALLY learning about the AMAZING flavors of multi cultural Suriname. I have known about Suriname my entire life because that is where my grandfather is from and much of my extended family still lives to this day.
In fact, we even have a mango plantation that if I wanted to, I could go and build a house there. My great grandmother left it so that it can never be sold outside of the family and any descendant has the right to live there.
I can't tell you how many people I have met who have never even heard of Suriname when I tell them my family comes from there.
Suriname
Just to give you a little more insight about this small country located on the northeastern coast of South America. Here are just a few facts about Suriname:
One of the most diverse countries on the planet with large populations of Indonesian, African, Indian, Chinese, Dutch and Native Amerindian peoples.
Only 10% of the country is populated, as the rest of it is the Amazon Rainforest.
In addition to Dutch, most people speak a local language, Sranam, a mixture of English, Dutch and Indonesian.
Suriname is the only Dutch speaking country in South America.
Suriname is the smallest independent country in South America.
As diverse as Suriname's population is, it's no wonder that the cuisine of Suriname really is a fusion cuisine in nature.
While you can clearly see the origin or many of our popular dishes being Indonesian or African or Chinese, all of our foods are influenced by the other people's the country is shared with. Therefore, Surinaamse Bami won't taste the same as Indonesian Bami Goreng that you would get in Indonesia, however, it's very similar.
Before we get to today's delicious recipe, here are some other Suriname Food Recipes you might like to try.
Suriname Recipes
…and it you are thinking of adding Suriname to your Bucket List, learn more about the Food Culture of Suriname in my Suriname Travel post here.
---
These Stir Frid Noodles – Suriname Style is one of the most popular Indonesian dishes in Suriname.  Bami is the Indonesian word for noodles.  This is a basic Bami recipe, which is often made into a one pot meal by adding any combination of meats (usually chicken, shrimp or dried Chinese sausage), sliced omelette and vegetables to it. Common vegetables used would be cabbage, bok choy, bell peppers, long beans (what we call kauseband) and carrots.
It is often made for breakfast utilizing whatever leftover meat and vegetables might be around from the previous night's dinner. There are basically three breakfast dishes that leftovers get turned into in Suriname – Bami Goreng, Nasi Goreng (basically the same thing but made with rice instead of noodles) or Moksi Alesi. Moksi Alesi is basically a type of pelau – spiced rice cooked with whatever leftovers and usually bacalao (salted dried cod), spiced with star anise. Moksi Alesi RECIPE COMING SOON.
If you would like to do some more experimenting into this diverse cuisine, there are a few staple ingredients that you must add to your pantry.
Suriname Cooking Ingredients
dried shrimp paste (what we call trassi) – you can usually find it in Asian markets that sell southeast Asian products, as it is used in Indonesian, Malaysian and some regional Thai cooking.
Kecap Manis – a sweet almost molasses like soy sauce
star anise
Scotch Bonnet/ Habanero pepper (we call Madame Jeanette peppers)
galangal (what we call laos) or ginger
dried shrimp
I have put our words for the ingredients so that if you are trying to follow other Surinamese Recipes, you'll know what they're talking about!
The Ingredients
noodles
peanut oil
onion
scallions
garlic
ginger or galangal
Habanero/ Scotch Bonnet pepper
dried shirmp
Kecap Manis
ketchup
salt, to taste
I found these Shrimp Noodles at my local Asian market, which I used to add some more flavor to this version of Suriname Style Stir Fried Noodles.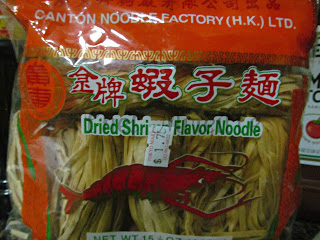 Have you tried instacart yet? It's how I get all of my fresh grocery items delivered within 2 hours!
How to make Surinaamse Bami
Cook noodles.
Saute your vegetables.
Add Kecap Manis and other flavorings.
Add cooked noodles and toss to coat in the sauce.

Serve as a side dish or add vegetables and protein to make a complete meal. A simple dish that does not skimp on flavor!
This dish is a mix of varying flavors typical of Southeast Asian cuisine – salty, spicy and sweet!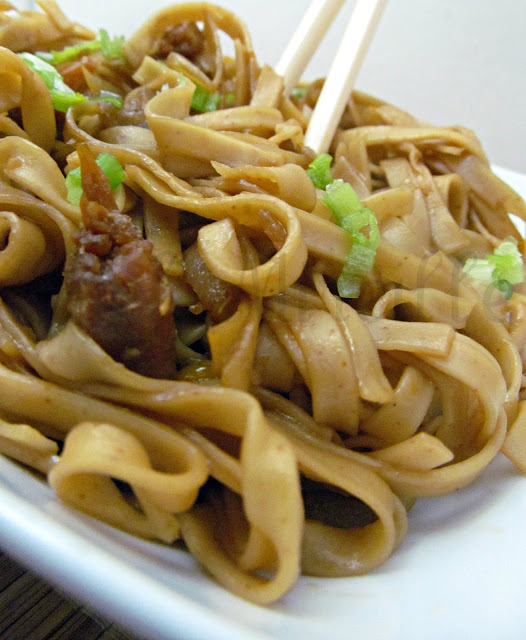 Surinamese Noodles
Suriname Style Stir Fried Noodles are full of Indonesian flavors – sweet, smoky and spicy all at the same time!
Ingredients
15 1/2

oz.

package thin noodles

I had these shrimp flavored noodles I had purchased the last time I was in Chinatown, but you can use any Asian style thin noodle

1

tablespoon

peanut oil

1

onion

chopped

2

scallions

thinly sliced

2

cloves

garlic

chopped

1

tablespoon

ginger

grated (galangal is more commonly used, but since it is difficult to find here in US & many other countries, I substituted ginger)

1

Habanero/ Scotch Bonnet pepper

finely chopped (called Madame Jeanette pepper in Suriname)

1/3

cup

dried shrimp

reconstituted in boiling water for 10 minutes

6

tablespoons

Kecap Manis

1

tablespoon

ketchup

salt

to taste
Instructions
Cook noodles according to package instructions – about 5 minutes. Drain and run with cold water immediately so that the noodles do not overcook.

Heat oil. Add onion, scallions, garlic, Habanero pepper and ginger. Saute for a few minutes until the onions become translucent.

Add Kecap Manis, ketchup, and shrimp. Add noodles and toss well. Add salt, if needed.
Notes
If you cannot source Kecap Manis, you can make it yourself by simmering equal amounts of soy sauce and palm/brown sugar until maple syrup consistency
Nutrition
Calories:
351
kcal
|
Carbohydrates:
50
g
|
Protein:
14
g
|
Fat:
11
g
|
Saturated Fat:
4
g
|
Polyunsaturated Fat:
1
g
|
Monounsaturated Fat:
4
g
|
Cholesterol:
112
mg
|
Sodium:
1727
mg
|
Potassium:
139
mg
|
Fiber:
2
g
|
Sugar:
12
g
|
Vitamin A:
46
IU
|
Vitamin C:
2
mg
|
Calcium:
62
mg
|
Iron:
3
mg
Did you try this recipe? Leave a comment below.
Please follow me on Instagram @chefmireille or tag me #chefmireille with your pics! I'd love to share them!
Don't forget to visit the RECIPE INDEX with over 1000 recipes from around the world including lots of Vegetarian Recipes and Gluten Free Recipes!