Last Updated on August 7, 2018 by Chef Mireille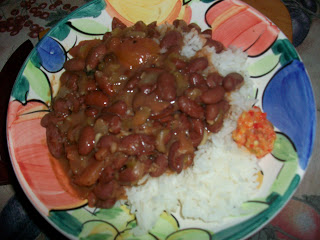 Bruine Bonen – Suriname Style Red Bean Stew – is one of the most popular dishes in multi-cultural Suriname.
The NYC Cooking & Dining Group celebrated the unique, multi-cultural cuisine of Suriname on Sunday.  We cooked a complete menu including:
Peanut Soup with Tomtom (mashed green plantain balls)
Stuffed Bitter Melon
Soy Ginger Pork Chops
Bami (Indonesian noodles with ginger and Kecap Manis)
Kauseband (Long Beans with Chinese Sausage)
Bruine Bonen (the national dish of red beans)
Bojo (flourless Cassava Coconut Cake)
This menu illustrates the different communities present in Suriname.  Peanut Soup was brought over from the first Africans.  Bami  and Bojo is indicative of the large Indonesian population.  The Pork Chops represent the Chinese population, marinated in soy sauce, ginger and five spice powder.
Now that Suriname has been listed as a top destination for 2010, to give you an idea of the type of cuisine you can expect when you visit, here is a recipe for the national dish of Suriname:
Bruine Bonen (red beans)
2 cans red kidney beans
1 sausage, sliced
3 medium tomatoes, chopped
1 onion, finely chopped
2 cloves garlic, finely chopped
3 cubes chicken bouillon cubes
1 fresh hot pepper
4 stalks celery, chopped
black pepper
3 tablespoons oil
1.    Heat the oil in a large pot and fry the sausage.  Add the onion and garlic and fry until translucent.  Add the tomatoes and beans with the liquid from the can.  Bring to a boil.
2.    Add bouillon cubes, pepper and celery.  Reduce flame to a simmer and cook for about 10-15 minutes, until all flavors are well blended.
3.    Serve with white rice and sambal.  The photo here is pictured with a hot pepper sambal.
NOTE: You can also use fresh beans, soaked overnight and cooked for 1 hour, or until tender.  Then follow all steps of recipe above.
Enjoy!!!