Last Updated on November 19, 2019 by Chef Mireille
Lavender Brown Butter Banana Bread
This fragrant and smoky banana bread is perfect for tea time or breakfast with no processed sugar.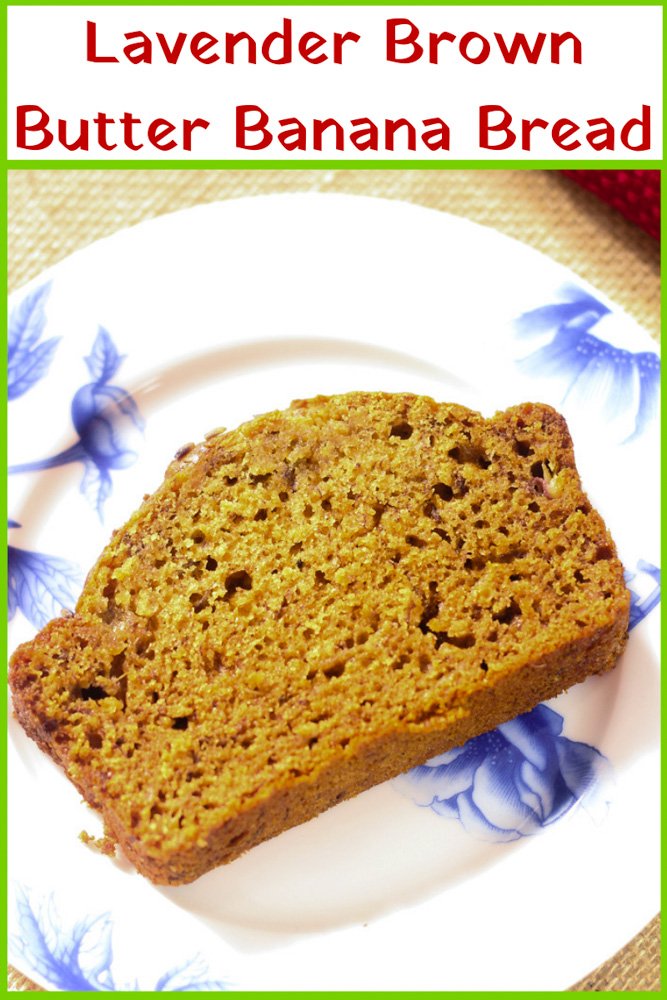 Back in March, I ran a giveaway here of a variety pack of some of Savannah Bee Co. flavored honey's. I had fallen in love with their honey after visiting Savannah back in 2017 and visited their flagship store with their honey bar. A the honey bar, you are able to go down the line and taste the entire line of their varietal honey's.
I had fallen in love with their lavender honey and was using it to take my daily medicine. I was suffering through a lingering cough back then after a cold and was taking a home remedy suggested by a friend – in fact one of our fellow bread bakers, Kalyani. I had been taking a spoonful of honey with cloves and turmeric, which was helping to assuage the lingering cough. To tell you the truth, it was so good it definitely did not taste like medicine. I decided to use the same flavors which are filled with lots of health benefits to make this delicious bread.
Turmeric in a sweet bread? Absolutely! Check out my recipe for Sfoof – Lebanese Turmeric Cake and you'll wonder why you haven't been including turmeric in more of your sweet recipes!
Of course, you can just use regular honey if you don't have lavender honey because I have included an awesome lavender scented brown butter in the bread. This creates a great balance of floral tones with a nutty caramel like flavor.
Before we get to the recipe, let's go over why you need to make this bread because of all the health benefits of both clove and turmeric!
Health Benefits of Clove
Anti Inflammatory
Enhances Immune System
Regulates Blood Sugar
Anti Carcinogenic
Antibacterial
Liver Function
Supports Oral Health (I use clove oil when I have a toothache)
Cures Headaches
Cures Respiratory Infection
Treats Acne
Prevents Stomach Ulcers
Treats Wounds
Health Benefits of Turmeric
Anti Inflammatory
Anti Carcinogenic
Aids Digestive Ailments
Liver Function
Aids Skin Diseases
Treats Wounds
The brown butter adds a smoky flavor which is great with the fragrant honey.
Lavender Brown Butter Banana Bread
Lavender Brown Butter Banana Bread made with no processed sugar is delicious with smoky undertones. Perfect for
tea
time!
Ingredients
Brown Butter Ingredients:

2

tablespoons

dried lavender

½

cup

butter

Ingredients:

1

cup

whole wheat flour

1

cup

all purpose flour

1

teaspoons

baking soda

¼

teaspoon

salt

¼

teaspoon

ground clove

¼

teaspoon

ground turmeric

3

mashed bananas

¾

cup

lavender honey

2

eggs
Instructions
Preheat oven to 350 F.

Spray a loaf pan with non stick spray.

First, let's make the lavender brown butter.

In a dry skillet, toast the lavender until it becomes fragrant.

Add the butter. Cook gently on medium heat until it gets all foamy. With a spoon, pull aside the foam. Once the butter has turned a golden light caramel color, remove from heat. Leave to cool for a few minutes.

Meanwhile, in a bowl, combine whole wheat flour, all purpose flour, baking soda, salt, clove and turmeric.

In a large bowl, combine banana, honey and eggs. Whisk until thoroughly combined.

Add brown butter and whisk to combine.

Add half the flour and mix until well incorporated.

Add remaining flour and mix until just combined.

Transfer to prepared loaf pan.

Transfer to oven and bake for 60-70 minutes, until a tester comes out clean.

Remove from oven and leave to cool for 10 minutes.

Remove from pan and leave to cool completely before slicing.
Nutrition
Calories:
242.27
kcal
|
Carbohydrates:
39.69
g
|
Protein:
3.79
g
|
Fat:
8.89
g
|
Saturated Fat:
5.22
g
|
Sodium:
166.5
mg
|
Fiber:
2.41
g
|
Sugar:
21.04
g
Did you try this recipe? Leave a comment below.
Please follow me on Instagram @chefmireille or tag me #chefmireille with your pics! I'd love to share them!
#BreadBakers is a group of bread loving bakers who get together once a month to bake bread with a common ingredient or theme. You can see all our of lovely bread by following our Pinterest board right here. Links are also updated after each event on the BreadBakers home page. https://www.foodlustpeoplelove.com/p/breadbakers.html We take turns hosting each month and choosing the theme/ingredient.
Floral Flavored Breads
SHARE THIS DELICIOUS RECIPE WITH YOUR FOODIE FRIENDS
Don't forget to visit the RECIPE INDEX with over 1000 recipes from around the world including lots of Vegetarian Recipes and Gluten Free Recipes!