Last Updated on December 14, 2020 by Chef Mireille
Gongura Paneer Curry – Red Sorrel Paneer Curry
This Vegetarian curry is easy to make, utilizing red sorrel leaves and all its health benefits.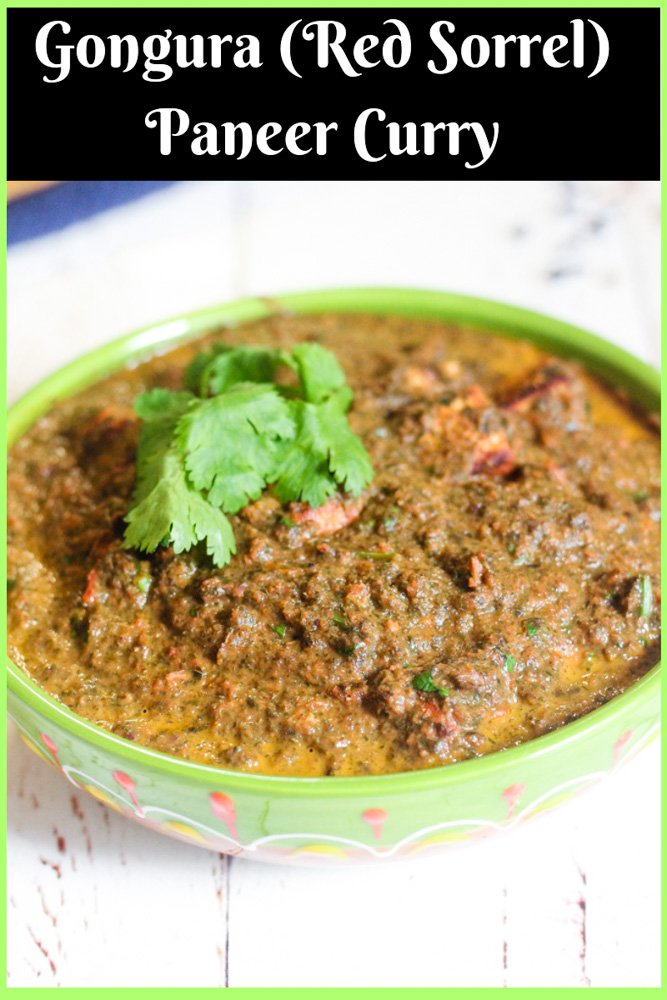 How do you shop at foreign markets? Do you go with a list of ingredients based on a recipe you want to make and stick firmly to the list? Do you also wander around and all the different ingredients and also pick up a few things that strike your fancy? Are you adventurous and get some different ingredients without knowing what it is or what you are going to do with it when you leave the market?
I'm in the second category. Sure I will have a list of ingredients, but I also slowly wander the store aisle by aisle looking for interesting things for me to try, especially if it is the first time I am visiting the market.
This is how I discovered gongura. This was a long way back in my Indian cooking journey and every time I would go to the Indian market I would pick a new vegetable to try, not exactly knowing what it was.
So I picked up gongura and it took a lot of research to figure out what it was. Back then, the internet wasn't full of so much information of these Indian vegetables.
I finally figured out that it was red sorrel leaves. Closely related to amaranth, these green leaves are full of so many health benefits.
Red Sorrel Health Benefits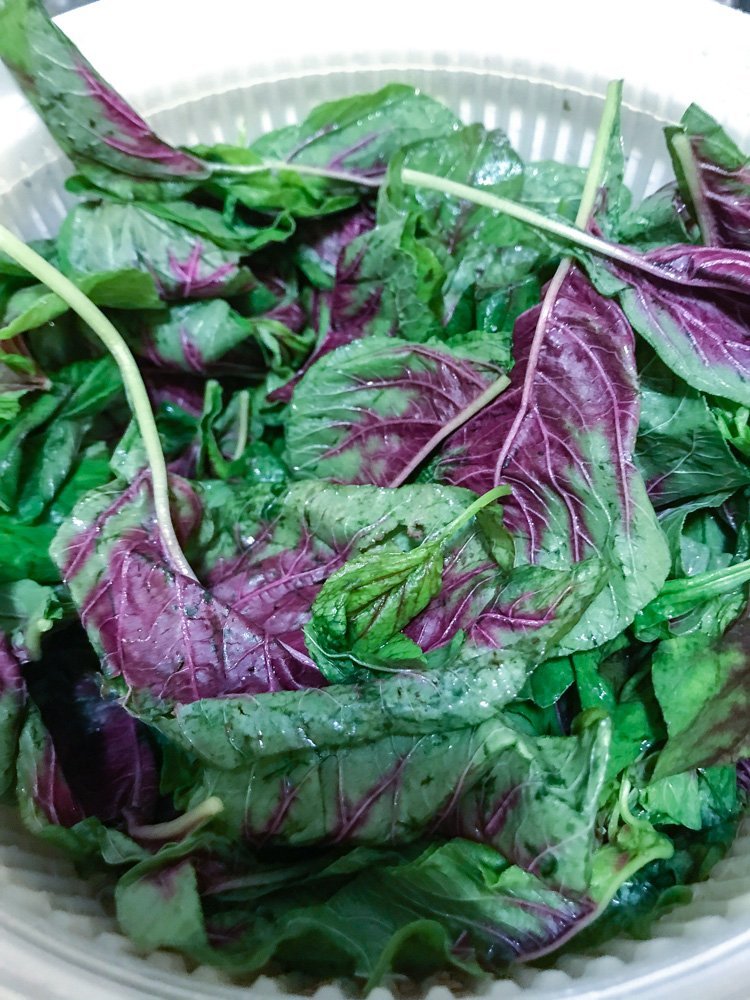 Rich in Vitamin C & Vitamin B12, Iron, Calcium, Potassium, Phosphorous and Protein.
Why You Should Eat More Gongura (Red Sorrel)
controls Anemia
helps in Weight Loss
boosts Energy
controls Blood Pressure
strengthens Bones
boosts Immune System
heals Wounds
healthy Hair
helps Renal Health
aids Digestive System
controls Hypertension
helps Insomnia
Detoxifies the body
This flavorful curry starts off with a delicious spiced coconut masala.
IN THE MAKING – HOW TO MAKE GONGURA PANEER CURRY
This curry is delicious with your favorite paratha or flatbread like Tomato Paratha or Dashmi Roti.
It's like a different twist to Saag Paneer. Unlike most of my recipes, this is not a traditional recipe from any one part of India, but one of my own creation. With the coconut masala used, I would say it's more in the style of South Indian cooking.
Before we get to today's recipe, you might want to try this Gongura Shrimp Curry for the seafood lovers here!
Gongura Paneer Curry – Red Sorrel Paneer Curry
Red Sorrel Paneer Curry is a healthy curry perfect for Meatless Monday.
Ingredients
Curry Ingredients:
2

tablespoons

oil

7

oz.

diced paneer

1

strand curry leaves

1

chopped small onion

3

chopped plum tomatoes

1

bunch red sorrel leaves

gongura

¼

teaspoon

ground turmeric

½

teaspoon

red chile powder

cayenne pepper

Salt

to taste

2

tablespoons

finely chopped cilantro
Instructions
In a dry skillet, add cloves, cumin seed, coriander seed, peppercorns and cinnamon. Dry roast until fragrant, 1 -2 minutes.

Transfer to coffee/spice grinder. Grind spices to a powder.

Add coconut and 1/ 4 cup water. Grind to a paste.

Heat 2 tablespoons oil in a large skillet or wok.

Add paneer and fry until golden brown, tossing frequently.

Remove to a paper towel.

Add curry leaves to the pan. After the leaves start to sizzle, add onion.

Saute until onions are translucent and softened.

Add tomatoes and cook for 7-8 minutes until very soft.

Add sorrel leaves and 1 cup of water. Stir to combine.

Reduce heat to medium and cover. Cook for about 5 minutes, until sorrel is well wilted.

Transfer contents of skillet to blender.

Add coconut masala and puree.

Return the puree to skillet.

Add turmeric and chile powder.

Add paneer and salt. Stir to combine.

Simmer on low heat for 5 minutes.

Add cilantro and stir to combine.

Serve with rice or paratha.
Nutrition
Calories:
167.33
kcal
|
Carbohydrates:
9.81
g
|
Protein:
7.09
g
|
Fat:
11.95
g
|
Saturated Fat:
3.53
g
|
Sodium:
352.42
mg
|
Fiber:
3.07
g
|
Sugar:
4.15
g
Did you try this recipe? Leave a comment below.
Please follow me on Instagram @chefmireille or tag me #chefmireille with your pics! I'd love to share them!
Ready to make this recipe? I would love to see your photos! Tag me on Instagram @chefmireille #theschizochef with your pics!
Do you know anyone else who likes learning about international recipes, culture, history and travel? Bring them over here to join the party! Don't forget to use those share buttons!
Start Here to find out how the Schizo Chef can help you with your cooking, travel and other needs! If you like this recipe, PLEASE LEAVE A COMMENT & SUBSCRIBE!