Last Updated on April 10, 2020 by Chef Mireille
Senegalese Sweet Potato Shrimp Fritters
These fritters come from Senegal's large Vietnamese community. Celebrate African food – Asian style!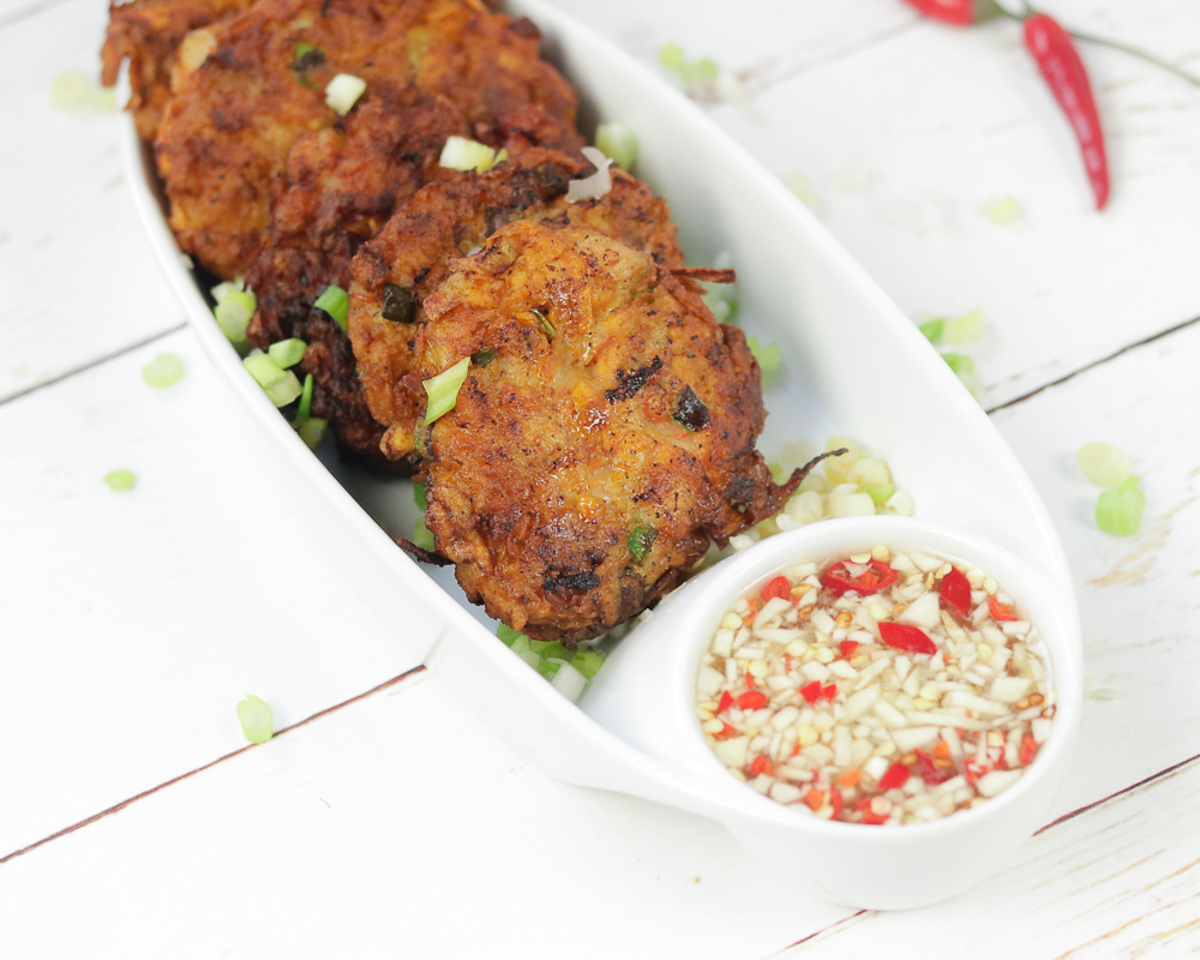 The first time I went to a Senegalese restaurant I was surprised to see things like Spring Rolls on the menu. I would later learn that Senegal has a large Vietnamese population.
Vietnamese in Senegal
So how did the Vietnamese wind up in Senegal?
Senegal is a country located on the northwest coast of Africa with a unique cuisine. Colonized by the French until 1960, there is much French influence as well as Vietnamese (who were also colonized by the French) on the cuisine. As subjects of the French, many Senegalese went to Vietnam to fight Indochina's quest for independence. Many Senegalese men came back with Vietnamese wives. It's not uncommon to find noodle dishes and Vietnamese spring rolls in Senegal.
Senegalese Cuisine
Senegal is a primarily Muslim country, so pork is virtually non existent in the cuisine.  Due to its coastal location, fish and seafood are the main protein sources, with root vegetables like cassava (yuca), plantain and sweet potatoes as well as legumes like black eyed peas and chick peas.
Couscous, millet and rice are the primary grains eaten.  Common vegetables are okra and cabbage.  Ginger and mango are dominant in beverages and desserts, as well as coconut.  
Peanuts are also prevalent in everything from soup to desserts. Peanut soup is common throughout all of West Africa.  This is one of the main exports the slaves brought to the New World. See my Suriname version of Peanut Soup here.
The primary method of cooking is stewing. Chicken Yassa is the national dish, served in a flavorful onion and lemon sauce.
These Senegalese Sweet Potato Shrimp Fritters were one of the dishes I fell in love with when I visited Le Grand Dakar Restaurant here in Brooklyn. Sadly, the restaurant has since closed so the only way I can enjoy delicious Senegalese food is to make it myself or find another restaurant I like as much as Le Grand Dakar.
There are many to choose from in NYC – I just haven't sampled enough to find one I love yet. When I do, you will be the first to know.
Before we get to today's delicious recipe, you might like to try some of the other Senegalese dishes I have presented in the past.
Senegalese Recipes
Senegalese Sweet Potato Shrimp Fritters make a great option for brunch or tea time.
The accompanying Nuoc Cham Sauce Recipe is used ubiquitously throughout Vietnamese cuisine.
Of course they are even better when dipped in the Nuoc Cham Sauce.
Senegalese Sweet Potato Shrimp Fritters
Senegalese Sweet Potato Shrimp Fritters is representative of the Vietnamese population in Senegal. This is African food – Asian style! Great for brunch or party finger food!
Ingredients
Nuoc Cham Sauce Ingredients:
¼

cup

fish sauce

3

tablespoons

lime juice

1

tablespoon

sugar

2

tablespoons

+ 2 teaspoons water

2

finely chopped chillies

2

cloves

finely chopped garlic
Fritter Ingredients:
15

oz.

sweet potatoes grated

1

lb.

shrimp

shelled and finely chopped

2

scallions

finely chopped

2

teaspoons

fish sauce

2

teaspoons

ground black pepper

½

teaspoon

salt

¼

cup

all purpose flour

1

beaten egg

1

teaspoon

baking powder

Oil for Frying
Instructions
To make the sauce, combine fish sauce, lime juice, sugar and water in a bowl.

Whisk until thoroughly combined.

Add chillies and garlic and stir to combine.

Leave to rest for at least 15 minutes so that the flavors can develop.

To make the fritters, combine sweet potato, shrimp, scallions, fish sauce, black pepper and salt.

Mix until thoroughly combined.

Add flour, egg and baking powder.

Mix well until thoroughly combined and the batter starts to stick together.

Using approximately ½ cup of batter for each fritter, form into 10-12 fritters.

Heat a shallow skillet with enough oil for shallow frying, about 1" of oil.

Place fritters in the hot oil and cook on medium heat until fritters are golden brown and a little crispy on each side, approximately 4 minutes on each side.
Nutrition
Calories:
90
kcal
|
Carbohydrates:
12
g
|
Protein:
9
g
|
Fat:
1
g
|
Saturated Fat:
1
g
|
Cholesterol:
95
mg
|
Sodium:
870
mg
|
Potassium:
236
mg
|
Fiber:
1
g
|
Sugar:
3
g
|
Vitamin A:
5119
IU
|
Vitamin C:
15
mg
|
Calcium:
87
mg
|
Iron:
1
mg
Did you try this recipe? Leave a comment below.
Please follow me on Instagram @chefmireille or tag me #chefmireille with your pics! I'd love to share them!
Check out all the wonderful Senegalese dishes prepared by fellow Eat the World members and share with #eattheworld.
Click here to find out how to join
and have fun exploring a country a month in the kitchen with us! Amy's Cooking Adventures:
Café Touba (Senegalese Spiced Coffee) #eattheworld
Culinary Adventures with Camilla:
The Kitchen Elves' Senegalese-Style Gumbo
Pandemonium Noshery:
Poulet Yessa – Senegalese Chicken
CulturEatz:
Senegalese Mango Chocolate Pound Cake
A Day in the Life on the Farm:
Maafe
Making Miracles:
Senegalese Poulet Yassa
Sneha's Recipe:
Poulet Yassa -Senegalese Style Chicken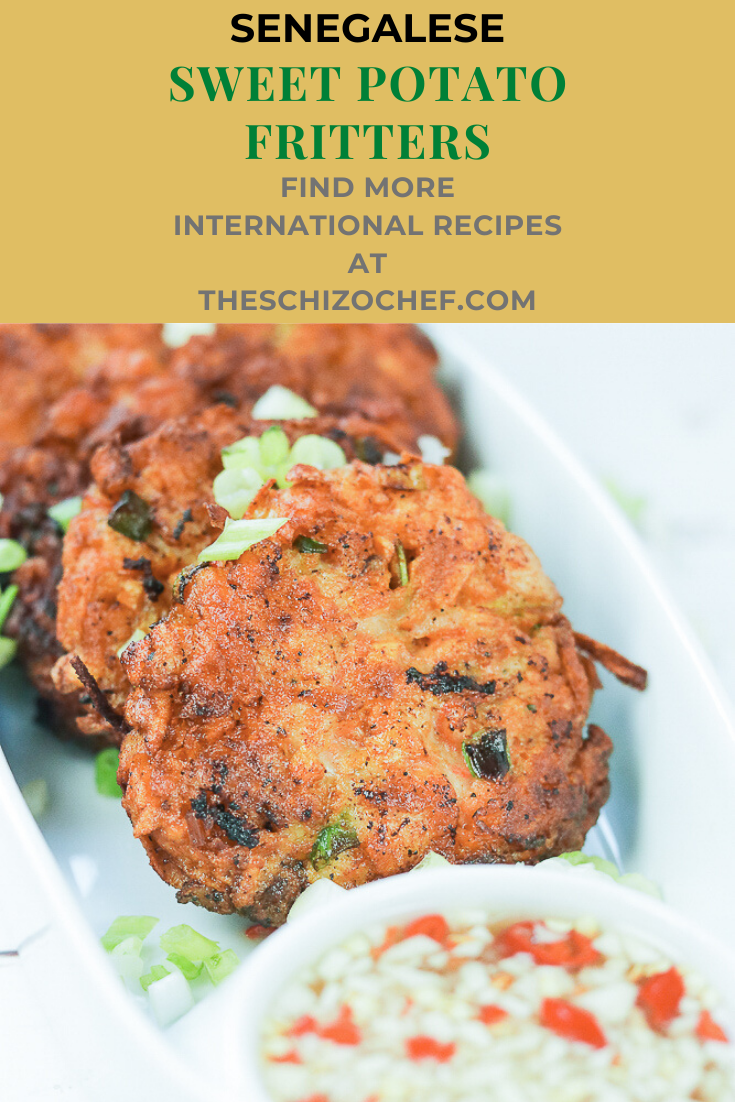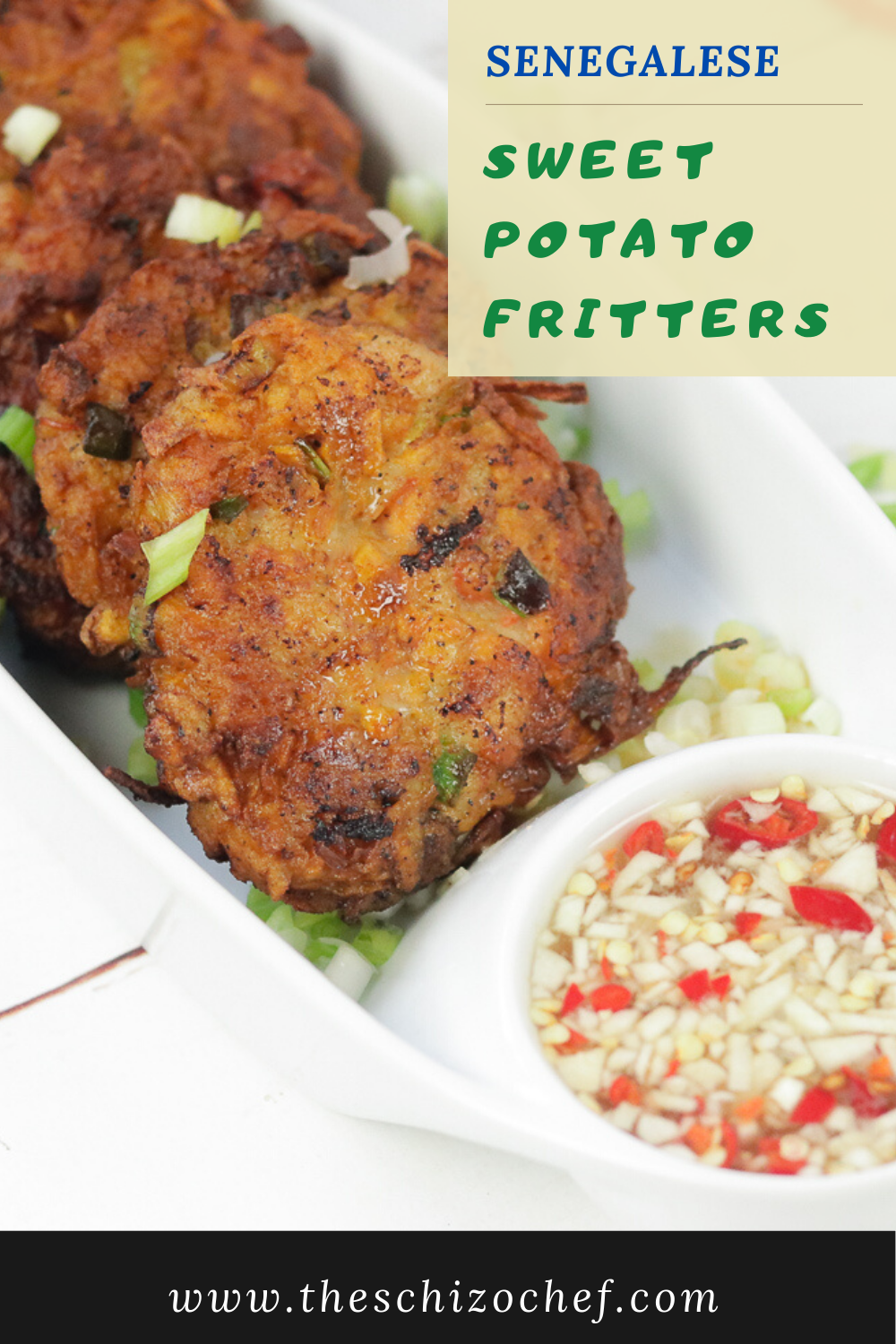 DO YOU YUM? SAVE IT BELOW!
Yum
DID YOU FORGET TO SUBSCRIBE?
Need more culinary inspiration? Check out the Recipe Index with over 1500 Recipes from Around the World with lots of Vegetarian 🥕🍆🍅and Gluten Free Recipes!
This post may include affiliate links.