Last Updated on April 2, 2020 by Chef Mireille
Fried Fish in White Sauce
Fried Fish in White Sauce with Vegetables is an easy meal that can be made for a weeknight dinner. If desired, you can add a green salad or roasted potatoes to complete the meal.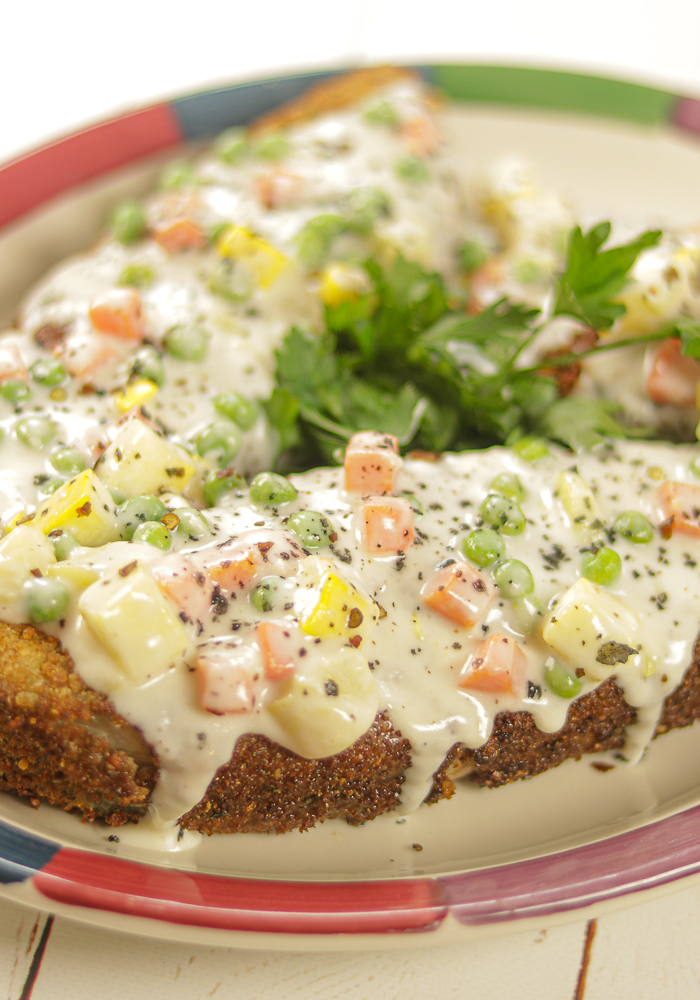 When I originally published this recipe in 2016, I did it to represent the country of Finland, when I was spending a month cooking a recipe from a country to represent each letter of the alphabet. Finland was my choice for F.
Although technically speaking Finland is not part of Scandinavia, it was part of the Swedish empire for a long time. Therefore, the cuisine has many similarities to other parts of Scandinavia.
Basically, Finnish cuisine is regional as is most cuisines of the world. The foods of western Finland are most similar to Scandinavian food, while the foods of eastern Finland is more similar to Russian cuisine.
Like the rest of Scandinavia, fish is the backbone of the cuisine, since they have access to so much animal life from the waters. With so much of the penninsular country surrounded by water and many lakes and rivers that flow throughout the country, they have an abundance of fish and seafood. Fish is utilized in many ways. It is smoked, pickled, fried and used in soups.
Other than fish, wild game like elk and reindeer are common.
Like most of my posts, here is a little history to give your kids a little background as you may be cooking this meal together with them. I hope you are, teaching them a life skill while throwing in a little learning at the same time!
High school aged kids can make this easy recipe on their own – maybe with just a little guidance, as needed!
Finnish History
Finland was first inhabited at the end of the last Ice Age, about 9000 BC. From the late 13th century, Finland eventually became part of the Swedish Empire. Sweden had colonized some of the coastal areas of Finland.
By 1809, Finland had become part of the Russian Empire. After the Russian Revolution in 1917, Finland declared itself independent.
Although their initial years after independence was plagued by Civil War, they are now one of the most developed and prosperous countries in Europe.
They were mostly an agrarian society until the 1950's. Business then started to develop and their infrastructure changed accordingly. They have an advanced welfare system, developed after the Nordic module, with many services such as healthcare being free. They have a high income per capita.
They are also consistently ranked high in Human Rights and World Happiness Report. In fact, in 2015, they were ranked #1 in World Humane Capital.
Like Sweden, they are neutral in country conflicts, which has led to their stable government and infrastructure.
Sounds like a great place to live right?
Maybe you are not ready to move there, but I am sure once travel is back to normal after the present situation (2020), you would love to visit!
RELATED: TRAVEL – TAMPERE, FINLAND
The recipe below is the original recipe, as I have often made it in the past.
However, I came back from Iceland a few months ago with some culinary goodies and since Icelandic cuisine would be pretty similar to Finnish, I made a few changes.
If you visit Iceland, bring back these goodies and you can make these same adaptations to the recipe.
Icelandic Recipe Variation
One of the most common things to bring back from Iceland is lava salt. Basically this is salt mixed with activated charcoal. There are many health benefits associated with activated charcoal including helping with kidney health, intestinal gas and cholesterol.
In Iceland, this is sold everywhere and often mixed with spices for different flavor options. Instead of using salt and pepper to season the fish, I used 2 teaspoons of lava salt. The one I used is flavored with chili, so it added a bit of spice also.
I also used arctic thyme, instead of regular dried thyme.
After I plated the dish, I also sprinkled a little more of the lava salt on top of the white sauce.
What kind of fish should I use for fried fish?
You can use any white fleshed fish. I used Chilean Sea Bass, however in the past I have also made this recipe using haddock or flounder.
Arctic Char is very common in Scandinavia, or at least in Iceland when I was there, so that is a good option also.
What vegetables should I use?
I added vegetables to the white sauce to make it easier to easily make a complete meal out of this recipe.
You can use any variety of vegetables that can include carrots or other root vegetables and spring vegetables like green beans or asparagus. However, I wouldn't use leafy green vegetables in this presentation.
The first time I made it I used asparagus and carrots. This time I used yellow squash and frozen peas and carrots.
Before I get to today's delicious Fried Fish with White Sauce with Vegetables – Scandinavian style, you might want to explore more into Finnish cuisine.
Finland Recipes
How to make Fried Fish with White Sauce
Fried Fish with White Sauce
Fried Fish with White Sauce – This Scandinavian style fish in a vegetable white sauce is a delicious and easy recipe you can make for a weeknight dinner. #fishrecipes #fishdinner #friedfish
Ingredients
Fish Ingredients
1

cup

all purpose flour

or whole wheat flour

2

teaspoons

dried thyme

or arctic thyme

2

teaspoons

salt

or lava salt

1/2

teaspoon

ground black pepper

1

cup

milk

2

beaten eggs

1

cup

seasoned bread crumbs

3

lbs.

white fish

fillets or steaks

oil

for frying
Sauce Ingredients
4

tablespoons

unsalted butter

4

tablespoons

all purpose flour

or whole wheat flour

2

cups

milk

1/2

teaspoon

salt

or lava salt

1/2

teaspoon

ground black pepper

2

tablespoons

finely chopped parsley

or dill

juice of 1 lemon

3

cups

chopped vegetables
Instructions
In a plate, combine flour, thyme, salt and pepper. Mix to combine.

Pour milk into a shallow bowl.

Pour eggs into a shallow bowl.

Empty bread crumbs onto a plate.

Heat enough oil for deep frying.

Dip fish first in the milk. Then place in the seasoned flour. Cover on all sides. Shake off excess and dip into the egg. Put in the breadcrumbs plate and make sure fish is coated on all sides.

Place into the hot oil and fry until golden brown on both sides, about 3-4 minutes on each side.

Remove from oil and drain on paper towels.

To make sauce, first blanche vegetables for just a few minutes until they are no longer raw, but still have a bite to them.

In a skillet, melt butter. Add flour and cook for 2-3 minutes until raw taste is cooked out of the flour. Add milk, salt and pepper. Stir constantly to avoid lumps. Bring to a boil. Simmer for 5 minutes, until sauce is thickened.

Add vegetables, lemon juice and parsley and cook another minute until vegetables are heated through.

Serve fish with sauce on top.
Nutrition
Calories:
603
kcal
|
Carbohydrates:
52
g
|
Protein:
58
g
|
Fat:
18
g
|
Saturated Fat:
9
g
|
Cholesterol:
200
mg
|
Sodium:
1437
mg
|
Potassium:
1191
mg
|
Fiber:
5
g
|
Sugar:
11
g
|
Vitamin A:
674
IU
|
Vitamin C:
14
mg
|
Calcium:
243
mg
|
Iron:
5
mg
Did you try this recipe? Leave a comment below.
Please follow me on Instagram @chefmireille or tag me #chefmireille with your pics! I'd love to share them!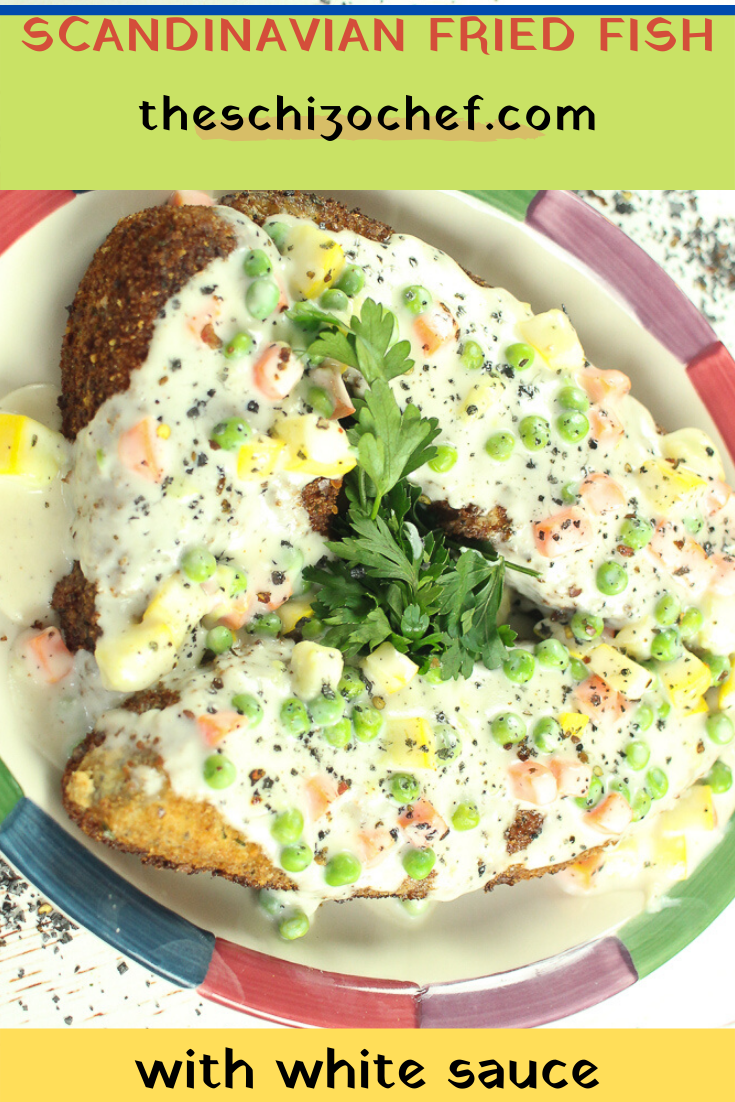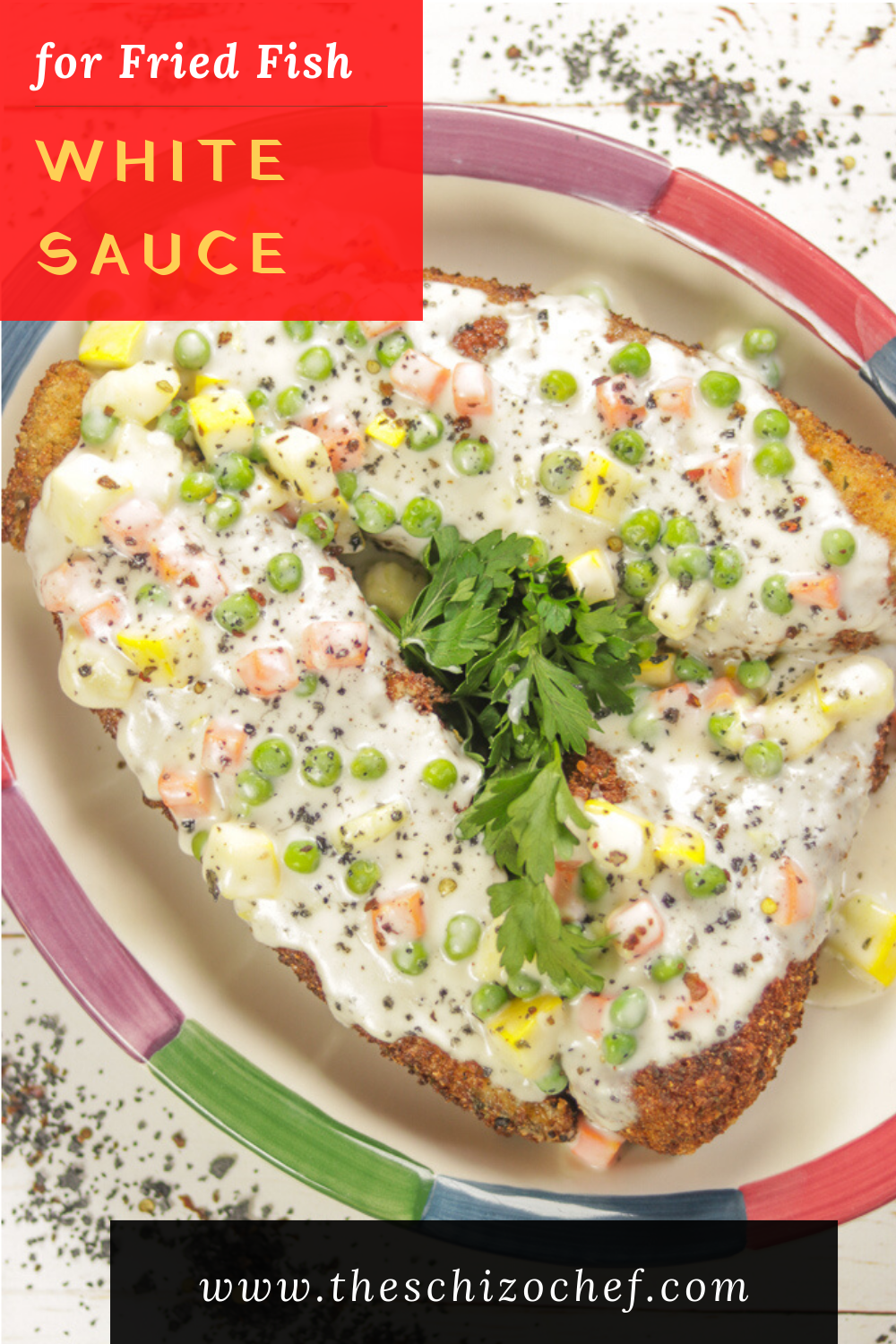 DO YOU YUM? SAVE IT BELOW!
Yum
Don't forget to visit the RECIPE INDEX with over 1000 recipes from around the world including lots of Vegetarian Recipes and Gluten Free Recipes!
This post may include affiliate links.