Last Updated on June 24, 2021 by Chef Mireille
Iceland in October
What to pack, what to expect, what kind of weather. Learn about the advantages of traveling to Iceland in the off season.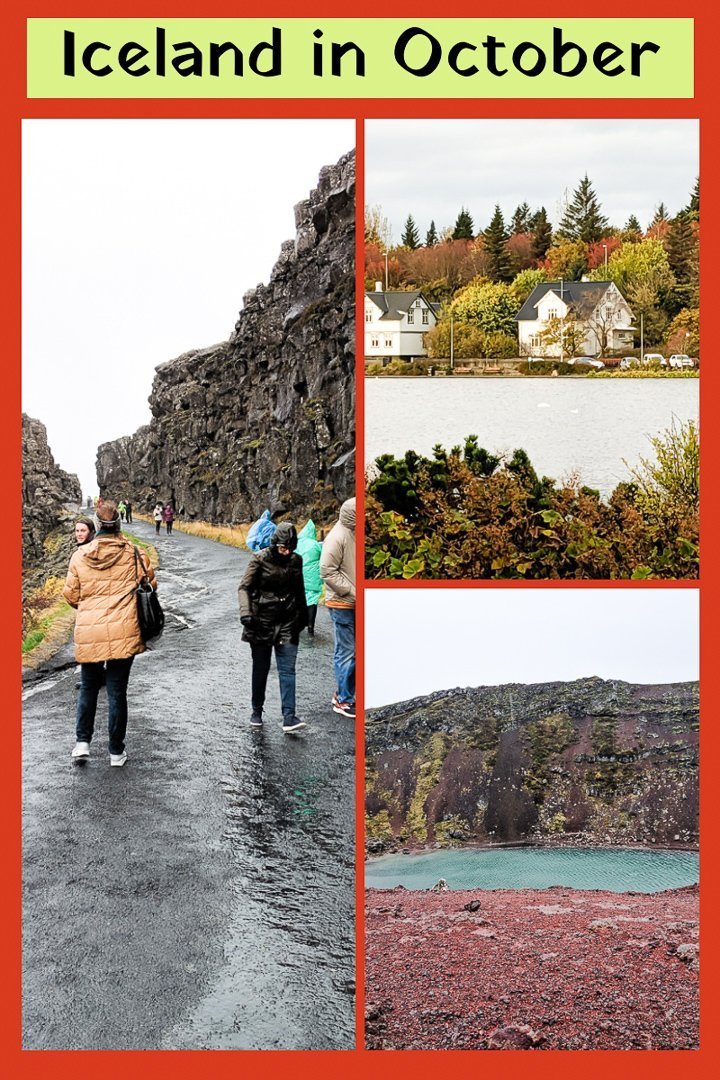 To see the northern lights in winter or to experience the amazing landscape in summer hiking are some of the great attractions of Iceland. However, that doesn't mean you can't still have an amazing trip in the off season.
Weather
Icelanders will tell you the one predictable thing in Iceland is how unpredictable the weather is.
In just 4 days, I experienced a balmy, sunny day and a day that was FREEZING, WINDY and full of TORRENTIAL RAIN the entire day. Another day started off rainy and cold, but transformed into a beautiful, sunny, warm afternoon.
The average temperature is 40 – 50 F, but on the windy days it can feel 10 degrees colder.
So how do you dress for weather like that?
Clothing
Dress in layers, so that if it starts to warm up, you can just remove a layer. However, come prepared for the worst.
I generally wore a tight fitting long sleeved t shirt to insulate heat underneath a short sleeved t shirt, a fleece sweater and my windbreaker with hood coat.
When it got warm, I would remove the fleece sweater.
There are a few things you need to make sure to bring with you.
Required Gear for Iceland in October
Waterproof boots
Thick socks
Windbreaker material jacket with a hood (it's pointless to bring an umbrella. The wind will just carry it away.)
Hat, Scarf & Gloves (for the cold days)
Sunglasses
Hiking
If you've come to Iceland to experience the beautiful nature by going on long hikes, I would say October is not the best time to go. With the weather being so unpredictable, hiking would be a hit or miss activity.
Waterfalls, Glaciers, Volcanoes and other Iceland Natural Wonders
Yes, it might be rainy, wet and cold. However you will still be able to enjoy these amazing natural wonders of Iceland.
On the day I went on my tour of some of these sights, I wonder what I did to invoke the anger of Odin, Loki & Thor!
However, I just made sure I was dressed warm and it did not bother me too much. I just invoked my Viking spirit and the wind was no match for my inner Freya!
In fact, I think it made seeing the Gulfoss Waterfalls even more spectacular with the wind and rain coming down on me!
Geo Thermal Pools
Visiting at least one of the hot springs or geo thermal pools is one of the main tourist attractions in Iceland. With the average temperature of 100 F, the cold and rain will not stop you from enjoying the warm waters.
It just might be a cold sprint from the locker room to the pool!
Benefits of Iceland in October
It's the off season, so things like hotels and tours will be cheaper.
Since it's the off season, none of the sights are crowded with too many tourists.
You don't have to worry about booking activities in advance, as they will not be sold out like in the high season.
Despite the unpredictability of the weather in October, I still think it was a fabulous time of year to visit Iceland. Just go with realistic expectations!
What to expect to eat in Iceland? Check out my Guide to What to Eat in Reykjavic!