Last Updated on May 30, 2015 by Chef Mireille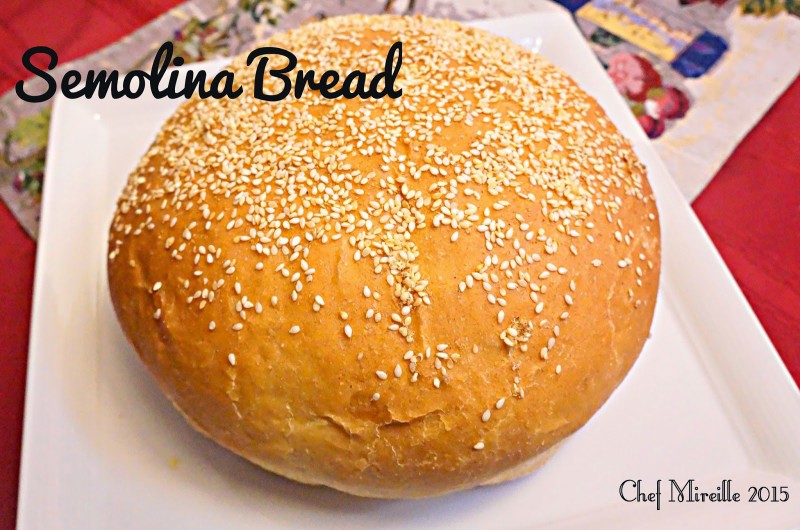 Happy New Year! Wishing you all prosperity and good blessings in the coming year. Breaking bread is a universal sign of prosperity, so what better way to ring in the New Year than with a hearty rustic bread…
My Mom was always a big fan of semolina bread and there is an Italian bakery in Jackson Heights, NY where I grew up that is still there to this day. Once a week, semolina bread was bought and usually gone within a day. With its crusty exterior and super soft interior, this bread is perfect for cheese sandwiches or with some soft butter. Toast it up and it's a great accompaniment to soups or salads.
Semolina Bread
Yield: 1 loaf
2 cups warm water (115 – 120 F)
1 tablespoon dry active yeast
1 tablespoon sugar
1 tablespoon salt
3 1/2 – 4 cups bread flour
1 cup semolina
1/4 cup olive oil
2 tablespoons milk
2 tablespoons sesame seeds
Dissolve sugar in the warm water. Sprinkle yeast on top and leave for 10 minutes, until foamy.
In a large bowl, combine 1 1/2 cups of the flour, salt and proofed yeast. Using an electric mixer, mix for a few minutes.
Add semolina, 1 cup of flour and olive oil. Mix well and using the dough hook attachment, start to knead the dough. Add flour, 1/2 cup at a time until the dough wraps itself around the dough hook.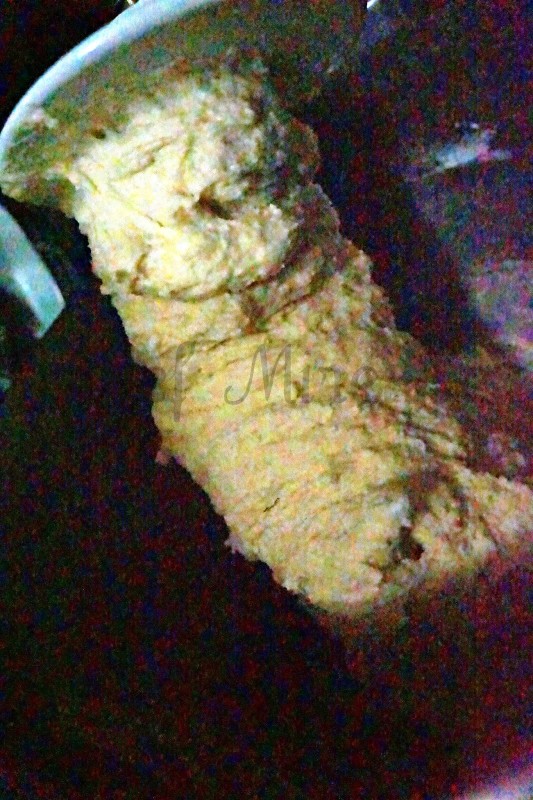 Knead for 5 minutes. Dough will be elastic and slightly sticky. Transfer to a lightly oiled bowl. Cover with greased plastic wrap and a kitchen towel. Leave to rise for 1 hour, until doubled in size.
On a floured board, knead dough for a few minutes, sprinkling a little flour on top as needed.
Shape into a rustic round loaf.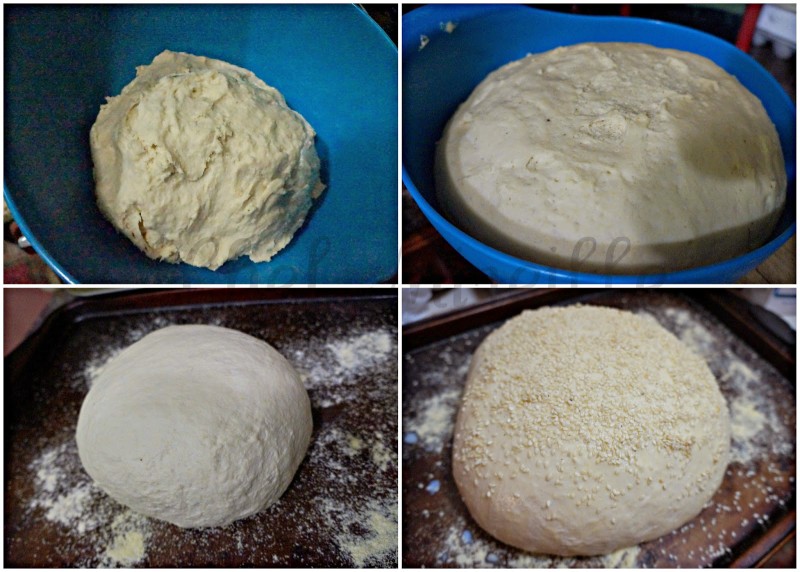 Sprinkle a cookie sheet with semolina or cornmeal. Place the round loaf on the cookie sheet. Cover with kitchen towel and leave to rise another 45 minutes, until doubled in size.
Preheat the oven to 375 F.
Brush the top with milk and sprinkle sesame seeds on top. Bake for 45 – 50 minutes, until loaf sounds hollow when tapped.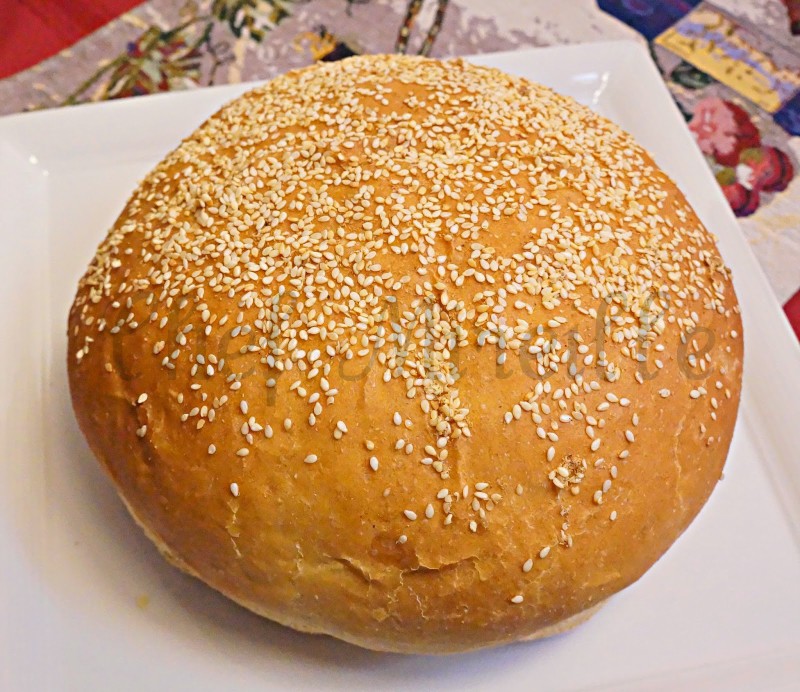 Cool and slice.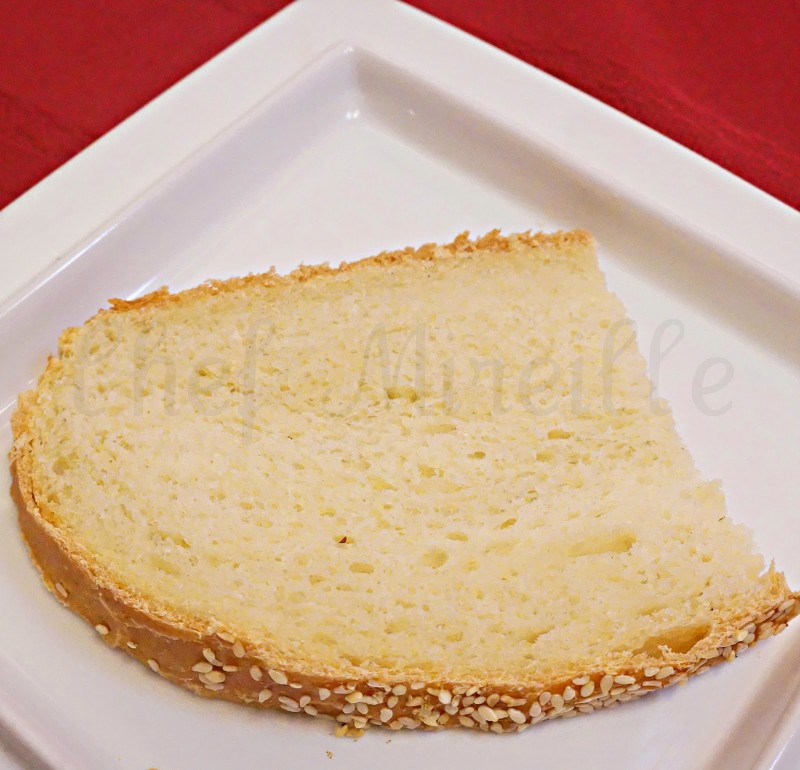 …a delicious bread for any time…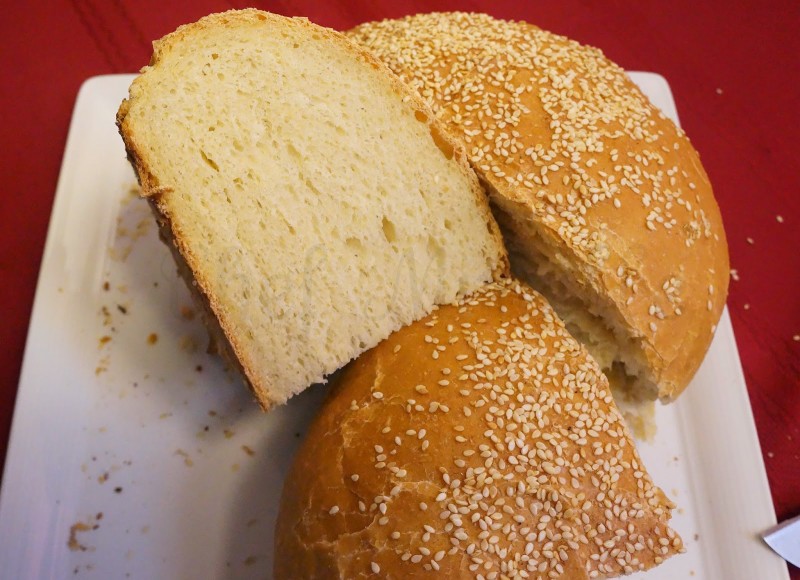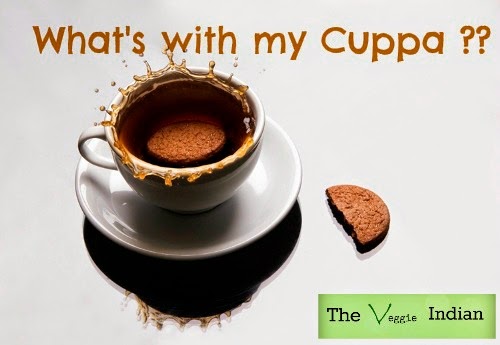 …linking to What's With My Cuppa & Come Join Us for Breakfast
LIKE THIS RECIPE? LEAVE A COMMENT..I LIVE FOR THEM!
Chef Mireille