Last Updated on May 30, 2015 by Chef Mireille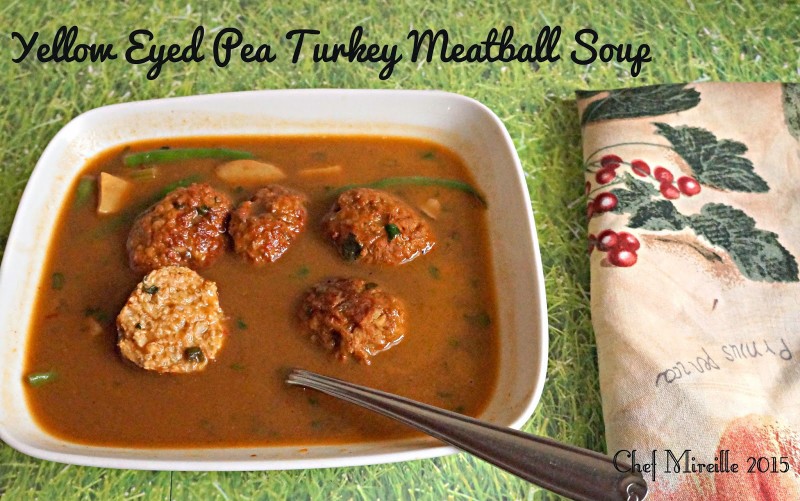 With temperatures in the teens and going into the single digits at night, New York has been in an arctic freeze the last few days, although we can't compare to cities like Detroit. The last few weeks have been so hectic with family visiting from the Netherlands. They went home today. Although it has been very nice having them, it's nice to get back to my regular routine, although going out so much the last few weeks and especially in the cold temps the last few days has given me a nasty cold.
Since I haven't posted a new recipe for you guys in a week, It's nice I had this in my drafts. This is a wonderful soup to keep you warm in these cold temperatures, as most of the country is suffering with below normal temperatures.
A few months ago, I won the prize of the monthly blogging event – MLLA – My Legume Love Affair. The prize includes 6 bags of beans of your choice. One of the peas I asked for was yellow split peas. Instead, I was sent yellow eyed peas. It really was no big deal to me and it gave me an opportunity to try a new variety of peas. They taste just like black eyed peas, maybe a slightly less earthy taste.

A visit to Chinatown is always a treasure trove of ingredients. These drumstick mushrooms also known as King Oyster or Trumpet mushrooms in non-Chinese markets, is sold at a fraction of the cost in Chinatown. They are very meaty like portabello's, but have a less earthy taste. They are a great meat substitute if you don't like the deep earth tones of portabello's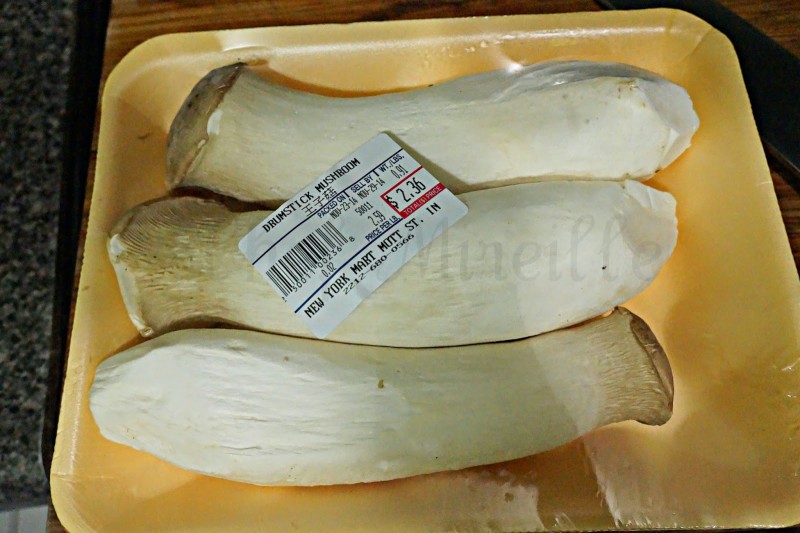 I used the yellow eyed peas in this protein packed soup, with peas, mushrooms, turkey and almond butter.
Yellow Eyed Pea Turkey Meatball Soup
Serves 8
Meatball Ingredients:
1 3/4 lbs. ground turkey
1 finely chopped onion
1 tablespoon chopped ginger
1 tablespoon finely chopped garlic
2 tablespoons Sambal Olek
7 chopped Thai Basil leaves
2 beaten eggs
1 cup Panko
1 cup peanut oil
Soup Ingredients:
1 cup yellow eyed peas, soaked overnight
2 tablespoons peanut oil
1 chopped onion
2 chopped stalks celery
1 chopped drumstick mushroom
8 cups chicken broth
1 tablespoon tamarind extract
1 1/2 teaspoons sambal olek
1 tablespoon ground coriander
2 teaspoon dried chives
1 tablespoon soy sauce
2 teaspoons salt
8 ounces halved haricot verts
1/3 cup tomato sauce
3 tablespoons almond butter
10 chopped Thai Basil leaves
In a large pot of boiling water, cook peas until tender.
To make meatballs, combine ground turkey, onion, ginger, garlic, sambal, Thai basil, eggs and Panko. Mix well to combine.
Using about 2 tablespoons of mix for each meatball, form into round balls.
Heat peanut oil. Add meatballs and fry until golden brown on all sides. Drain on paper towels.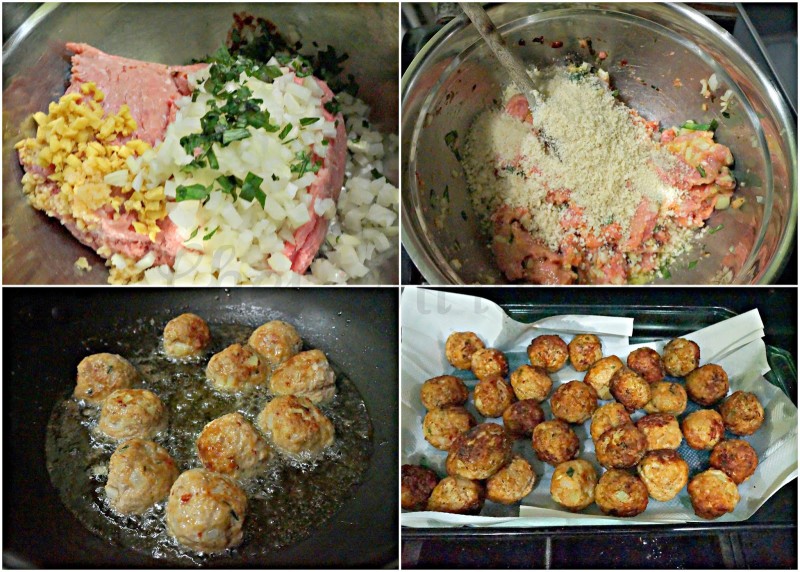 To make soup, heat oil. Add onion, celery and mushrooms. Stir fry for about 10 minutes, until the mushrooms are almost cooked.
Add broth, tamarind, sambal, coriander, chives, soy sauce and salt. Bring to a boil.Add meatballs and simmer for 15 minutes.
In a small bowl, whisk together the tomato sauce and almond butter.
Add peas,haricot verts and almond butter mix. Simmer for another 10 minutes.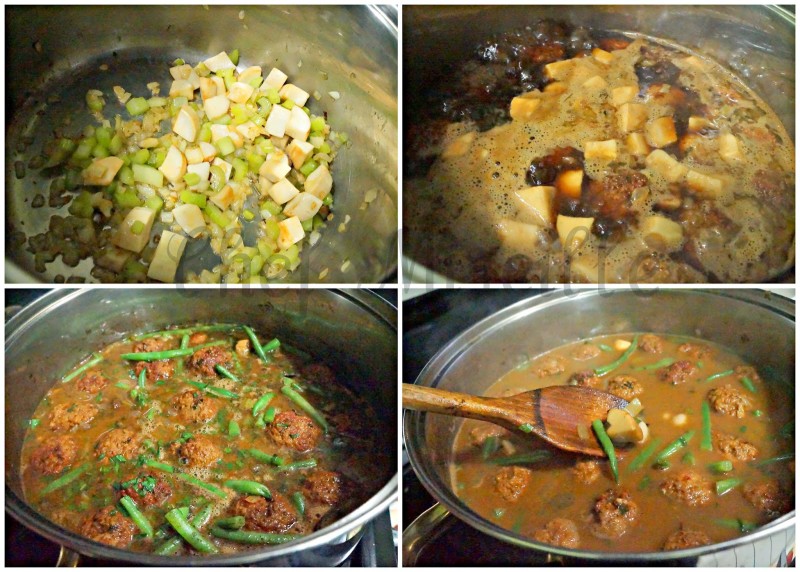 Add Thai basil and cook for 1 more minute.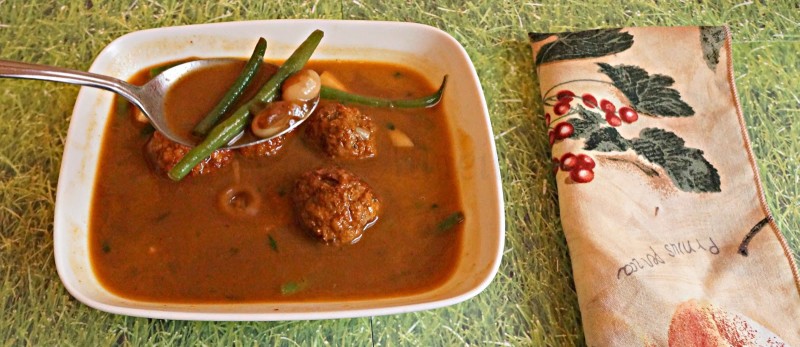 Using both Thai and African inspiration, this is a complex flavored well developed soup.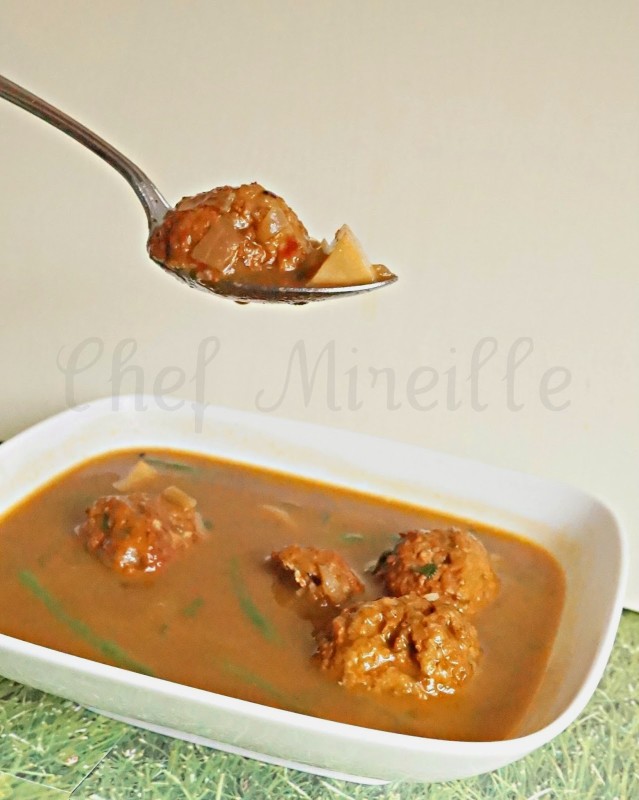 …linking to Souper Sunday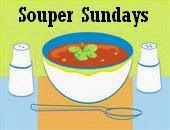 LIKE THIS RECIPE? LEAVE A COMMENT..I LIVE FOR THEM!
Chef Mireille