Last Updated on May 19, 2020 by Chef Mireille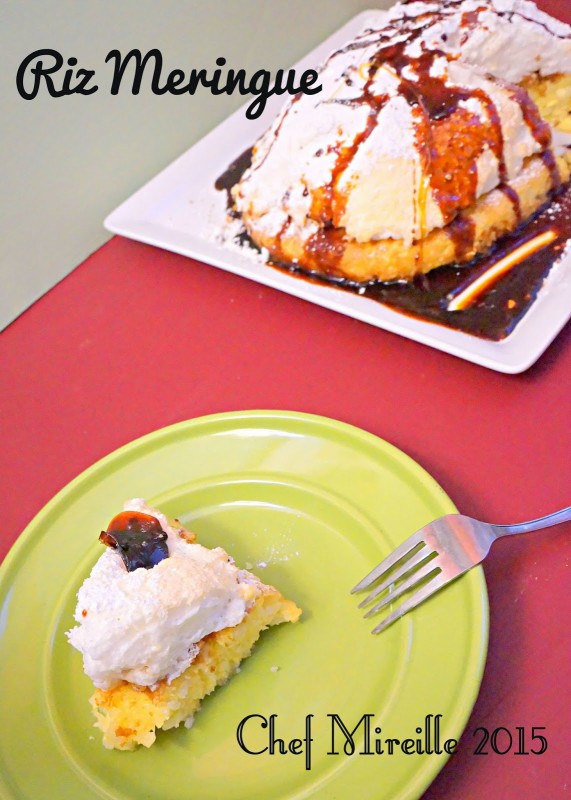 #JeSuisCharlie #JeSuisAhmed – another horrible terrorist attack has again victimized the civilized world. When Srivalli announced four genres of International food for a BM theme this month, I was having problems deciding whether to do Thai, Arabian, American Street Food or French cuisine. Since my palate usually goes towards African, Middle Eastern & Asian food, French was not the first on my list. However, when trying to come up with foods from different courses, French seemed like the easiest option. I am glad I decided upon French. By showcasing French cuisine this week, its my little way of showing solidarity with the people of France as they fight against evil.
This classic French dessert dates back to 1739. I have a cookbook entitled The Grand Masters of French Cuisine. This cookbook is a collection of recipes from the first French chefs like Marie Antoine Careme, Francois Pierra La Varenne and even Alexandre Dumas, author of The Three Musketeers, who thought he would be remembered more for his recipes than his literary works. The book has recipes dating as far back as 1373.

There have always been very few rice dishes in French cuisine, as it is only grown in one small area of France called the Camargue and imported rice in the 18th century when this recipe was created, would have been very expensive. This recipe for Riz Meringe was created by Francois Marin in 1739. I am a rice pudding fanatic and I have posted many different rice pudding varieties here from Belgium to Filipino versions. Now it's ready to try a French version….
Riz Meringue
Serves 8
Ingredients:
1 1/4 cups long grain rice
peel of 1 orange (try to remove it in one long strip)
4 1/3 cups milk
a pinch of salt
1/2 cup sugar
2 tablespoons butter
6 egg yolks
8 crushed amaretto cookies (original recipe used macaroons)
4 egg whites
1/4 cup powdered sugar
Caramel Ingredients:
3/4 cup sugar
1/4 cup water
In a large sauce pan, combine milk, salt, orange peel, sugar and butter. Bring to a boil. Add rice, reduce to a simmer and cook for 35 minutes.
Preheat oven to 375 F. Grease a casserole dish.
Remove from the heat and discard the orange peel. Add egg yolks and mix well. Transfer to greased casserole dish. Bake for 35 minutes.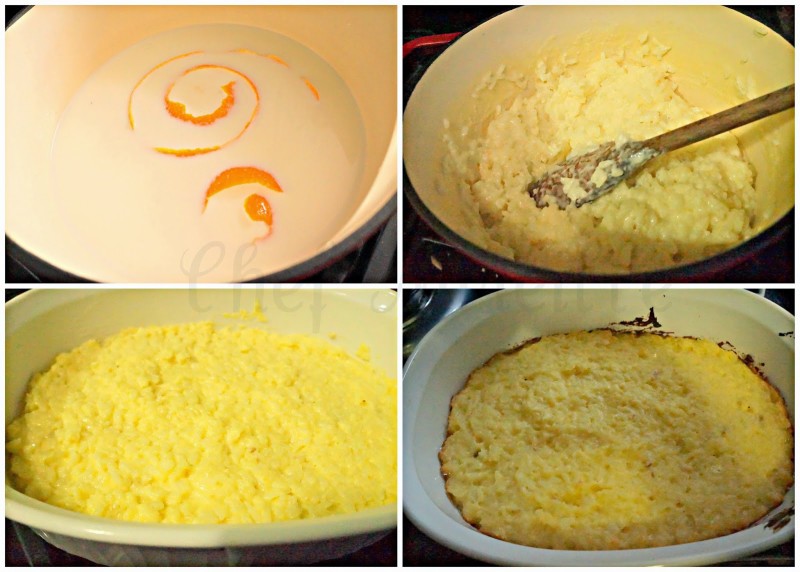 Remove from oven and increase oven temperature to 425 F.
Beat egg whites until they form stiff peaks.
Transfer rice mold onto an ovenproof dish. Sprinkle crushed macaroons on top. Spread beaten egg whites on top. Sprinkle powdered sugar over the egg whites.
Transfer to oven and bake for 5 minutes.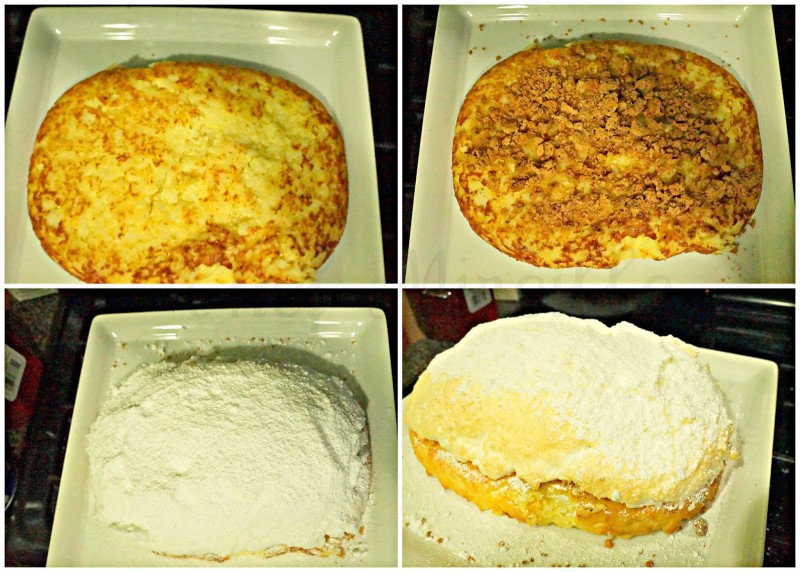 Make caramel by cooking on low heat the sugar and water until it is smooth and you have a light golden caramel.
Pour caramel over the Riz Merengue and serve immediately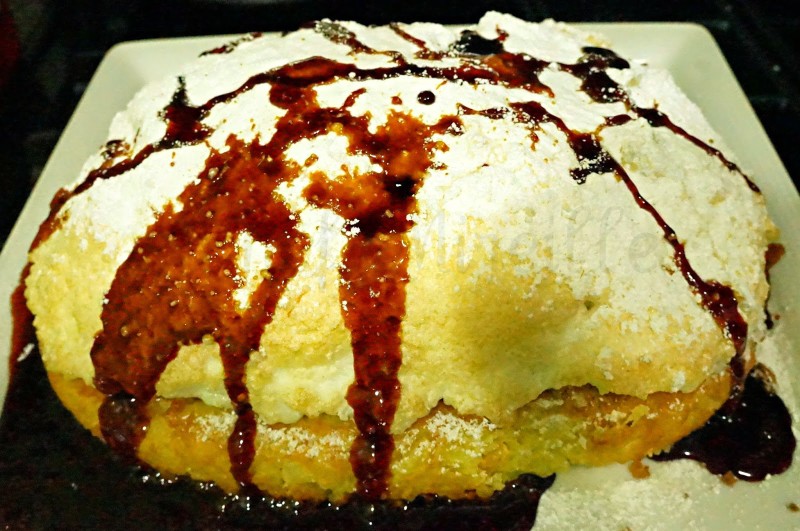 Notes:
I let my caramel go a tad too far, so mine turned into candy in a few minutes. To make the caramel perfectly, remove from the heat as soon as it starts to change color. After you take it off the stove, the residual heat will cook it further. You can also take a shortcut and pour some dulce de leche on top instead.
That'll be my excuse to make this delicious dessert again so that I can update the photos with a better caramel.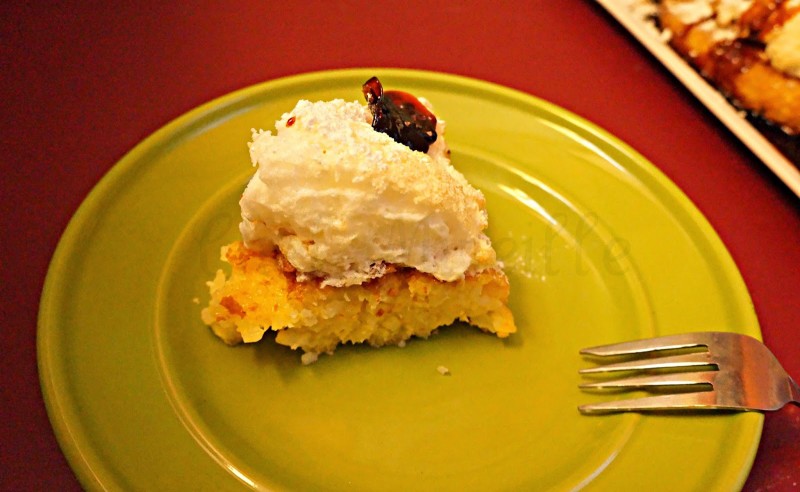 This is probably one of the most elaborate desserts I have ever made with so many steps, but it is worth it. It has varying tastes and textures. The firm rice pudding with the cookie crumbs and then foamy meringue with its crusty exterior make this dessert worthy of French haute cuisine.
Unfortunately, the sun was not cooperating with me and these photos don't do this dessert justice!
Who knows perhaps Louis XVI & Marie Antoinette were feasting on a slice of Riz Meringue before they were executed in the French Revolution?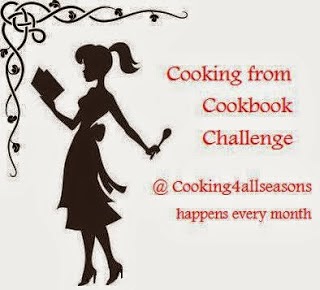 Check out the Blogging Marathon page for the other Blogging Marathoners doing BM#48
This post is for the CC Challenge of the month
LIKE THIS RECIPE? LEAVE A COMMENT..I LIVE FOR THEM!
Chef Mireille