Last Updated on May 19, 2020 by Chef Mireille
Chinese Red Dates Pear Elixir
This herbal fruit tea is full of health benefits to protect you from winter colds.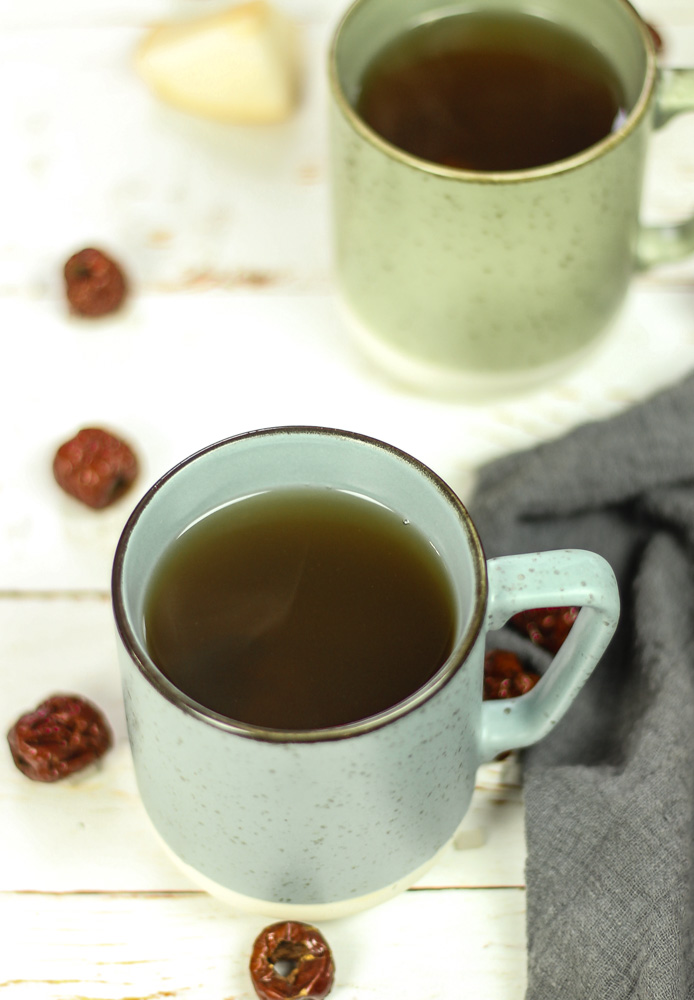 Chinese New Year is coming up next week, so let's explore one of the most popular drinks that help keep the Chinese healthy in the cold winter season. We all want to stay healthy in all seasons right!
RELATED – CHINESE NEW YEAR STICKY RICE COCONUT CAKE (GLUTEN FREE)
The mountainous regions of northern China get very cold. In most of these Mongolian regions, it hardly ever gets above 40 F. During the winter months, the temperatures are consistently below 0.
One way the people of China stay healthy in these continuous cold temperatures is to drink lots of Chinese Red Dates Pear Elixir. Throughout China, Red Dates Tea or Elixir is consumed for protection against colds and coughs.
Chinese Red Dates
Chinese Dried Red Dates are very different than Mejdool Dates or other sweet dates. They have a bright red color and have a more sour taste.
They come in different sizes. The 1" size was used to make this elixir.
Chinese Red Dates, also known as jujube, have a very high Vitamin C content. This Vitamin C offers protection against the common cold. Jujube also has many other health benefits.
Jujube Health Benefits
Regulates Blood Pressure
Regulates Blood Circulation
Improves Bone Strength
Prevents Insomnia
Helps to Relieve Constipation
Relieves Anxiety
Asian Pear
Asian Pear is also used in this elixir. There are two types of Asian pear. There is a white pear, which is smaller in size. I used the golden pear, which is very large, about the size of a grapefruit.
Pears are a natural expectorant and helps with throat ailments.
Goji Berries
Goji Berries are another Chinese superfood also sometimes included in the elixir, although I did not utilize them in this version. However, feel free to add ¼ cup of goji berries when making the elixir, as you prefer.
From Shanghai to Beijing to Hong Kong, Red Dates Pear Elixir is one of the most common drinks sold in the streets to keep everyone warm and healthy! They are sold in plastic cups to warm your hands while you enjoy this health tonic.
In Hong Kong, the jujube and pear is boiled down to a molasses like consistency called Qiuligao. Qiuligao is then diluted with boiling water to make the herbal elixir.
This ancient recipe dates back to the Tang Dynasty, where they already knew the health benefits of red dates and pear.
Drink a cup of this tea daily to boost your immune system!
It is so simple to make. You just boil a few ingredients together.
You can then enjoy it with the fruit or strain it, as you prefer.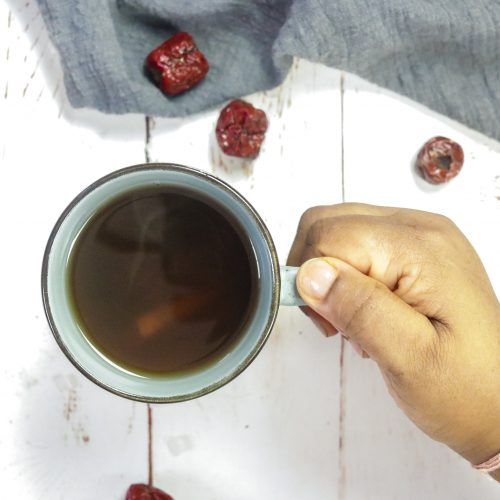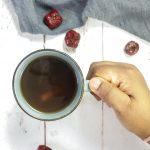 Print Recipe
Chinese Red Dates Pear Elixir
Chinese Red Dates Pear Elixir – This herbal fruit tea is full of health benefits to protect you from winter colds. Packed with Vitamin C, drink a cup daily to boost your immune system.
Ingredients
10

red dates

1

Asian pear

cored and sliced

few

slices of ginger

8

cups

water

2 1/2

tablespoons

rock sugar

1/4

cup

goji berries

optional
Instructions
Combine all ingredients in a large pot.

Bring to a boil and cook on medium heat for 45 minutes.

Serve with some of the fruit as desired or strain and serve just the elixir.
Nutrition
Calories:
27
kcal
|
Carbohydrates:
7
g
|
Protein:
1
g
|
Fat:
1
g
|
Sodium:
13
mg
|
Potassium:
29
mg
|
Fiber:
1
g
|
Sugar:
5
g
|
Vitamin C:
1
mg
|
Calcium:
10
mg
|
Iron:
1
mg
ARE YOU EXCITED TO TRY THIS RECIPE? PLEASE HELP ME CONTINUE TO PROVIDE YOU WITH DELICIOUS RECIPES BY SHARING IT AND SHOPPING FOR YOUR FAVORITE PRODUCTS WITH INCLUDED LINKS!
PIN IT FOR LATER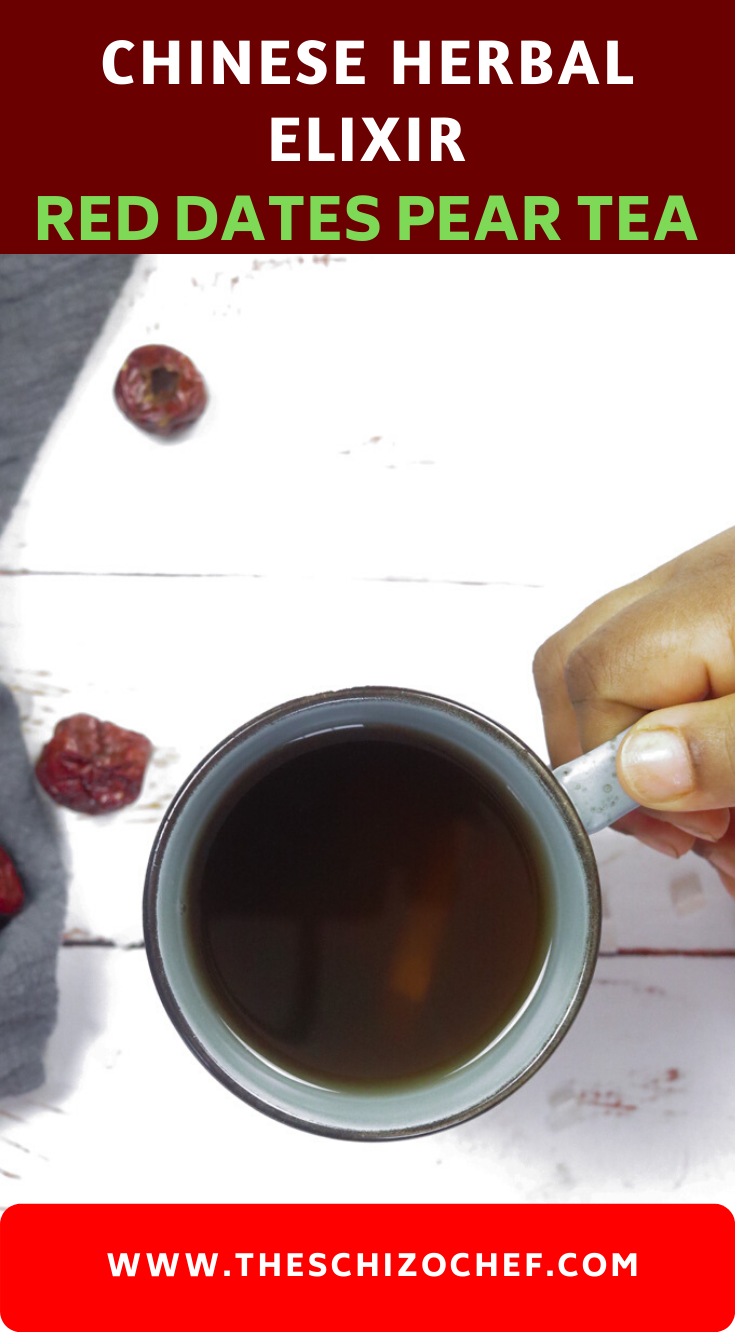 DO YOU YUM? SAVE IT BELOW!
Yum
DONT FORGET TO CHECK OUT MY RECIPE INDEX WITH OVER 1000 INTERNATIONAL RECIPES FROM AROUND THE WORLD
DISCLAIMER: As an Amazon Associate affiliate, I earn from qualifying purchases, at no extra cost to you. Other Affiliate links may also be included.
Check out the
Blogging Marathon page for the other Blogging Marathoners doing this BM#108
Sign up for our updates!
Subscribe to get our latest content by email and get your FREE Pantry Cheat Sheet - Learn the basics to cook any International cuisine!