Last Updated on May 20, 2020 by Chef Mireille
Nian Gao – Chinese Coconut Sticky Rice Cake is the traditional way to celebrate Chinese New Year. A required cake to celebrate the Lunar Festival.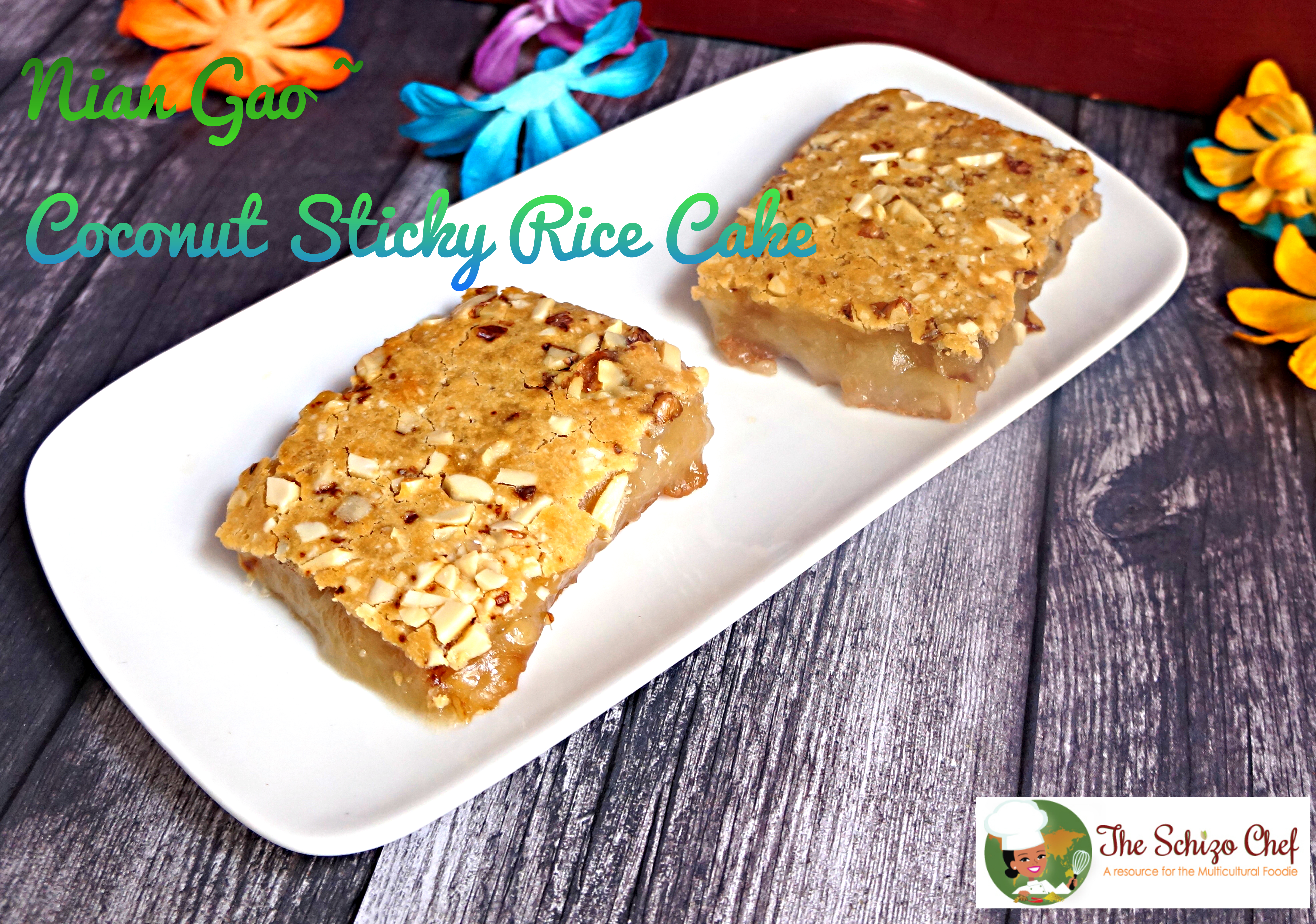 This week I am presenting some foods that are traditional for different global festivals. Chinese New Year is a holiday that is celebrated in many countries around the world, due to global Chinese migration.
Almost every country in the world has a Chinese population and this is the most celebrated holiday that is always acknowledged no matter what county they may be residing in for countless generations. Here in NYC, there is a huge parade in Chinatown as well as smaller street celebrations in the smaller Chinatowns located in Brooklyn & Queens.
Chinese culture is very symbolic. The foods that are cooked for the holiday represent things like good fortune, longevity, prosperity, and family unity.
This gluten free cake is one of the most important cakes to eat for Chinese New Year. Made with sticky/glutinous rice flour, it symbolizes family cohesiveness. Nian Gao, the Chinese name for it means increasing prosperity every year. The New Years greeting is Nian Nian Gao Sheng, which means "advance toward higher positions and prosperity step by step".
Although traditionally the cake is steamed, this modern baked version is just as delicious.
It may not be the season for Chinese New Year at present, but we can always use blessings for prosperity, good fortune and family cohesiveness. This cake was thoroughly enjoyed by me as I wait for the blessings to be showered upon me 🙂
If you'd like more ideas to celebrate next Chinese New Year, you can also try these Peanut Sesame Dumplings.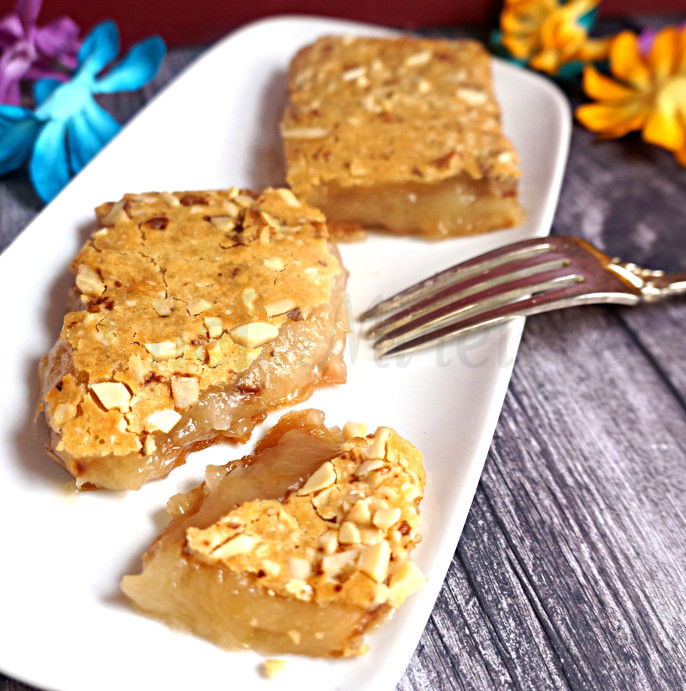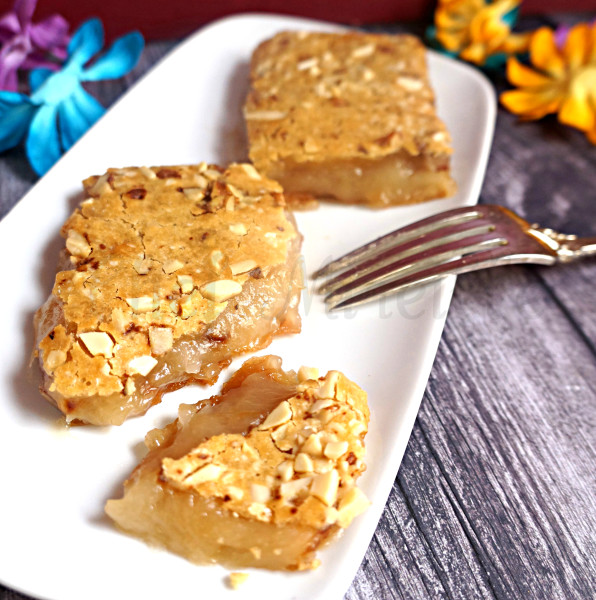 As with all Chinese desserts, these are just barely sweet. Due to the gelatinous nature of sticky rice flour, it's difficult to cut, but that's the whole point – so that you can maintain close familial relations that are unbreakable. Even if you are not Chinese, baking and eating this for all it symbolizes is a great way to celebrate both familial and global unity.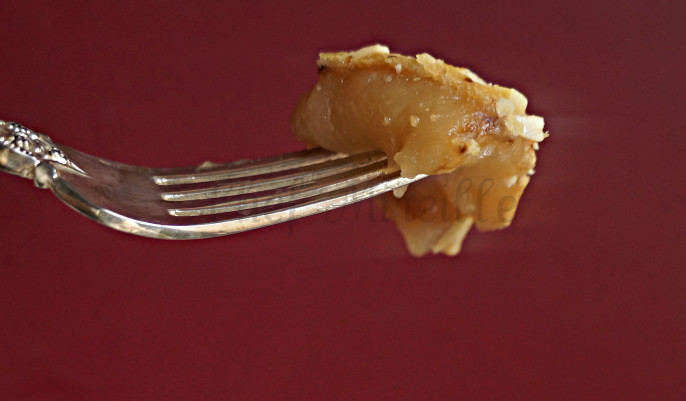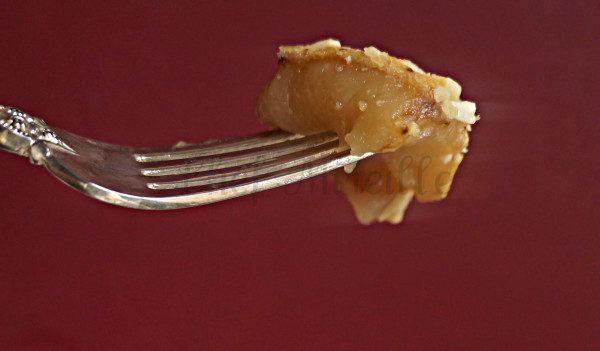 Nian Gao – Chinese Coconut Sticky Rice Cake
Nian Gao is the traditional Coconut Cake made to celebrate Chinese New Year.
Ingredients
1 1/2

cups

coconut milk

1 1/2

cups

lowfat milk

1 1/2

cups

sugar

1

teaspoon

baking powder

1/2

teaspoon

baking soda

1/2

cup

olive oil

1

teaspoon

almond extract

1

cup

chopped nuts

slivered almonds and walnuts

1

lb.

glutinous rice flour

Notes: You can also top with black or white sesame seeds.
Instructions
Preheat oven to 325 F. Spray a 13x9x2″ rectangular pan with non stick spray.

In a large bowl, combine coconut milk, milk, sugar, baking powder, baking soda, olive oil and almond extract. Mix well to combine. Add half of the nuts and stir to combine.

Slowly add the flour, a little at a time, until thoroughly combined.

Transfer to prepared baking dish. Sprinkle remaining nuts on top. Bake for 60-75 minutes, until deep golden brown. When you remove from the oven the middle will appear a little wobbly if you touch it. Let it rest for 15 minutes and it will set.

Serve warm or at room temperature.
Notes
You can also top with black or white sesame seeds
Nutrition
Calories:
301.42
kcal
|
Carbohydrates:
40.42
g
|
Protein:
3.88
g
|
Fat:
14.49
g
|
Saturated Fat:
5.14
g
|
Sodium:
67.75
mg
|
Fiber:
1.29
g
|
Sugar:
17.75
g
Did you try this recipe? Leave a comment below.
Please follow me on Instagram @chefmireille or tag me #chefmireille with your pics! I'd love to share them!
Complete the menu with some other Chinese New Year Recipes!
Chinese New Year Recipes
Need more culinary inspiration? Check out the Recipe Index with over 1500 Recipes from Around the World with lots of Vegetarian 🥕🍆🍅and Gluten Free Recipes!